Release of Australian death row convict with an appeal pending and his re-arrest at Bangkwang Prison seems to be part of the ongoing investigation by Thai police and their Australian counterparts into the nefarious activities of a notorious foreign crime gang in Pattaya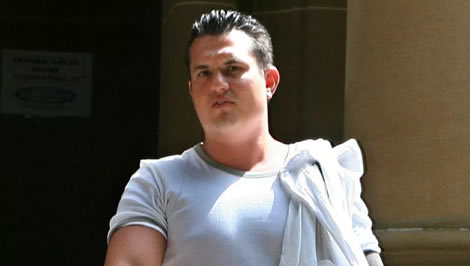 The release of a convicted Australian killer and underworld figure, sentenced to death in Thailand three years ago, once again raises the hellish prospect of the Hells Angels crime gang in Pattaya. Antonio Bagnato is, however, due to be immediately re-arrested by Thai police at Bangkok's Bangkwang Prison on new charges. His former landlord and fellow Australian Lee Cook, was sentenced to death last month along with his Thai wife, for a massive crystal ice drug smuggling scheme to import drugs into Thailand from China. The plan failed spectacularly with the loss of a huge drug load valued at $15 million.
A well known criminal who was sentenced to death in Thailand three years ago, is to be released from Thai prison today. He is not expected to be given the opportunity to enjoy his new found freedom as Thai police will be at the prison to re-arrest the man on further charges. He is currently appealing his conviction for murder. 28 year old Antonio Bagnato was convicted of the murder or another crime world figure in Pattaya in 2015 after police found his fellow Australian, Wayne Schneider, buried in a shallow grave. The murder is thought to be linked to a huge shipment of drugs from China, which had been organised by Pattaya's infamous 'Hells Angels' Gang in 2015 which went awry.
Australian in Thailand is an avid Muay Thai enthusiast and known to many as 'Tony Bang'
A source at Thailand's notorious Bangkwang Prison confirmed to ABC News in Australia that the Australian, currently on death row, was being released by court order. The officer at the prison explained that Thai police would be taking the convicted murderer and Muay Thai boxer into custody: 'He has a pending charge and will not walk out — police will come to take him from prison to the police station.'  Bagnato is a fighting fanatic and before being arrested, was known in Thailand as also as 'Tony Bang' to fight enthusiasts. It is believed that Bagnato will be charged by the police in due course with new offences.
Australian police probe finer facts of the murder of Australian and Thai crime figure in 2015
Last year Australian police visited Thailand to investigate the death of Wayne Schneider. They interviewed Bagnato at the prison, also known as the 'Bangkok Hilton' for its reputation for being being a tough place for  foreigners to find themselves in Thailand. The Australian inmate asked for legal  representation. Visiting Australian police asked him to explain the circumstances of Schneider's death. They suggested that it may have been an accident despite confirmation form Thai police that it was brutal and violent murder. The information they gleaned was that Mr. Schneider was taken to a rented house in Pattaya after he was kidnapped at his home by Bagnato and a gang of men. He was then left in a wheelchair after being subjected to violence including blows and trauma to the head. He was tied up to the metal wheel chair with a commode attached. A Sergeant with the New South Wales Gang squad, Detective Sergeant Roe, said that Schneider had been left there for an extended period of time. His captors returned to find the criminal figure dead. They then stripped the body and buried it. Following evidence at the an inquest in Australia last year the acting coroner for the state of New South Wales confirmed that the man had died as a result of homicide. This was in line with the findings of Thai police and ultimately the Thai courts who sentenced Bagnato to death. It is not yet understood why he has been released but the criminal has been pursuing an appeal against his death sentence.
Hired gang hired by Bagnato abducted Australian crime boss from his large Pattaya home
Thai police found that Mr. Schneider had been taken by force from his home in Pattaya by Bagnato and by a paid crew he had put together for the job and supplied with balaclavas. The inquest hearing in Australia revealed that Bagnato was a friend and acted as a bodyguard for Schneider at times and was a regular visitors to his home. A security guard at the house saw the men pushing Schneiders leg into a vehicle.
GPS used by Thai police to find murdered Australian's body buried in a shallow roadside grave
Thai police later discovered the shallow grave using GPS technology from the kidnap vehicle. The body was buried not far from the road. Both Bagnato and Schneider were on the run in Thailand from police in Australia. In 2012 Schneider moved to Pattaya in a hurry when Australian police raided two methamphetamine labs he was running in the state of New South Wales. In 2014, Bagnato took up residence in a flat over a gym owned by fellow Australian Lee Cook. He had been linked with the brutal murder of a man called Bradley Dillon in Leichhardt in New South Wales in 2014. That victim had been both shot and stabbed multiple times in a planned murder.
Bagnato seems to have worked for Australian and now fellow Thai death row inmate Lee Cook 
Last month Bagnato's friend and landlord in Pattaya, an Australian from Western Australia, Luke Cook, was sentenced to death in Thailand after being convicted of being behind a scheme to import half a tonne of the deadly methamphetamine drug into Thailand for export to Australia. The Australian had made a life from himself in Thailand as a well known business man and in Thailand together with his Thai wife Kanyarat Wechapitak. She was also sentenced to death last month. Thai police sources suggest that the couple had purchased the huge drugs load from a Chinese source and had rendezvoused at sea to collect the haul. However at the boat returned to shore near Chonburi province where Pattaya is situated, they were intercepted by the Thai navy and discharged the load into the sea. Later 50 kgs of ice also known in Thailand as yaba pills were found on beach in nearby Rayong province. This was in June 2015. The couple, who have young children were only arrested in 2017 as they were ready to board a plan at Suvarnabhumi airport back to Australia.
It is believed that the murder of Schneider was linked the aftermath of the drugs debacle as the Hells Angels gang were looking to recoup their money. Cook was connected by a Thai court for assisting Bagnato to escape Thailand to Cambodia with Thai police on his heels. He was given a suspended sentence on that occasion.