Am Cyanide was served a 15th warrant and charged in prison on Tuesday for premeditated murder related to a case going back to 2015. On Saturday, it was reported that she was both laughing and crying while adapting a defensive or suspicious posture to a long-time friend who was accompanied by police on a visit to meet her at the facility. Earlier last week, the suspect was refusing to accept any further visitors besides her then lawyer who confirmed, over the weekend, that she had been released from the case.
The lawyer acting for alleged cyanide serial killer Am Cyanide or Ms Sararat Rangsiwutthaporn has withdrawn from the case while, on Saturday, General Surachate Hakparn, along with a key friend of the accused, met with her at the Central Women's Correctional Institution in Bangkok following the discovery of a mystery parcel delivered to the 60-year-old woman containing the missing personal effects of the last victim who died in April, Ms Siriporn Khanwong or Koi. In the meantime, Deputy Police Chief Surachate told reporters on Saturday that one or two further arrests are due in the coming week linked with people close to the alleged serial killer. A new lawyer to represent Ms Sararat is expected to meet her at the prison on Monday and later to seek recognition before the criminal court.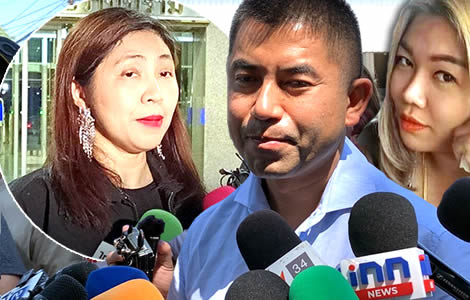 The lawyer for Am Cyanide or Ms Sararat, the suspect now facing 15 charges of premeditated murder in a cyanide poisoning spree since 2015, is understood to have retired from the case.
Ms Thannicha Ek Suwanwa has confirmed that Ms Sararat has signed all the necessary documentation releasing her from her role while a new lawyer has suggested that a meeting with Ms Sararat in prison on Monday, the 15th of May must take place before a new defence team is in place before the court.
General Surachate visited Am Cyanide at the Central Women's Correctional Institution on Saturday along with the defendant's long-time 60-year-old friend
The dramatic news comes as there are reports that, on Sunday, General Surachate Hakparn was again at the Central Women's Correctional Institution in Bangkok to meet the defendant in the cases along with a 60-year-old friend of Ms Am's who is reported to have received a mysterious package containing the personal belongings of Ms Sararat's last suspected poisoning victim, 33-year-old Ms Siriporn Khanwong or Koi, in recent days via a parcel delivery service.
On Saturday, it was reported that Ms Sararat admitted to certain matters put before her but has not yet given police a full confession to the murder charges she faces in court which could see her facing the death penalty.
General Surachate described the suspect as both laughing and crying while adopting a defensive posture towards the visit from her friend in prison who had asked personally to put her position to the defendant.
Forensic examination by police of cyanide containers used by the suspect as officers zero in on possible accomplices with arrests expected next week
Meanwhile, it is being reported that police are conducting fine forensic examinations on cyanide containers used by the suspected killer to identify fingerprints and possible accessories to Ms Sararat's actions.
They are also focusing on how Ms Sararat so easily obtained the deadly supplies of the poison.
It is understood that Ms Sararat's former husband and now dismissed senior Ratchaburi police officer, Withoon Rangsiwutthaporn, told police under interrogation that when he helped dispose of the property believed to have belonged to Ms Sararat's latest husband who she is accused of murdering in mid-March, he was not aware that the victim, Mr Suthisak Poonkhwan or Dae, was dead at all.
On Saturday, General Surachate said that there may be one or two arrests of people close to Ms Sararat over the next week as police work to finalise the investigation.
Deadline for the case extended as police wish to finalise enquiries into the complex web of financial transactions and fund transfers linked with Am
General Surachate Hakparn said, on Wednesday, that the case against Am Cyanide or Ms Sararat Rangsiwutthaporn was 80% complete and was, at that point, set to be finalised by last Friday but this has now been extended for a week or so as police investigators are also anxious to complete their financial enquiries into Ms Am's activities as it was the key motive for her actions.
There is, additionally, evidence suggesting that the suspect was in the habit of using circuitous manoeuvres when handling funds.
It follows a 15th arrest warrant cleared to be served by police on the suspected serial killer at the Central Women's Correctional Institution, on Tuesday, linked with the murder on July 7th 2015 in the Thonglor area of Bangkok.
The victim in that case was Ms Monthathip 'Sai' Khao-in whose death had been treated as a heart attack up to recently but now police have charged Ms Sararat with the intentional killing of the woman using cyanide.
Ms Sararat was reported to have had access to keys to the property which disappeared along with the victim's belongings after her death.
฿78 million flowed through suspected serial killer's bank accounts with ฿4 million understood to have been used to pay debts for her former husband
On Wednesday, General Surachate told reporters that the motive for the murders was greed and the pursuit of financial gain.
He said that, in all, ฿78 million flowed through the serial killer suspects' bank accounts to 11 or 12 beneficiaries.
The ongoing forensic examination is still underway exploring the suspect's financial dealings with reports that she in the past used third-party identities including bank accounts belonging to real people in her financial transactions.
Police have also discovered that Ms Sararat was a life insurance agent who sold 12 policies but none of them were claimed against.
He explained that the killer was heavily involved in financial schemes including pyramid-type investments. He said investigators believe that Ms Sararat murdered her victims to avoid paying back debts owed.
Am sought a ฿7 million life insurance policy on her latest husband who police believe she murdered on March 12th but appears to have changed her mind
The senior police officer and deputy commissioner also revealed that Ms Sararate had discussions about purchasing a life insurance policy for her late husband, Mr Suthisak Poonkhwan or Dae, who police believe died at her hands on March 12th this year.
On Wednesday, General Surachate met an old classmate of Ms Sararat who police did not identify.
The witness revealed that discussions had taken place with the suspect about purchasing a life insurance policy which would have paid out ฿7 million to an as-yet-unknown daughter or relative of Mr Suthisak in the event of his death.
Ms Sararat told her former school pal that her new husband was sickly and she worried about his health.
The insurance premium payable was ฿100,000.
The witness, who was interviewed by General Surachate, also explained that when the policy was not signed, she attempted to pursue the matter with Dae or Mr Suthisak but Ms Sararat vehemently objected to this.
This was in January of this year, two months before he died on a business trip to Udon Thani in the company of Ms Sararat.
Previous witness said Ms Sararat expressed a desire to kill her latest husband 'Dae' before his demise
A previous witness, an employee of Mr Dae, has told police that Ms Sararat divulged to him that she intended to kill her husband, something confirmed on Wednesday when General Surachate said it was clear that Ms Sararat was intent on obtaining her new husband's financial assets and that was why she had married him.
Police last week arrested the now dismissed police officer husband of the suspected former Police Lieutenant Colonel Withoon Rangsiwutthaporn on secondary charges of forging government documents and the disposal of assets linked with his wife's more recent husband after his sudden death on March 12th.
The couple who still lived together to take care of a 13-year-old girl and 10-year-old boy, disposed of Mr Suthisak's white Chevrolet Captiva in Nakhon Pathom by using it as collateral for a loan in the days after the man's death.
The former cop was released later on bail by Nakhon Pathom Provincial Court on a surety of ฿100,000 after he told the court he wanted to visit his ex-wife in prison and intimated he would like her to confess to her crimes.
Police scrutinise the financial trail and look to see who benefited from the suspected serial killer's campaign of murder and may have colluded with her
Police have revealed that ฿4 million of the ฿78 million transferred into third-party accounts by Ms Sararat went to her husband who, it is reported, used the funds to pay off debts.
Police are also looking at the other beneficiaries and may bring further charges if it is found that they acted in collusion with the killer.
In another development linked with the case, the older sister of Ms Sararat has been cleared of any wrongdoing after police seize herbal medicines and pill-making supplies from her home for cyanide testing.
Police Colonel Sommart Chantharat of Bang Phae police station in Ratchaburi told reporters that the result of the scientific testing undertaken by Kasetsart University meant that the woman concerned was entitled to be treated as an innocent party in the affair.
The sister and direct family members of Ms Sararat have spoken of the mental strain and anguish they are suffering as the extent of the case against her grows and the full horror sinks in.
Before her sudden withdrawal this week, Ms Thannicha Ek Suwanwa hinted at surprising evidence being uncovered and her client defeating the charges
Just last week, the now ex-lawyer of Ms Sararat Rangsiwutthaporn, Ms Thannicha Ek Suwanwa, reiterated her belief that her client could possibly defeat the array of charges against her at trial.
It came after both General Surachate and the serial killer suspect's husband visited her at the Central Women's Correctional Institution in Bangkok before this in what is believed to have been an effort to have her confess to her crimes and assist the investigation.
However, it was revealed that Ms Sararat had given orders that she wished to receive no further visits at the prison on the advice of her legal team and wished only to give testimony or evidence before the Criminal Court.
This appears to have changed in recent days with police still trying to get the accused to fully confess to what they see as her heinous actions in the face of overwhelming evidence so that the case can be fully answered and the facts honestly confronted.
Alleged serial killer said to be popular in prison
Reports suggest that the remand prisoner is getting on well with other inmates in prison who she is engaging with freely and becoming quite popular.
Ms Thannicha, the former lawyer, had recently suggested in media interviews that there was still a possibility of surprising evidence being brought forward in Ms Sararat's defence while also admitting that she had not worked on the case without remuneration.
Ms Sararat's former legal team had also been critical of media coverage of the case since the sensational story broke following her arrest on April 25th at the headquarters of the Crime Suppression Division (CSD) in Bangkok.
Further reading:
Am's ex police officer husband bailed, visits her in jail, wants her to confess to the serial poisoning murders
Police to arrest serial killer suspect's husband, 10 more charges for gambling addict 'Am Cyanide'
Thailand's biggest serial killer suspect legally protected from the death penalty as horror grows
Damning evidence mounts against what police now believe to be a prolific cyanide serial killer
Mother of murdered woman at the hands of a suspected serial killer calls for the death penalty to be meted out
Killer sentenced to death for the 2nd time for the murder of a woman 7 months after being paroled
Sadistic rapist, drug dealer and serial murderer is sentenced to life in prison by Thon Buri court
Scotswoman to appeal dropping of death sentence on brother in law and two hired hitmen by court in Phrae
Death sentence for murderous trio who executed a loving Thai wife and her UK husband in Phrae
Death sentence imposed on school boss who murdered a 2-year-old boy in a gold shop robbery in January
School director pleads guilty in court to murder and other charges after Lopburi shopping centre massacre
Master of lies and death, the gold shop killer's life, actions and motives probed by police as wife flees
Lopburi child killer is a primary school director who murdered 3 people this month just for kicks
Mum's heartbreak after 2 year old's murder as police now know the identity of the cruel and evil killer
93% of Thai people want to see the death penalty put to use to curb shocking murders and drug gangs