Police are reported to have interviewed former Police Lieutenant Colonel Withoon's concubine in recent days who gave what was described as useful testimony to the task force. However, senior officers working on the investigation say there is no evidence yet uncovered directly linking him to the 14 murder charges facing his former wife with more cases still being reviewed. General Surachate Hakparn also visited Ms Sararat Rangsiwutthaporn or Am Cyanide in prison on Thursday.
The just dismissed senior police officer, the former husband of the suspected serial killer Am Cyanide or Ms Sararat Rangsiwutthaporn was granted bail by the Provincial Court in Nakhon Pathom on Thursday and is reported to have later visited his wife in Bangkok after he indicated to the court that he wished to see her confess to the charges against her.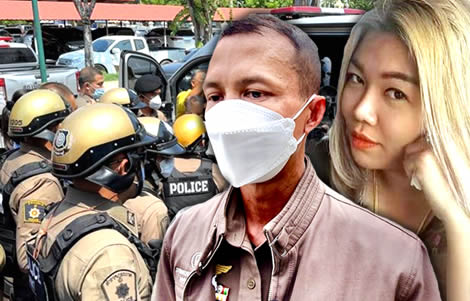 The former senior police officer husband of serial killer suspect Ms Sararat or Am Cyanide was granted bail by the Provincial Court in Nakhon Pathom on Thursday after he indicated that he would like to meet his wife and speak to her about confessing to the spate of poisoning deaths that police continue to probe in an expanding investigation by the day with new enquiries still opening.
Police had earlier refused his bail request and the defendant had offered to wear an ankle bracelet if the court granted him bail on a surety of ฿100,000.
Bail was agreed on these terms and the defendant left the court amid crowded scenes with onlookers and a heavy police presence on site.
14 deaths confirmed at the hands of the suspected serial killer who police believe acted to profit from the deaths or cover her tracks on debts owed
So far, 15 victims of Ms Am have been confirmed with 14 deaths with cases still under investigation going back to 2015.
In the last 24 hours, it has been revealed that over a 10-year period, from 2012 to 2022, Ms Sararat acted as a representative of at least three leading life insurers on the Thai market but police were relieved to discover that there were no claims on any of the 12 policies that the 36-year-old woman sold.
However, police are probing further with evidence to suggest that funds were transferred by the killer into the account of a person living at a temple with the support of their family on an allowance of ฿50 per day.
Police also, this week, interviewed the girlfriend or concubine of former Police Lieutenant Colonel Withoon, the alleged serial killer's former husband who was dismissed from his position on Wednesday by the National Police Commissioner General Damrongsak Kittiprapas.
Mr Withoon is charged with several offences relating to the disposal of assets of Ms Am's more recent husband, 36-year-old Mr Suthisak Poonkhwan, who police also believe died at her hands on March 12th 2023 from cyanide poisoning.
Am Cyanide sold insurance policies for large Thai-based firms but all the policies remained claimless
The woman's evidence is described as useful testimony by the police as it is said that the woman was familiar with her boyfriend's ex-wife and regularly interacted with her including several trips together.
An employee of Mr Suthisak has already told police that the suspected serial killer had intimated to him that she harboured lethal intentions towards her new husband.
Police sources suggest that there is no evidence at this time linking the now-dismissed police officer husband to his divorced wife's cruel campaign of terror but he did conspire and act with his wife to dispose of assets related to Mr Suthisak, after his death.
One of these offences occurred at a pawn shop in Nakhon Pathom after he and his wife had driven from Udon Thani in the just deceased man's car which was also disposed of while, in others, he was found to have forged government documents.
Ex husband met wife at the Central Women's Correctional Institution in Bangkok after his release on bail by the court with no reports of the outcome
On Thursday, it was reported that Mr Withoon met his ex-wife at the Central Women's Correctional Institution where Director-general Ms Soraya Ritaram says she is settling in well and is already quite popular with other inmates.
This followed reports that the leader and coordinator of the police investigation, Deputy National Police Chief General Surachate Hakparn, earlier had visited the main suspect at the women's prison in Bangkok where he interrogated her based on what police have learned so far.
On Tuesday, he indicated that the evidence against the accused woman was compelling and mounting linked with the widening probe.
Suspected killer suffered from a gambling addiction
Police have also indicated that even after 10 more premeditated murder charges were filed against the accused woman this week, further cases are still due while she is facing charges concerning forgery, using false instruments and embezzlement as it becomes clear that this was a criminal outrage motivated by the woman's desperate financial situation and amplified by her deadly character.
Police disclosed also this week that aside from having a known mental condition and breakdown some years previously, the murder suspect had a chronic problem with online gambling addiction funded through credit cards.
Further reading:
Police to arrest serial killer suspect's husband, 10 more charges for gambling addict 'Am Cyanide'
Thailand's biggest serial killer suspect legally protected from the death penalty as horror grows
Damning evidence mounts against what police now believe to be a prolific cyanide serial killer
Mother of murdered woman at the hands of a suspected serial killer calls for the death penalty to be meted out
Killer sentenced to death for the 2nd time for the murder of a woman 7 months after being paroled
Sadistic rapist, drug dealer and serial murderer is sentenced to life in prison by Thon Buri court
Scotswoman to appeal dropping of death sentence on brother in law and two hired hitmen by court in Phrae
Death sentence for murderous trio who executed a loving Thai wife and her UK husband in Phrae
Death sentence imposed on school boss who murdered a 2-year-old boy in a gold shop robbery in January
School director pleads guilty in court to murder and other charges after Lopburi shopping centre massacre
Master of lies and death, the gold shop killer's life, actions and motives probed by police as wife flees
Lopburi child killer is a primary school director who murdered 3 people this month just for kicks
Mum's heartbreak after 2 year old's murder as police now know the identity of the cruel and evil killer
2-year-old shot dead by gold robber Thursday night as 3 die, 4 injured in mass shooting with silencer gun
93% of Thai people want to see the death penalty put to use to curb shocking murders and drug gangs