The scale of the horror linked with this case is mind-numbing with each case representing, by the callous nature of the murders, a deeply traumatic incident for the families of the victims. The vast majority of them were women and all had financial dealings with Ms Sararat. Indeed, this week, police revealed that one of the most effective ways to detect victims was by examining the bank accounts of the main suspect, held at Bangkok's Central Women's Correctional Institution and insisting on her innocence.
As the police screen more incoming reports of suspicious deaths linked with what officers suspect to be Thailand's biggest-ever serial killer, Ms Sararat Rangsiwutthaporn, one story in recent days of a doctor working with the Royal Thai Police stood out as particularly harrowing. The doctor appeared on the country's popular Channel 3 TV telling top host, Kanchai Kamnodploy, on the daily news programme that he believed his wife was poisoned by a pill sent to her after she had just given birth to the couple's infant daughter in November 2020. The harrowing story comes as concerns also grow that the alleged killer, Ms Sararat, also now known infamously as 'Am Cyanide' may be legally protected from the death penalty because of her pregnancy under Thailand's legal system as police continue to open new probes into suspicious deaths with many of those victims identified on Ms Sararat's bank statements as depositors of large sums before eventually meeting tragic ends under very similar circumstances.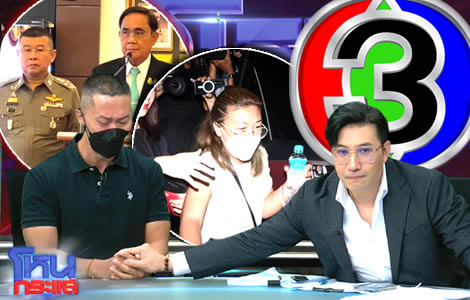 The scale of evil associated with what appears to be Thailand's biggest serial killer now known by the sobriquet 'Am Cyanide', has engulfed Thailand in recent days.
The number of incidents now extends to over 20 cases under investigation with one survivor being reported and at least 13 confirmed deaths attributed to the killer although this is expected to grow as police investigators sift through dozens of new reports.
Timescale of the suspected killing spree goes back to 2015 as the scale of the horror before a busy police task force reaches unimaginable proportions
The timescale for the quiet campaign of death waged by the 36-year-old suspect, a polite and seemingly agreeable young woman, now goes back to 2015 with the number of provinces widening also to nine.
Police at the headquarters of the investigation at the Royal Thai Police Club in Bangkok are reported to have been shocked to discover that out of a list of eighteen to twenty people who sent large sums of money to the alleged killer through her bank account, nearly all suffered suspicious deaths afterwards linked with sudden seizures or what is now suspected to have been cyanide poisoning.
The scale of this horror grows more appalling by the day leaving most observers in a state of disbelieving shock.
A sister-in-law of the killer, a chemist, has been questioned by police while Ms Sararat is confirmed to have purchased a sodium nitrate antidote to cyanide poisoning after police were astonished to discover high levels of the deadly poison in cars associated with the killer.
Police interviewed the former husband of the suspect, a deputy superintendent in Ratchaburi province
Officers have also interviewed the former husband of the suspected serial killer, a deputy superintendent of police in Ratchaburi who was questioned by detectives in Bangkok for six hours on Friday.
On leaving his meeting with the task force, he told reporters that he was very confused and stressed. He declined to comment on the situation.
The police officer appeared on a feed of media reports as the public tries to come to terms with the truly monstrous nature of what is suspected.
This includes a doctor who lost his wife in November 2020 and was a guest on a Channel 3 TV news programme in recent days.
Dr Nitiphan Nuchit stunned the nation as the man recalled the death of his wife which he had previously attributed to chronic anxiety and overwork caused by the recent birth of the couple's new baby daughter. 
He broke down as he told the TV audience how his wife was discovered collapsed during a video phone conversation never to reawaken after she had taken a pill sent to her by Ms Sararat or Ms Am who she had met years before through a financial assistance or sharing network.
Doctor tells national TV audience about his nightmare and how he thinks Am Cyanide took his wife from him and her young family with a poisoned pill
On the Channel 3 TV show, hosted by the popular Kanchai Kamnodploy, Dr Nitiphan recalled that this introduction was either in 2016 or 2017. 
His wife found the now alleged serial killer to be very good-natured when the pair got together at a restaurant.
Dr Niphan works with the Royal Thai Police.
His wife came to trust her implicitly as the wife of a police officer based at that time in Nakhon Pathom.
The meeting at the restaurant resulted in a loan agreement between Ms Am or Sararat Rangsiwutthaporn and Dr Nituphan's wife Nim.
He recounted his personal family story and told how his wife, at that time, had moved to the northern province of Mukdahan to care for her father who died in 2018.
In 2020, when she had become pregnant, he borrowed ฿140,000 from the police cooperative and withdrew his deposit to send to his wife during the pregnancy.
Wife gave birth to a daughter in October 2020 in Mukdahan. Everything was fine until Ms Sararat told his wife she was too fat and needed a diet pill
His wife gave birth on October 19th 2020 and for a while everything was fine.
Then he recalled that Ms Sararat, who had influence over his wife Nim, began to tell the new mother that she was fat and sent her a weight loss pill.
He told the Channel 3 TV audience that at first a greasy pill was received by his wife and could not be taken by her.
That was on November 23rd 2020 but later, on November 25th 2020, his wife received a second pill.
He had known about this as he was in telephone contact with his wife that day.
When he called back again later his 5-year-old eldest child, Nong Neo, answered and he could see his wife prostrate and motionless on the bed with her face down.
He thought she had fainted or had fallen asleep but was reluctant to disturb Nim as she needed sleep caring for the young infant.
An hour later he saw his wife was still motionless in the same position and this caused him to panic.
Asked a neighbour to enter the house after he saw his wife via video chat in the same position, prostrate and inert on her bed after the child answered
He phoned a neighbour and asked her to enter the house through a side door.
The Mukdahan neighbour, 40-year-old Ms Sawitree Butsirarak, also told her corroborative story to the press this week.
Ms Sawitree entered Nim's home and found her lying face down in the bed with her young child lying next to her and awake while her infant daughter was asleep.
This was just after 6 pm on the 25th of November 2020.
The young mother's hair covered her face but when she held up her head, Ms Sawitree found that the woman was unresponsive and her mouth area had begun to turn green.
The husband continued his harrowing story on TV.
Distraught husband got a bus to Mukdahan with reports that his wife's mouth had turned green and that doctors had done their best, he knew the worst
'I hurriedly took a bus from Bangkok-Mo Chit to Mukdahan on the way, always trying to talk to the nurse. How is my wife? The doctor would like to explain that given the state that he received the patient, he did everything possible to resuscitate her,' Dr Nitiphan told the TV interviewer when he heard these words, he hung up and started to sob.
He also broke down on Thai TV as he questioned whether the one-hour delay in raising the alarm could have made the difference in saving his wife's life.
He had recently come to accept that his wife died of an unknown heart condition aggravated by the angst of taking care of the new child up to last week but now, he strongly suspected that Ms Am or Ms Sararat had taken his wife's life through a poisoned pill in the post.
Accused, Ms Sararat, settles into prison and is meeting her lawyers. She is protected from the death penalty for 3 years after the birth of her child
In the meantime, the accused woman is reported to be settling in well at the Central Women's Correctional Institution, the Bangkok prison for women where she was lodged on April 26th last when the Criminal Court refused her request for bail.
On Saturday, the director of the prison, Ms Soraya Ritaram revealed that Ms Sararat's mental situation had improved and she was receiving visits from her lawyers who are working on legal issues on her behalf.
Ms Sararat still insists on her innocence and is defending the case against her while she has been reported to be unresponsive to probing police questioning of her alleged actions which are taking on a monstrous aspect prompting public concern and unease at the highest level.
On Wednesday, Prime Minister Prayut Chan ocha, accompanied by National Police Commissioner General Damrongsak Kittiprapas, urged the police to pursue the case diligently and decisively but also cautioned about ensuring that the investigative process has integrity and honesty.
PM urges police to act decisively but wants to see the investigation pursued in a disciplined, honest, methodical and rigorous manner despite its nature
Ms Am or Sararat Rangsiwutthaphon is four months pregnant carrying the child of one of her suspected victims, her most recent husband Mr Suthisak Poonkhwan who died on March 12th last in Udon Thani suddenly.
One of the key witnesses interviewed this week by the busy police task force established by Big Joke or General Surachate Hakparn was a Mr 'Golf' who worked as a loan collector or employee for Mr Suthisak in his loan business.
In testimony described as extremely useful by the police, he is reported to have suggested that Ms Am or Ms Sararat made known to him her lethal intentions towards her latest husband before his demise on a business expedition to Udon Thani together with her in March.
There is also speculation on Ms Am's potential fate with some legal analysts pointing to her pregnant condition which under Thai law affords her some protection from the performance of the death penalty which is the accepted sentence for premeditated murder in Thailand especially in such a case, given the callous and cruel nature of her alleged acts.
Protection afforded to pregnant women from death penalty under Thailand's Criminal Procedure Act
However, under Section 247 of the Criminal Procedure Act in Thailand, there is a provision whereby the sentence of death cannot be applied to a woman until after three years from the birth of her child in custody.
 'Any woman sentenced to death, if pregnant, must be allowed wait until the expiration of three years from the time of giving birth or reduce the death penalty to life imprisonment. Unless the child dies before the expiration of the said period. During the three years from the date of birth, she shall bring up her child as is appropriate in a place suitable for child rearing in prison,' the provision reads in translation.
Ironically, the woman who police investigators strongly suspect of being the angel of death for so many victims around Thailand since 2015 may herself be saved from the death sentence through her power to give life as a mother.
Further reading:
Damning evidence mounts against what police now believe to be a prolific cyanide serial killer
Mother of murdered woman at the hands of a suspected serial killer calls for the death penalty to be meted out
Killer sentenced to death for the 2nd time for the murder of a woman 7 months after being paroled
Sadistic rapist, drug dealer and serial murderer is sentenced to life in prison by Thon Buri court
Scotswoman to appeal dropping of death sentence on brother in law and two hired hitmen by court in Phrae
Death sentence for murderous trio who executed a loving Thai wife and her UK husband in Phrae
Death sentence imposed on school boss who murdered a 2-year-old boy in a gold shop robbery in January
School director pleads guilty in court to murder and other charges after Lopburi shopping centre massacre
Master of lies and death, the gold shop killer's life, actions and motives probed by police as wife flees
Lopburi child killer is a primary school director who murdered 3 people this month just for kicks
Mum's heartbreak after 2 year old's murder as police now know the identity of the cruel and evil killer
2-year-old shot dead by gold robber Thursday night as 3 die, 4 injured in mass shooting with silencer gun
Convictions of Burmese Koh Tao murderers and death sentences upheld by Thai Supreme Court
Koh Tao victim's family endorse the conviction of Myanmar migrants
Police to re-arrest Australian death row inmate after he is released under court order at Bangkwang prison
93% of Thai people want to see the death penalty put to use to curb shocking murders and drug gangs