Ruling Palang Pracharat Party unveils the return of founding members and ex-ministers as General Prawit seeks to bolster it in the polls as it loses ground to the Ruam Thai Sang Chart Party (RTSC) which is the new political home for General Prayut Chan ocha. Palang Pracharat, according to a recent Super Poll survey in Bangkok, only has 6.6% support.
On Monday, the Palang Pracharat Party unveiled the return of two former senior ministers toits ranks and a key advisor to party leader General Prawit Wongsuwan, General WitDevahastin na Ayudhya. However, from the outset, it appears that there are tensions as to who will head up the ruling party's economics team with the former economic czar and deputy prime minister Somkid Jatusripitak not unveiled in the role as speculated over the weekend. Welcoming the new arrivals, General Prawit made it clear that, at this point, he was not appointing anybody to the key role.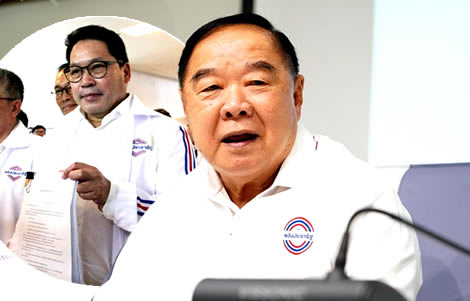 Key leaders of the Palang Pracharat Party returned to its ranks on Monday after resigning due to an internal heave in 2020 after General Prawit Wongsuwan became the leader of the party which is at the centre of the current coalition government.
Former Minister of Finance, Uttama Savanayana and Minister of Energy, Sontirat Sontijirawong were welcomed back by the party's current leader Deputy Prime Minister Prawit Wongsuwan.
Strong speculation last weekend that Somkid Jatusripitak, although never a member, was on his way back as party's economics czar proves unfounded 
Over the weekend, it was also reported that the move would see the former deputy prime minister and economic czar of the government, Somkid Jatusripitak, return to front-line politics with the party although the former deputy prime minister was never a member of Palang Pracharat.
On Monday, despite speculation, Mr Somkid who with two former cabinet ministers had formed the Sang Anganot Thai (Building Thailand's Future) Party, was not among those unveiled at a welcoming ceremony at party headquarters in Bangkok.
The two former heavyweights who were present were joined by General WitDevahastin na Ayudhya, recently the leader of the Ruam Phaen Din Party and before that, the Thai Economics Party.
General Wit is a former Secretary-general of the National Olympic Committee of Thailand and is a long-time associate of General Prawit since their days as military officers.
The returning group were welcomed by Deputy party leader Wirat Rattanasate and the Bangkok election coordinator Sakoltee Phattiyakul.
The former founding members of the party, when it first launched in September 2018, later met for a conference with General Prawit.
Former Finance Minister Uttama to play a key role as an economic advisor to the Palang Pracharat although General Prawit insists no economic team leader
It is understood that Mr Uttama who was Minister of Finance from July 2019 to July 2020, will now be the key advisor on finance and economic policy although it was underlined, on Monday, by General Prawit that he will not be taking charge of the Palang Pracharat Party's economic team.
He will be working with Mr Mingkwan Sangsuwan, a former deputy prime minister as well as commerce and industry minister in the short-lived People's Power Party-led government of Prime Minister Samak Sundaravej in 2008.
Mr Mingkwan, up to recently, was also a former leader of the New Economics Party. 
In recent months, Mr Mingkwan was touted as the economic policy head of the party but when he was unveiled initially as a member of the Palang Pracharat Party last December, it was announced briefly at a somewhat disorganised press conference that he would be a candidate for prime minister in the 2023 General Election.
This was thought to have proved widely unpopular within the Palang Pracharat Party which has since then confirmed General Prawit Wongsuwan as the party's sole nominee for the position in the run-up to this year's General Election.
It is understood that Mr Sontirat Sontijirawong, a former Minister of Energy, will also play a key role in the economics team with General Wit resuming his role as a key political advisor to General Prawit.
Party leader welcomes back old stalwarts
General Prawit was in ebullient form on Monday as he personally approved and stamped the three men's admission to the party ranks and hailed them before the officials present at headquarters in the Lat Phrao district of Bangkok.
The deputy prime minister particularly singled out General Wit in his welcome address as well as the two former ministers.
He pointedly told those assembled that he was not appointing any of those present as the leader of the party's economic team.
Former Minister of Finance addressed previous divisions in the party which led him and other members of the government to depart in 2020
Former Minister of Finance Uttama, in his address to party members, did not shy away from mentioning the divisions and struggles within the Palang Pracharat Party in 2020 which saw himself, Mr Somkid Jatusripitak, Mr Sontirat Sontijirawong as well as then Higher Education Minister Suvit Maesincee and the Deputy Secretary-General at the Office of the Prime Minister Kobsak Pootrakul resign from the government of Prayut Chan ocha and the Palang Pracharat Party.
It is understood that Mr Uttama, at that time, was the subject of a concerted and pressurised campaign to oust him both as Palang Pracharat Party leader and as Minister of Finance by forces within the party who, at the time, strongly supported General Prawit and successfully installed him as party leader.
Mr Uttama appeared at pains to play down such differences on Monday which, at the time, were also attributed to the economic group's proximity to former deputy prime minister Somkid Jatusripitak who was considered to be a capable technocrat but aloof.
Somkid, in recent months, has been deeply critical of General Prayut's government in particular on both capital and military expenditure on submarines 
In recent months, the popular economics guru who rates highly in public opinion polls, has strongly criticised the government of Prayut Chan ocha, in particular, for its military expenditure while courting the political left including talks with Khunying Sudarat Keyuraphan's Thai Sang Thai Party.
Before he resigned from the government of Prayut Chan ocha in 2020, the former economic czar had reportedly become very disheartened in his role at the centre of a tanking economy during that year when GDP contracted by 6.1% having slowed remarkably the year before because of the US-China trade war which began in 2018.
'I have been prepared for a long time. I am old now. I already lost heart years ago,' he told reporters at the time.
Mr Somkid is a founding member of Sang Anganot Thai (Building Thailand's Future) party along with Mr Sontirat and Mr Uttama although the kingdom's election law, under which the 2023 election will be conducted, decidedly favours larger political parties.
General Prawit seeking to raise the party's dwindling public support as a national party of government capable of tackling bread-and-butter issues 
Mr Somkid was seen as highly influential but was not fully supported by the Palang Pracharat Party grassroots who wanted to see an MP from among their own ranks elevated to the role of Minister of Finance. 
At that time, MPs wanted to see Mr Santi Prompat, the deputy minister of finance promoted to the role.
This was eventually frustrated by Prime Minister Prayut Chan ocha who insisted on appointing 'outside' experts to the role of Minister of Finance.
The Palang Pracharat Party is a right-wing, staunchly conservative and monarchist political party that is expected to be one of three in the next General Election aside from Pheu Thai and the Bhumjaithai Party, which will field candidates in all constituencies.
Palang Pracharat slumped to sixth out of six parties in Bangkok with only 6.6% support in mid-January
The party's support has been falling in recent opinion polls since its association with the prime minister, Prayut Chan ocha was sundered late last year although General Prawit is working hard to build back its reputation as a practical bread and butter party.
Much of its support is being lost to the Ruam Thai Sang Chart Party (RTSC) which is the new home of Prime Minister Prayut Chan ocha and which is seen as more radically conservative with its roots in the People's Democratic Reform Committee street protests which paralysed the government of Pheu Thai premier Yingluck Shinawatra in 2013 and 2014.
This eventually led to the 2014 coup d'état led by the new party's assumed nominee for prime minister, General Prayut.
In a recent poll in Bangkok, in mid-January, the Palang Pracharat Party according to a Super Poll survey only scored 6.6% and was relegated to sixth out of six parties polled.
Further reading:
Ung Ing says Prawit is better liked than PM Prayut with reports of the return of key ex-ministers
Whip hand with Pheu Thai to secure power in this year's General Election despite Senate's waning power
Pheu Thai knocks Palang Pracharat Party coalition talk on the head with more bad news for Prawit
Corruption and the role of the unelected Senate in electing the next PM to be General Election issues
Prayut to make his move for a third term but is the battle for power already lost to Pheu Thai?
PM and Ung Ing to do battle in 2023 for the top job with public debt and the economy as key issues
Pheu Thai, Palang Pracharat coalition now a distinct possibility after the next General Election in 2023
PM upholds status quo as he seeks a path back to power with the help of the Bhumjaithai Party
3 out 4 believe that Pheu Thai will take power in 2023 with a third Shinawatra taking the reins
Court decision on electoral law is a big boost for Pheu Thai Party as Prayut remains tight-lipped
Constitutional Court voting decision a watershed moment for Thai politics says top Pheu Thai MP and whip
Uncertain politics ahead as PM reported to be planning to dissolve the House of Representatives
Prayut hails economic progress by his government but his path to reelection next summer is still unclear
Pheu Thai looking at property developer tycoon Srettha for PM role after next General Election
Possible Pheu Thai PM Paetongtarn Shinawatra promises a new society where everyone is secure
Drugs to be an election issue as Anutin digs in insisting that attitudes must change on cannabis
Kingdom engulfed in crisis with over 93% of the public saying Prayut must relinquish power now over term limit
Senator warns that Paetongtarn Shinawatra or Ung Ing, Thaksin's daughter, is wrong for the job
Legal pot does not appear to be working for Anutin's Bhumjaithai Party in latest opinion poll
New Shinawatra may lead the next quest for power as Pheu Thai Party aims for 14 million members
Cannabis remains illegal as ministers push through a law controlling its use by the public after decriminilisation
Bad news for PM and Palang Pracharat in Bangkok on Sunday as resurgent Pheu Thai Party wins big
Democrat Party victories in the South seen as a vote for stability despite vote-buying claims by Ratchaburi MP