Allegations against the Move Forward Party leader, if taken up by the Election Commission and forwarded to the Constitutional Court, could see him barred from politics. However, on Wednesday, key political analysts considered this unlikely.
Move Forward Party leader, Pita Limjaroenrat, on Tuesday, stoutly defended claims that he held media shares in a company when serving as an MP in the last parliament, an allegation put forward on the same day by a Palang Pracharat Party candidate and which could see Thailand's most popular politician barred from politics.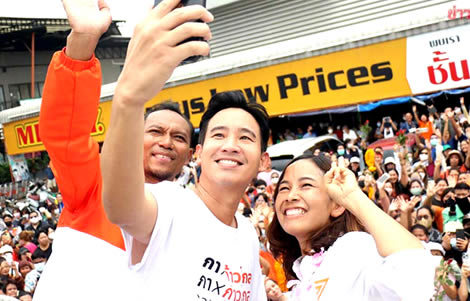 Move Forward Party leader Pita Limjaroenrat who, according to opinion polls, is the country's most favoured politician to become Thailand's next Prime Minister, came out on Tuesday to strongly deny that he held shares in a media company which would have precluded him from being an MP in parliament.
This came after Mr Ruangkrai Leekitwattana, a party list candidate for the Palang Pracharat Party, dropped a bomb on Tuesday when he called upon the Election Commission to investigate the matter.
Palang Pracharat Party list candidate claims Pita held 42,000 shares in iTV when he took his seat in May 2019 as an MP for the Future Forward Party
According to Mr Ruangkrai, Mr Pita held 42,000 shares in a firm called iTV when he declared 45 assets to the National Anti-Corruption Commission (NACC) on May 25th 2019 at the same time as taking his seat in parliament after the March 2019 General Election.
Mr Pita was originally elected as an MP for the Future Forward Party which was later dissolved in February 2020.
The Palang Pracharat Party candidate said that Mr Pita still held the shares valued at ฿5 each as of April 27th 2022.
The company is involved in advertising and public relations operations and last year had an income of ฿21 million.
Pita would have been ineligible to sit as an MP and could be barred from politics if found guilty of breaching the law but strongly defends his position
If the claim is true, then Mr Pita would have been ineligible to hold the seat in the last parliament and could face prosecution under the country's strict electoral law.
This matter ultimately, if brought before the Constitutional Court, could lead to him being prohibited from being engaged in politics.
It would depend on the result of any investigation by the Election Commission or if it decides to pursue such a course.
Mr Ruangkrai insists he wants to see his complaint fully investigated by the Election Commission although some analysts believe the case will not be taken further based on Mr Pita's statement on Tuesday.
Pita denies the allegations, says he informed officials
Responding on Tuesday, Mr Pita emphatically denied the allegations and said that the shares were not held by him.
He further stated that the National Anti-Corruption Commission (NACC) had been informed about the matter.
He indicated that the shares in question were held as part of a family trust.
'I am not worried about the case because the shares are not mine. It's a family heritage, and I'm the manager of that. I informed the National Anti-Corruption Commission about this a long time ago,' he said.
A recent blockchain poll conducted by Sripatum University gave Mr Pita 43.01% support in a public poll for the next prime minister, well ahead of any other candidate.
The popular party leader served as an MP for Bangkok from 2019 until 2023.
Further reading:
Move Forward Party surging in the polls as the General Election campaign enters its final week
PM warns giveaway policies of some parties may be 'bad karma' for the country in the longer run
Leader of PM's UTN tells rally a government led by his party will 'get tough' with nation haters
Deputy Prime Minister Prawit Wongsuwan warns that those in power who support coups still exist
Former ministers rejoin the Palang Pracharat Party but there is no new economics czar Somkid
Ung Ing says Prawit is better liked than PM Prayut with reports of the return of key ex-ministers
Whip hand with Pheu Thai to secure power in this year's General Election despite Senate's waning power
Pheu Thai knocks Palang Pracharat Party coalition talk on the head with more bad news for Prawit
Corruption and the role of the unelected Senate in electing the next PM to be General Election issues
Prayut to make his move for a third term but is the battle for power already lost to Pheu Thai?
PM and Ung Ing to do battle in 2023 for the top job with public debt and the economy as key issues
Pheu Thai, Palang Pracharat coalition now a distinct possibility after the next General Election in 2023
PM upholds status quo as he seeks a path back to power with the help of the Bhumjaithai Party
3 out 4 believe that Pheu Thai will take power in 2023 with a third Shinawatra taking the reins
Court decision on electoral law is a big boost for Pheu Thai Party as Prayut remains tight-lipped
Prayut hails economic progress by his government but his path to reelection next summer is still unclear
Pheu Thai looking at property developer tycoon Srettha for PM role after next General Election
Possible Pheu Thai PM Paetongtarn Shinawatra promises a new society where everyone is secure
Drugs to be an election issue as Anutin digs in insisting that attitudes must change on cannabis
Senator warns that Paetongtarn Shinawatra or Ung Ing, Thaksin's daughter, is wrong for the job
Legal pot does not appear to be working for Anutin's Bhumjaithai Party in latest opinion poll
New Shinawatra may lead the next quest for power as Pheu Thai Party aims for 14 million members