Palang Pracharat Party leadership on Tuesday rejected spurious reports that the party was to disband so that its members could join the Pheu Thai Party, a proposal immediately rejected by Pheu Thai's leadership who on the same day committed itself to a new 'Government of Hope' with the Move Forward Party under Pita Limjaroenrat as Prime Minister.
On Tuesday, Deputy Prime Minister Prawit Wongsuwan described as 'fake news' reports which emerged on Monday that he planned to resign as leader of the Palang Pracharat Party and disband the party so that its 41 MPs could join the Pheu Thai Party. It followed amazing rumours which circulated on Monday and which drew a clear and decisive response from the Pheu Thai Party indicating it would not turn in its support for the creation of a Move Forward-led government and the installation of Mr Pita Limjaroenrat as prime minister come what may in accordance with the declaration made on May 15th last and out of respect for the will of the people.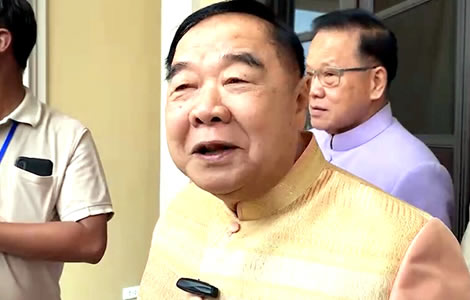 At Government House, on Tuesday, Deputy Prime Minister Prawit Wongsuwan appeared to wrongfoot the media when he stated that the Palang Pracharat Party had no plans to disband itself and let its, as yet unconfirmed, MPs move over to the Pheu Thai Party while he resigned as party leader.
The statement came after swirling reports emerged on Monday afternoon, with some credibility, suggesting that this was the case.
This caused the Pheu Thai Party leadership to quickly and resolutely deny that it would play any part in such a political manoeuvre or adjust its plans on the same day as it becomes signatory to a Memorandum of Understanding to install Mr Pita Limjaroenrat as Thailand's next prime minister and form a coalition government.
Prawit blames the media for 'fake news' reports on Monday and denied any intention of resigning from his role as leader of the Palang Pracharat Party
On Tuesday, Deputy PM Prawit Wongsuwan was flanked by caretaker Deputy Minister of Finance Santi Prompat as he made his statement insisting that he would remain as leader of the Palang Pracharat Party and planned to take his position as a party list MP in the new parliament.
He described Monday's reports as 'fake news' disseminated by the media from social media reports.
He was not resigning nor was the Palang Pracharat Party being disbanded although it was made clear that he may be open to some future deal with the Pheu Thai Party.
'Where would I go,' he asked reporters. 'You must ask those who made such analyses. Ask them. Where can I go if I quit?'
On Monday evening, it had been reported that Mr Santi Prompat would lead the press conference dealing with the future of the Palang Pracharat Party along with Mr Chaiwut Thanakmanusorn, deputy leader of the party.
Pheu Thai Party's response on Monday was swift, clinical and decisive. Any such moves were not welcomed and would not deflect it from its path
The response, on Monday, from Pheu Thai was swift and clinical.
It denied that the party had any ambition to accept such MPs and then, as the largest party, alter the current political course.
A statement said that the Pheu Thai Party remained committed to supporting the Move Forward Party-led initiative to form a government and would not change the course announced by it on May 15th last to support Mr Pita Limjaroenrat as the next prime minister.
Yesterday, the Move Forward Party and seven other parties including Pheu Thai launched its Memorandum of Understanding outlining a future programme for a 'government of hope' which avoided the Article 112 controversy on lèse-majesté and gave a clear undertaking to uphold the revered Thai Monarchy.
'The speculation is still contrary to the current facts of the Pheu Thai Party. We are a political institution that adheres to and respects the voices of the people, the Pheu Thai Move Forward Party, and many other coalition parties, will work together to overcome this obstacle to create the democratic government that the people have been waiting for,' said Mr Prasert Jantararuangtong, the Secretary-general of Pheu Thai.
Pheu Thai leader Cholnan Srikaew adamant his party would not turn from its support of Mr Pita as Thailand's 30th Prime Minister, the will of the people
A similar statement came from party leader Cholnan Srikaew who said that his party stood by the will of the Thai people and went even further, saying it would not treat with former representatives of the Palang Pracharat Party as a party that supported one of the leaders of the military junta even if the party were to disbanded.
Mr Cholnan, on Monday, said he had just been briefed on the news circulating. He said such a move was also both improbable and impossible.
He repeated, he said it must be for the 501st or 502nd time, that the Pheu Thai Party would not turn, that there were no background deals and that it would diligently support Mr Pita Limjaroenrat's quest to form a new government no matter what happens in the future.
Further reading:
Move Forward's 'Government of Hope' coalition delivers a programme promising a new charter
Jatuporn warns Pheu Thai may be turned as he predicts a political impasse. Should wait for 2024
Election vote for Move Forward may have been a cry for help from voters mired in short-term debt
Pita, Move Forward and eight other parties meet in Bangkok and come out smiling, ready to govern
Pita plots a new coalition government with Pheu Thai but open conflict has already raised its head in the Senate
Move Forward Party's good election result leaves uncertainty as to who will form the government
Move Forward leader denies claims he held shares in media company barring him as a Bangkok MP
Move Forward Party surging in the polls as the General Election campaign enters its final week
PM warns giveaway policies of some parties may be 'bad karma' for the country in the longer run
Leader of PM's UTN tells rally a government led by his party will 'get tough' with nation haters
Deputy Prime Minister Prawit Wongsuwan warns that those in power who support coups still exist
Former ministers rejoin the Palang Pracharat Party but there is no new economics czar Somkid
Ung Ing says Prawit is better liked than PM Prayut with reports of the return of key ex-ministers
Whip hand with Pheu Thai to secure power in this year's General Election despite Senate's waning power