Business leaders sending a strong warning to the proposed new government that the private business sector cannot absorb a shock rise in the minimum daily wage rate as committed to in the proposed government's programme. Commercial bodies urge that the Pheu Thai Party's approach to the economy be given free rein to address reducing the cost of living as a priority instead, including reducing electricity tariffs for industry.
Thailand's business leaders are increasingly concerned at the Move Forward Party's determination to implement its ฿450 a day minimum wage policy within 100 days of coming to power if the eight-party coalition manages to elect Mr Pita Limjaroenrat as Prime Minister in August. They warn that the move will cost Thailand jobs in terms of lost inward investment, the closure of factories where profitability is already marginal and a move towards automation which will impact elderly and lower-skilled workers the most. One business leader describes the move as a potential earthquake for the critical manufacturing sector of the economy.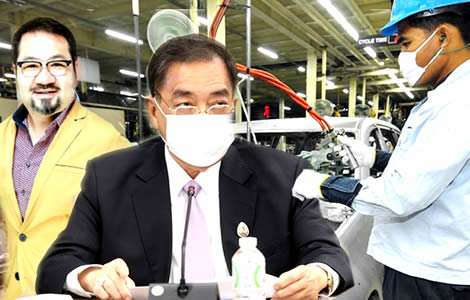 Thailand's private sector is sending urgent warnings to the leadership of any future Move Forward Pheu Thai coalition that plans to raise the minimum wage to ฿450 per day will be catastrophically damaging to the economy.
Speaking to this issue on Friday, the Deputy Chairman of the Thai Chamber of Commerce, Mr Poj Aramwattananont, said that employers are not set against wage increases but insisted that they must be well timed and the implications of such moves thought through.
Dangerous policy will see Thailand lose more and more investments to Vietnam and the Philippines where costs are already far lower than the kingdom
He described the proposed moves which have been signalled by Move Forward in the aftermath of the election, as dangerous and warned that they ran the risk of turning away both potential investors into the kingdom and some of those who already had committed.
Thailand is currently competing with countries like Vietnam and the Philippines for investment projects or manufacturing facilities that are moving away from China within Asia but these competitor countries have both a younger population and lower labour cost base.
Mr Poj said that for existing companies here, the rising cost of labour already means that they are facing increased costs of production even before the proposed 29% hike from ฿350 to ฿450, with he former only coming into effect last year after unions had initially pursued a rate of ฿492.
Surge in electricity costs is causing havoc in the export sector dealing with reduced demand from a depressed world economy and rising interest rates
Thai business concerns have also, in the meantime, faced a surge in the cost of electricity after years of a government-supported rate due to the pandemic which has left them with nearly double the unit cost compared to Vietnam.
The country is also facing rising bank interest rates although the Bank of Thailand has kept Thai rates below regional peers.
He urged the new government to listen carefully to the advice of civil servants, industry representatives and even labour groups themselves before making any decisions.
He said, otherwise, Thailand will lose out to its regional competitors in terms of not only inward investment but jobs and orders to support the export trade.
'Looking at the wage increase according to the campaign policy, it is something to be very careful about. Investors who are coming to invest in Thailand may need to review their decisions. Wages are an important component of production costs. If the Thai wage policy is inconsistent with the laws or regulations set, it may cause investors to slow down investment in Thailand,' Mr Poj said.
Hike in labour costs right now will be a 'shock' to the system and an earthquake moment according to the President of the Thai SME Confederation
The President of the Thai SME Confederation Mr Sangchai Thirakulwanich, at the end of the week, described the proposed immediate hike in the minimum wage level as a 'shocking' prospect for most small business operators.
He said it will be like an earthquake for Thailand's manufacturing sector which accounts for 60% of the country's GDP.
He called for understanding between the potential coalition government leadership and business groups such as the Federation of Thai Industries (FTI), the Chamber of Commerce of Thailand and the Thai Bankers Association so that any potential new government is aware of what this proposal may mean to the business sector.
The Move Forward Party has committed itself as part of its policies for government to raise the minimum wage to ฿450 within the first 100 days of the new ministry.
Mr Sangchai said that for some business concerns, this may pose no problem but across the board, there will be repercussions such as the layoff of staff, the deployment of more machinery and robotic systems as firms try to make ends meet in the already competitive manufacturing sector.
He predicted the move will hit the lower skilled and elderly in employment.
Concerns will simply close their door while those that survive will cut back on labour by laying off staff, cutting down overtime and using automation
He said that this would be the situation for the firms that manage to survive such a radical shakeup in labour costs, others would simply fold and close their doors.
The business leader warned the politicians developing such plans that the business environment right now is one of a sea of troubles with a depressed world economy entering recession buffeted by dangerous geopolitical tensions, the Russian-Ukraine war and climate change impacts.
At the same time, he agreed that wages should be raised but only as part of an overall package which includes attempts to reduce business costs such as electricity charges and other government interventions to help businesses compete more effectively.
'What is worrisome is the global economy that is having a global recession, especially the interest rate increase. Thailand is affected by this. There is still a Russian-Ukrainian war that is likely to remain unsettled. Environmental problems and El Niño may be indirectly impacting us. What has happened is that we now have problems over problems until they are all intertwined,' he said.
Thailand doing battle with other economies to attract inward investment and trade, it is already finding its businesses challenged and uncompetitive
He cautioned that Thailand is facing intense competition from its regional peers in all areas including attracting investment, developing its manufacturing industry as well as attempts to target its vital tourism sector and its once mighty agricultural industry, such as, for instance, the emphasis being put by other countries including China, Vietnam and others at growing Durian to compete with Thailand.
He said Thailand must have a strategy to be able to compete and the ability to rely on itself for such things as feed for its agricultural industry for instance, electricity and energy supplies as well as upskilling its workers.
He said raising labour costs alone will simply make the country's economy uncompetitive if not supported by other government initiatives.
Business leaders hope the new coalition pursues the Pheu Thai Party's economic policies while Move Forward sticks to its legislative reform agenda
His comments echo many business leaders who had been hoping since May 14th, that the Move Forward Pheu Thai coalition may combine the more neoliberal economic policies of the Pheu Thai Party with the reform instincts of the Move Forward Party in a carefully crafted mix of measures.
However, there are growing fears with Move Forward Deputy leader Ms Sirikanya Tansakul who is tipped for the key post of Minister of Finance in the next cabinet, indicating that the more radical party will drive policy for the new government and may also insist on a more profound pace of economic change.
This, they say, would be disastrous for the country's ability to compete.
Mr Sangchai said that, even now, Thailand cannot compete even before any proposed hike in the minimum wage.
Thailand is already in trouble even before this
'Today we cannot compete as we can no longer provide low wages for foreigners to invest. This would make it impossible. What we need moving forward is building digital citizens with advanced labour skills. Then we can have a higher minimum wage. Looking at the overall picture, things are not good. The cost of living is higher in every dimension because upstream, everything goes up. When this is the case, it affects the price causing the cost of everything to go up. It makes entrepreneurs fear. If you can't carry it, you have to raise the price. If the price goes up, products or services won't sell well. Sales are not good, workers must be reduced or businesses must reduce working hours. This is the ecosystem of the economy that we are already encountering, energy prices up, all of which make labour difficult and lands firms in trouble,' a disturbed Mr Sanchai explained.
He suggested that a 'half and half' approach be adopted with the government providing ฿50 per day to workers with businesses paying the balance. This would also need to be accompanied by a reduction in business costs and overheads notably the cost of electricity.
In an update on May 22nd last, Mr Danucha Pichayanan, the Secretary-general of the National Economic and Social Development Council (NESDC), the government's key economic advisory agency, warned that Thailand's economy was also facing headwinds with a swollen level of household debt particularly in car loans and short term personal finance which currently stands at ฿15.09 trillion, an increase of 3.5% year on year.
Cautious note on the economy from the country's top economic agency with a warning on private debt and short-term loans in the huge 'informal' economy
With a non-performing loan rate of 2.62%, commercial debt in Thailand's banks remain stable but there are reports of more problematic figures in the area of car loans and short-term finance.
The figures came as Thailand confirmed that the economy had grown 2.7% in the first quarter with the number in employment rising by a reported 2.4% to 39.6 million people.
However, Mr Sanchai, in the last few days, noted that 52% of these people are employed as informal workers without paying taxes or social security.
He suggested that this issue must also be addressed first as part of an effort to reform the economy before unilateral moves are made to raise wages in the formal employment sector which, of course, translates also into the informal or 'black' economy.
He suggested that those running the economy need to understand and be able to track all workers before sweeping efforts can be made at increasing wages and upskilling the country's workforce.
Further reading:
Election vote for Move Forward may have been a cry for help from voters mired in short-term debt
Pita, Move Forward and five other parties meet in Bangkok and come out smiling, ready to govern
Pita plots a new coalition government with Pheu Thai but open conflict has already raised its head in the Senate
Move Forward Party's good election result leaves uncertainty as to who will form the government
Move Forward leader denies claims he held shares in media company barring him as a Bangkok MP
Move Forward Party surging in the polls as the General Election campaign enters its final week
PM warns giveaway policies of some parties may be 'bad karma' for the country in the longer run
Leader of PM's UTN tells rally a government led by his party will 'get tough' with nation haters
Deputy Prime Minister Prawit Wongsuwan warns that those in power who support coups still exist
Former ministers rejoin the Palang Pracharat Party but there is no new economics czar Somkid
Ung Ing says Prawit is better liked than PM Prayut with reports of the return of key ex-ministers
Whip hand with Pheu Thai to secure power in this year's General Election despite Senate's waning power