Crippling level of debt throughout the world economy has left 3.3 billion people living in countries where borrowing costs exceed spending on education and health. This week, the United Nations Secretary-general, António Guterres, revealed that the sum involved is a massive $97 trillion.
Ratings agency Fitch retained Thailand's BBB+ rating this week as the outgoing government can take some credit for the prudent management of the country's public sector finances during the pandemic and its aftermath. The country is facing danger from a high level of household debt, however, significantly higher than its regional peers, which poses a systemic financial risk in the banking sector. Yet in a week when the UN Secretary-general highlighted total public debt worldwide at $97 trillion and with 59 countries in the clutches of a debt crisis, Thailand's external financial situation appears to be in rude good health with enough reserves to pay its bills for 7 months without income.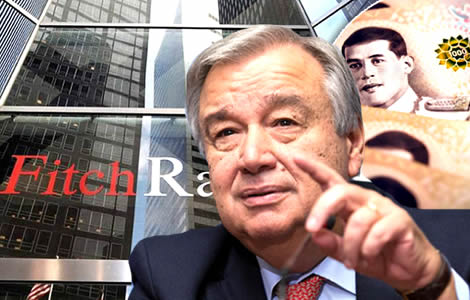 Thailand received a much-needed boost this week amid its political turmoil when Fitch, a US and British-based international ratings agency, announced that it had retained its BBB+ rating for the country with a stable outlook.
The news comes as the kingdom also faces headwinds hindering its export-led economy and manufacturing industry activity in 2023.
Thailand's exports for the first six months of the year may be down by as much as 7.4% with exporter's insistence that a corresponding rebound will be seen in the second half of the year beginning to fade given the prolonged nature of the downturn worldwide with some improvement, however, expected.
BBB+ rating means money loaned in Thailand is investment grade and helps capital flows
The retention of the Fitch rating is important to the kingdom because at BBB+ Thai government debt is considered investment grade rather than speculative according to classifications by the respective rating agencies.
This also influences confidence in the kingdom's large companies and banks although they are subject to their own ratings.
Fitch is one of three key rating agencies along with S&P Global Ratings and Moody's.
It is headquartered in both New York and London and is part of the Hearst Group.
The retention of the rating for Thailand comes with growing concern about the possibility of rising non-performing loan rates in Thai banks with reports that there has been a noticeable increase in the default rate linked with some ฿2.6 trillion in auto loans on the books, in the opening quarter of 2023, reported to have climbed to 14.20%.
Thailand's foreign reserves currently stand at $218.4 billion, enough to fund 42.6% of its annual GDP, a deep cushion against external shocks and crises
One of the key reasons for retaining the rating and for the general confidence among rating agencies in Thailand is its strong external financial position, especially related to the country's foreign reserves which currently stand at $218.4 billion. 
Fitch predicts that the country's budget deficit will fall by 3.2% in 2024, brought about by an increase in Thailand's tax base with the government projecting a 3% deficit in 2023 compared to 4.9% in 2022.
This assessment already takes into account increased social welfare spending and additional support promised by many of the political parties in the May 14th General Election.
Reduced budget deficit predicted even with elevated new social welfare spending as prescribed by all political parties in the May 14th General Election
Fitch, however, predicts that the Thai government will run a deficit in 2023 of 3.4%, down from what it suggests was a 4.4% figure in 2022, caused directly by a boost in revenue to the state and a more prudent management approach by the Ministry of Finance since the beginning of this year. 
The rating agency noted that public debt to GDP will increase to 55.9% in 2025 which is in line with other countries in the same category.
As usual, the rating agency noted that the country, while it has access to international capital markets, was very much reliant on local borrowing sources in the form of long-term bonds which help to underpin confidence in the country's public finances.
Thailand consistently reports that well over 95% of public sector debt is financed locally with baht borrowings. 
In April 2019, Moodys reported that this figure was at 98.5%.
Thailand's current account predicted to be positive at 2% since gates to the kingdom fully opened to foreign tourism at the start of 2023, 3.9% in 2024
Fitch also predicts that the country's current account will show a surplus this year of 2% which is predicted to increase to 3.9% in 2024.
This is driven by an improvement in the country's foreign tourism industry which is producing increased foreign tourist exchange income while at the same time, the cost of oil has reduced, easing the pressure on the country's outgoings.
Fitch also noted that Thailand's impressive foreign reserves represent 42.6% of the country's projected GDP for 2023.
This leaves Thailand positioned as one of the star performers in the world in this respect. 
The country's foreign currency reserves dynamic has improved significantly since the end of 2022 and the full reopening of the foreign tourism industry since then, despite the slowdown in exports.
Reserve buffers to remain ample representing 7.3 months of external payments based on 2023 figures
'We expect reserve buffers will remain ample to cover 7.3 months of current external payments in 2023,' the Fitch update reported, which is more than the projected median of 4.2 months for other BBB and A-rated peer countries.
Fitch also took note of Thailand's lower-than-average level of inflation which is predicted to come out at 2% in 2023, a significant fall from 6.1% in 2022 and within the Bank of Thailand's targeted range of 1-3%.
The central bank has addressed itself to the management of the country's elevated household debt level with the ratings agency noting that even at 90.6% in the first quarter of 2023, it represents a significant improvement on the 95.5% reported in 2021 at the end of the pandemic crisis.
Household debt is higher than regional peers
It notes, however, that the level is considerably higher than regional peers and in line with the Bank of Thailand, highlights this as a key vulnerability for Thailand's financial system.
Fitch reported that Thailand's banks appear to be resilient and have maintained a strong buffer against the risk of non-performing loans.
Nevertheless, it is clear that this is the Achilles' heel in Thailand's financial profile and indeed its wider economy. 
Worldwide public debt noted by a worried UN Secretary-general António Guterres last week with 59 countries or 3.3 billion people living in a debt crisis
Concern about debt levels throughout the world is rising with the Secretary General of the United Nations, António Guterres, on Wednesday, highlighting that total public debt acoss the world in totalled $97 trillion. 
For Thai readers, this figure is an astronomical ฿3,358 trillion and represents the latest figures only up to the end of 2022.
Mr Guterres noted that the world is in the midst of a debt crisis which is impacting both developed countries and non-developed countries and is the main reason for the current economic slowdown.
The UN chief was particularly concerned about 59 countries currently caught in a debt trap or debt spiral compared to just 22 in 2011. 
China has a significant debt problem
Significantly, one of these countries is the world's second-largest economy, and a creditor to many other nations. China's borrowing has seen its debt to GDP currently running at 279.7%.
The Chinese figure is one that most economists and analysts agree is unsustainable and which is coming at a time when the communist country is experiencing an ongoing crisis in its regional banking sector which is proving to be intractable.
The percentage for China's debt ratio in the economy came from figures produced by the Chinese Central Bank and Statistics Bureau released by New York-based Bloomberg.
Countries mired in debt are currently home to 3.3 billion people or just under half of the world's population. These are countries whose public debt exceeds or is larger than the combined budget for education and health.
Speaking in this context, the robust nature of Thailand's external finances and the prudent management of its economy by the outgoing government can be seen as a strength for the kingdom, despite its current political problems, the threat of a crisis over private sector debt within the banking system and the challenges faced in coping with an ageing population.
Further reading:
Debt crisis may be one of the top items on the new cabinet's agenda as central bank stands ready
Potential hazard lights flashing as kingdom's auto loans spiral into default with sky-high borrowing
Bank of Thailand governor gives veiled warning to voters on the danger posed by populist policies
Financial markets debt sell-off sending a signal to Thailand before the May 14th General Election
PM warns giveaway policies of some parties may be 'bad karma' for the country in the longer run
Economic recovery shaky despite strong foreign tourism as global economic outlook deteriorates
Recession fears rise as growth projections are cut and export output continues to decline in 2023
Good news on foreign investment at the start of 2023 fails to mask stunted competitiveness issue for economy
Economy faces export clogs with rules in China and 'green imperialism' from European Union
Vital European Union free trade deal with Thailand with stiff demands from Brussels to take time
Thailand's financials are sound but the economy is exposed if another world banking crisis emerges
Thai economic woes grow with a 10-year high trade deficit as January exports slumped by 4.5%
Credit crunch as firms seek more bank loans with tightened lending criteria and recession fears
Even as the baht surges, Thailand faces economic recession in mid-2023 with lower earnings
Thailand's trade agenda may be complicated and thwarted by raised tensions in the Indo Pacific region