With runaway, quarter-by-a-quarter rises in unsecured personal debt running at over 10%, a threatened spike in non-performing loans, a household debt of at least ฿16 trillion or 90.6% of GDP and a crisis in auto loan defaults, the problem of household debt is knocking on the door and requires an urgent answer. In May, the Secretary-general of the National Economic and Social Development Council (NESDC) Danucha Pichayanan made it clear that any stall or setback to economic growth in 2023 could well trigger a financial crisis for the kingdom because of this threat. This is why Thailand cannot afford a political crisis in the coming weeks as lawmakers prepare to elect a new Prime Minister.
A senior Bank of Thailand official this week said the central bank is ready to meet with the incoming government's economic team on the issue of rising household debt within the financial system and the now-acknowledged danger of a systemic crisis if there is a significant downturn in the economy which is already battling against reduced manufacturing output while being propped by by a steady recovery in the kingdom's critical foreign tourism industry. Concerns have been expressed in the last week about a rising default rate in automobile loans in addition to a massive ฿7.8 trillion on the bank's books in relation to unsecured personal loans.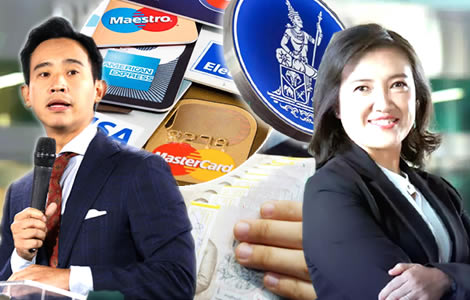 The Bank of Thailand responded this week, to increasing concern about Thailand's persistently high level of household debt and the impact this may have on the financial system with a rising threat that underlying non-performing loan rates, already elevated by regional standards, may spike.
Addressing the media on the issue of household debt and the problem of rising interest rates being carried by the kingdom's borrowers, the Assistant Bank of Thailand Governor, Ms Suwannee Jesadasak, underlined that the central bank was ready to meet and hold discussions with the new government's economic cabinet as soon as it is appointed. 
Business leaders confident that a disastrous political stalemate can be avoided after House Speaker vote
This is expected to happen at the end of July, with business leaders, on Wednesday, holding out the hope that a political crisis, in the selection of Thailand's next Prime Minister with a vote due to come before the National Assembly sitting in the next few weeks, may be avoided.
This was due to the smooth election of Mr Wan Muhamad Noor Matha as House Speaker on Tuesday unopposed, an appointment welcomed by the commercial sector.
There is considerable agreement that political instability at this time for the economy could prove catastrophic for the country's fragile economy.
The Assistant Governor, Ms Suwannee, addressed the issue with reporters, particularly highlighting persistent debt within the system, which she linked to revolving bank loans.
Household debt revised upwards to ฿16 trillion or 90.6% of GDP as Bank of Thailand expands oversight to include all private borrowing which is still rising
A top analyst last week identified at last ฿7.8 trillion in uncollateralised personal loans on the books of Thailand's banks as a key issue in addition to a rising delinquency rate on car loans with reports that a million automobiles in Thailand risk seizure in the coming months as borrowers fall behind on elevated repayments after debt moratoriums due to the COVID crisis, ended at the beginning of 2023.
The senior bank official's comments come as the central bank moved to redefine household debt which it now estimates at ฿16 trillion or 90.6% of GDP.
This is a significant increase from 86.3% of GDP at the end of 2022. 
'The central bank does not want to see household sector debt staying in the debt cycle for a long time. Given too long a debt cycle, consumers may shoulder too much of an interest burden compared to principal loans,' explained Ms Suwannee. 'With this scenario, it would be unfair to some retail borrowers amid the swelling household debt. However, the central bank will define persistent debt after the hearings.'
Central bank wants to establish new, accepted standards in responsible lending and risk-based pricing to rein in bad household debt habits
The central bank senior official was referring to public hearings, which it is planning shortly.
These will address key guidelines it is to set forth, including parameters for responsible lending and risk-based pricing.
This initiative, it is hoped, will lead to more financial literacy and a more responsible approach by lenders even as unsecured personal loans continue to expand.
Under the bank's new responsible lending guidelines, Thailand's commercial banks will be encouraged to reduce personal debt on their books by bringing to an end, where possible, revolving loans. 
The assistant governor pointed out that nearly 100% of the Kingdom's debt is now under its supervision because of changes to its definition of household debt. 
Ms Suwannee referred to recent news reports and concerns.
60% of late-paying automobile loans will be repaid says a senior Bank of Thailand official while 10% are already listed as non-performing loans by banks
In a note on recent commercial bank data, it was suggested that 13.8% of the country's auto loans had outstanding payments between 30 to 90 days due. This was recently updated to 14.2%.
There are currently ฿2.1 trillion on the books as auto loans. The bank official's comments suggest that ฿840 million of such loans may not be repaid which is a non-performing loan rate in itself of 5.2% of overall debt just in respect of auto loans when compared to the bank's reported non-performing loan rate of 2.62%.
The central bank official explained that approximately 60% of such loans will eventually be paid back, with only 10% currently being classified as non-performing loans.
This, however, suggests that the non-performing loan rates quoted by Thailand commercial banks are underestimated or due to rise.
Thailand's banks only pass on half the interest rate rises to borrowers in the short term with at least two more rate hikes due before the end of 2023
In the quarterly data released by the banking sector, Ms Suwannee also addressed concerns about the prospect of rising interest rates in Thailand this year, with at least two interest rate rises due of at least 25 basis points, which will negatively impact borrowers. 
She insisted to reporters that commercial banks are currently not passing on the rate increases. She suggested that for every percentage point rise, only 0.5% was shouldered by Thailand's hard-pressed borrowers. 
On the other hand, the Central Bank points out that the country is on a path of economic recovery with rising foreign tourism, employment and consumption.
The bank is highlighting higher capital expenditure by the government through transport and other infrastructure projects. 
Despite this, there is growing concern within the private sector concerning the household debt problem and its possible impact on the financial system. 
Top government economic adviser warns that a crisis could hit the country if GDP growth is retarded this year because of excessive private borrowing
Commenting on the pressing issue of household debt in May, then estimated at ฿15.09 trillion baht or 86.9% of GDP based on data from the end of 2022, the Secretary General of the National Economic and Social Development Council (NESDC), Mr Danucha Pichayanan, warned that any slowdown in the economy would lead to a financial crisis.
The senior economist for the organisation relied upon by the Thai government for economic planning, also highlighted rising levels of personal loans in the banking system, which he said had risen by 20.8% over the previous two quarters. 
On the positive side, the economist pointed out that the unemployment rate in the kingdom in the opening three months of 2023 stood at 1.05%, with 39.6 million people in employment. 
This in itself was an increase of 2.4% in the same period at the end of 2022.
Shock to the kingdom's economy caused by wage increases could lead to higher prices and a loss of inward investment and job creation says agency head
The country's average wage in the public sector in that time frame was ฿15,118 per month compared to ฿13,762 in the private sector.
Mr Danucha expressed concern about the policy proposal from the incoming Move Forward Party-led government which proposes a minimum wage of ฿454 per day within 100 days of taking office.
He noted that higher income may help to stem household debt but on the other hand, he suggested it was quite likely to lead to higher product prices and consumer prices in the shops. 
The senior economist also highlighted the link between the level of wages in Thailand and foreign direct investment, something that is quite a sensitive issue at the moment for Thailand.
This coincides with many factories shifting production from China to Southeast Asian countries, with Thailand at risk of not only losing potential new investments but also seeing some of its existing manufacturing base move to other countries in the ASEAN bloc where wages are significantly lower.
No need for uniform pay rates nationally
Mr Danucha, in particular, expressed concern about raising the salary of bachelor degree holders working in the government service.
 He questioned the need for a uniform wage rate throughout the kingdom.
'Personally, I think labour wages should not be set equally across the country as the cost of living differs in each,' he explained.
Mr Danucha also highlighted his concerns about a proposed new social welfare system for Thailand based on the European model because of the country's narrow taxation base.
European welfare state plan not viable at this time due to the country's narrow tax base with only 4 million taxpayers out of 11 million filing returns
He suggested that what Thailand requires is more targeted social welfare support rather than a system similar to that seen in European or Scandinavian countries.
'In Thailand, our tax base is narrow, with only around 1 million people filling a tax form, and fewer than 4 million actually paying tax,' he declared. 'To do it in an untargeted way while across the board with all types of assistance would be detrimental to the country's fiscal status in the long term.' 
Speaking for the National Economic and Social Development Council (NESDC), Mr Danucha had earlier warned that any deceleration in employment or economic growth would lead to a dangerous systemic crisis within the banking sector.
Even if this is avoided, however, he insisted the current level of household debt is unsustainable, and is already hindering domestic expenditure and economic expansion.
Economy is fragile with manufacturing activity declining with reduced exports in a world challenged by higher interest rates and geopolitical uncertainty
The concerns being raised about household debt are coming at a time when Thailand's manufacturing sector is recording a significant drop in output, something which industry leaders have confirmed is now feeding into work hours and overtime pay of those employed.
Figures released to the end of May suggest that manufacturing output fell by 4.49% in the five months from January, a revised and more significant 8.71% drop in April, followed by a lower 3.14% reduction in May. 
This is coming as a result of lower exports, a 4.6% fall confirmed for May and a 7.6% reduction in April as the global economy continues to face lower demand and activity caused by rising bank interest rates and uncertainty due to rising geopolitical tensions.
Thailand has been particularly impacted in the past few months by an unprecedented slowdown in China where that economy has failed to rebound after Communist Party authorities called an end to the Covid crisis at the beginning of the year.
Thai banks have the highest level of non-performing loans compared to Southeast Asian peers but maintain a strong deposit base with less competition
A recent report by the Federation of Thai Capital Market Organisations (Fetco), an organisation formed in 2004 composed of key players in the investment and bond markets, has just highlighted that Thai banks have the highest level of non-performing loans in Southeast Asia, even based on official figures released every quarter by the banking industry.
These show that in the last quarter, the non-performing loans declared for Thai banks had a combined level of non-performing loans valued at $9.6 billion. 
The report, which reviewed the banking systems across Southeast Asia and within the ASEAN, showed at the same time, that Thailand had the highest level of bank deposits in the country it examined with $55.4 billion being held by its banks or approximately 17% of GDP. 
'The level of bad debt for Thai banks is 4% of the total debt but there is a consistently high level of provision for bad debts,' the report noted.
The Federation of Thai Capital Market Organisations (Fetco) report also noted the limited nature of competition in Thailand between the country's banks with only 58 banks listed compared to 311 from Malaysia. 
Further reading:
Potential hazard lights flashing as kingdom's auto loans spiral into default with sky-high borrowing
Bank of Thailand governor gives veiled warning to voters on the danger posed by populist policies
Financial markets debt sell-off sending a signal to Thailand before the May 14th General Election
PM warns giveaway policies of some parties may be 'bad karma' for the country in the longer run
Economic recovery shaky despite strong foreign tourism as global economic outlook deteriorates
Recession fears rise as growth projections are cut and export output continues to decline in 2023
Good news on foreign investment at the start of 2023 fails to mask stunted competitiveness issue for economy
Economy faces export clogs with rules in China and 'green imperialism' from European Union
Vital European Union free trade deal with Thailand with stiff demands from Brussels to take time
Thailand's financials are sound but the economy is exposed if another world banking crisis emerges
Thai economic woes grow with a 10-year high trade deficit as January exports slumped by 4.5%
Credit crunch as firms seek more bank loans with tightened lending criteria and recession fears
Even as the baht surges, Thailand faces economic recession in mid-2023 with lower earnings
Thailand's trade agenda may be complicated and thwarted by raised tensions in the Indo Pacific region