The censorship of a highly regarded business journalist and economic analyst comes just months after leading American banks in Beijing were ordered to censor financial reports on the Chinese economy last October before the 20th Communist Party Congress which installed President Xi Jinping as a virtual dictator in the country and just days after thousands of Chinese local authorities were ordered to come clean about concealed debt hidden off the books with business confidence on a slide. 
Chinese authorities, on Tuesday, moved to censor and block the communications of a prominent journalist using the social media site Weibo who had been commenting and exposing the weakness and growing fragility of its economy which has slumped despite high expectations after the Covid lockdown regime which was ended prematurely at the start of the year following a public revolt nationwide across Chinese cities. The move comes amid disturbing economic data from Thailand's northern neighbour and a debate within the kingdom's political and economic circles on its relationship with China highlighted by recent business calls for clarification of Thailand's geopolitical allegiances in an increasingly polarised world between democratic economies and those aligned with authoritarian regimes.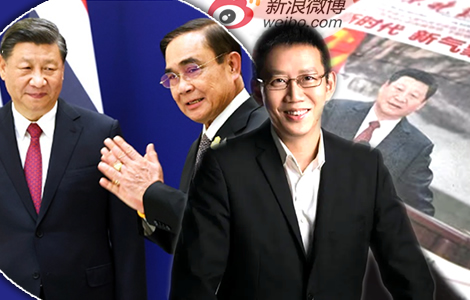 Chinese authorities have moved to censor a popular business journalist with a large online following after he recently compared the communist country's faltering economic situation to a depression.
Wu Xiabao, a highly regarded economics expert, found his account on the popular social network site Weibo locked on Tuesday following his latest communication to his 4.7 million followers.
All social media in China is directly under the control of government officials and ultimately the Communist Party which does not hesitate to use its wide-ranging powers which would be alien to Western countries and even Thailand.
The Weibo social network is part of China's ring-fenced online media environment, a breeding ground for heightened nationalism since 2012.
Weibo is part of China's own social media ecosystem which has seen rising nationalism but also growing discontent against the ruling Communist Party
Weibo in China is a cross between the Western social network sites Twitter and Facebook with over 500 million users.
It is hugely influential in a country which has its own distinctive and ring-fenced social media ecosystem guarded by what critics have called the 'Great Firewall of China' which is thought to be one of the key reasons for the rise of nationalism in the country under the increasingly authoritarian rule of President Xi Jinping since 2012.
However, it has also become a febrile breeding ground for the channelling of discontent against the Communist Party which resulted in widespread revolts at the beginning of the year which rocked the regime of President Xi to its core and saw the party abandon its draconian Covid regime virtually overnight.
On Tuesday, notice on the social media account of the well-known and popular business analyst said that his account had been banned for breach of 'relevant laws and regulations' while moderators on Weibo, in a community statement, said three verified accounts had been blocked on the channel due to 'spreading smears against the development of the securities market' and 'hyping up the unemployment rate'.
Recent reports around the world questioned China's high unemployment rate among young people and declining export volumes. 
It came as Beijing tries desperately to win back international investors and US business enterprises including visits by high-profile American billionaires and icons.
Severe, extended and under-reported economic downturn has been underway since well before the pandemic with a reversal of international investment
The economic downturn in China is thought by most informed Western observers to be vastly understated by the country's authorities, essentially the Communist Party based in Beijing, with China's economic data now often dismissed by many commentators with a pinch of salt.
The downturn in the Chinese economy has been ongoing since even before the Covid pandemic.
The crisis itself has exposed it and seen a reversal of expert opinion which stymied and ultimately has begun a reversal of international investment in China which is well underway.
In October 2022, ahead of the 20th Communist Party Congress in Beijing which cemented the power of President Xi as a virtual Chinese strongman or dictator giving him full command of the country and the party, two giant US banks Goldman Sachs and JP Morgan were ordered by the Chinese Securities Regulatory Commission not to publish any sensitive economic data on the economy in a move widely condemned at the time as censorship.
Growing concern about China's banking and property crises not going away as Beijing recently called on local authorities to come clean on hidden debt
At that time and since, there have been growing concerns about the Chinese banking system and mortgage repayment strikes developing in population pockets throughout the country as China's property sector, which spearheaded the country's staggering economic growth in the two decades since it joined the World Trade Organisation (WTO), has floundered with concern that many banks and local authorities are operating in a state of crisis.
The property sector accounted for over 20% of China's GDP in that period.
There is concern at the highest level in Beijing about local authorities and associated financial institutions with officials in the central government in the last week urging such institutions and bodies to come clean and declare their exposure to loans and commitments which might not have been apparent or may have been concealed up to this point.
Problem with private firms linked to local authorities and public bodies who have taken on debt which is not on the books or guaranteed at a higher level
There are thought to be over three thousand such bodies or institutions spread out over China's 31 provinces, 333 cities and over 3,000 counties at the forefront of the country's rapid transformation and impressive GDP data in the past as it transitioned, in what appeared to be an economic miracle, into the world's second-largest economy over the past two decades.
Part of the problem for financial institutions with debts on their books is that loans have been advanced to companies associated with local authorities which are now denying any responsibility for what they claim are essentially private enterprises.
These companies are known as Local Government Financing Vehicles (LGFV) used by municipal and local authorities and other government bodies to procure infrastructural development and other projects without taking on additional debt burdens or exposures.
This is just one piece of the jigsaw of the imploding Chinese property sector which also includes banks and behemoth property development firms such as Evergrande, a company indebted to the tune of $300 million which has been struggling to survive since the end of 2021.
China's property sector valued at $60 trillion
The scale of the problem has global ramifications with the Chinese property sector valued at some $60 trillion even as the crisis surrounding it continues to grow with the country's export sector now also facing headwinds as Western countries seek alternative suppliers and a geopolitical divide is rapidly developing between authoritarian countries such as China and the western democratic world.
In recent weeks, major US banks such as Goldman Sachs have turned negative on prospects for the Chinese economy as initial enthusiasm surged after the Covid-19 lockdown was lifted, quickly evaporated in the second quarter with sluggish demand worldwide for Chinese goods with a slow rise in productivity and output.
This comes despite attempts recently by the country's economic planners to lower interest rates from 3.65% to 3.55%, a move that failed to make an impression on the financial markets or industry itself.
'The ten basis point rate cuts are unlikely to stimulate business confidence and housing demand,' explains the Chief Foreign Exchange Strategist for Asia with Mizuho Bank in Japan.
Thailand's business leaders and analysts perplexed at the new course of events which challenges the country's decades-long economic alliance with China
The situation is exercising minds in Thailand, particularly in the light of reports that the incoming Move Forward Party-led government, while committed to maintaining Thailand's balanced position between the United States and China, is planning to strengthen Thailand's 'security alliance' with the United States.
The country is already a full military ally but this position became challenged and equivocal since the junta government of General Prayut Chan ocha, the outgoing Prime Minister, came to power and developed extensive links with the Chinese military both in terms of arms and equipment supplies and training exercises that have, according to unofficial sources, left US military top brass in the region wary of the kingdom's position.
Top Thai management experts say the kingdom's links with China must be maintained due to its strategic economic importance in trade and tourism
This week, Mr Sompop Manarungsan of the Panyapiwat Institute of Management (PIM), an acknowledged expert on the Chinese economy, said in Bangkok that it would be difficult for Thailand to decouple from China given its trade and investment links and also pointed to the strategic importance of China to the kingdom's foreign tourism industry.
He questioned if this was also possible for the United States which has trade with China to the value of $700 billion despite a deteriorating relationship and surging tension concerning Taiwan, the South China Sea and China's tacit support for Russia after it invaded Ukraine.
However, the inexorable flight of capital and investment out of China despite efforts by the new Chinese government and new Foreign Minister Qin Gang to woo support from high-profile US investors such as Bill Gates and Elon Musk on their recent stage-managed visits in the eye of the world's media, is undermined by Tuesday's censorship move.
Some investment funds diverted from China are going to Thailand but the kingdom is losing out to Vietnam, India and Indonesia. Seen as closer to Beijing
Some of the money leaving China is coming to Thailand but the kingdom is losing out to Vietnam, India and Indonesia because of a lack of competitiveness, political instability and what is now becoming a distinct factor, its ambiguous position relating to China with Thailand running the risk of becoming more like Myanmar, Laos and Cambodia which are firmly seen as in Beijing's camp in an increasingly fractured Asean bloc.
It is a key issue for the new government to tackle with industry in Thailand now calling on officials to make Thailand's geo-political position crystal clear and also for leaders to put political stability ahead of personal interests or ambitions at this critical time for the country with large flows of capital currently in flux and a new world economy evolving from the old, a divided one where globalisation is in decline.
An example of this has seen canny US investor Warren Buffet whose investment firm Berkshire Hathaway last year began selling tranches of shares in Chinese electric car maker BYD and since then consistently reduced his stake in the firm.
Mr Buffett's firm, also in February, sold most of its $4.1 billion investment in Taiwanese semiconductor firm TSMC, reducing its stake by 86% to a holding valued at $618 million with Buffet himself openly acknowledging that geopolitical considerations were a factor in the decision.
Further reading:
Running with the hare, hunting with the hound, Thailand looks at strengthening Baht Yuan ties
China's new foreign minister warns of certain US-Chinese war if Washington fails to reverse course
War with China is a rising spectre that must be confronted as US General predicts conflict by 2025
Bad news from Beijing with Xi's rise, the prospect of war and a divided world have greatly grown
Pelosi defies Communist China's concerted campaign of intimidation and visits Taiwan sparking a crisis
Abe's legacy will be his efforts to awaken Japan and build a defensive alliance against China
Former Pheu Thai finance minister expresses unease about US regional moves to counter China's rise
Prayut unveils 3 'R' strategy for a deeper and broader partnership with the US on the economy
US to unveil new economic relations framework for Asia at ASEAN Summit as China warns of new cold war
Thailand and Japan announce defence pact on visit by Japanese PM to Bangkok ahead of US summit
US ASEAN summit as 'dangerous directions' now emerging in Asia as China's regional power rises
US sanctions on Russia part of a 'profound' geopolitical shift to Asia as many US firms leave China
Thai tourism emphasises its neutrality in the Ukraine war, calls for a review of payment systems
Russia warns Thais planning fight for Ukraine they will not be treated as enemy combatants under UN treaties
Thailand votes on the right side of history in UN deploring Russian military action in Ukraine
World lives in fear – UK Minister says Putin may not be in his 'right mind' as Thursday's invasion goes awry
China could be an economic time bomb sitting on Thailand's doorstep as Evergrande collapse nears
UK Foreign Secretary visits Bangkok after AUKUS security pact further raises tensions with China
Thailand's trade agenda may be complicated and thwarted by raised tensions in the Indo Pacific region
RCEP deal agreed as India opts out – busy Bangkok ASEAN summit concludes on a low key
Chinese FM to visit Thailand in a Covid battered world of raised tensions and potential conflict
Lowering of US flag in Chengdu is a wake-up call for foreigners living in Thailand and with close ties here
US is a better friend for Thailand than China says US ambassador as tensions grow between the 2 powers