Man had made contact with his family in Australia on Saturday in a distressed state. Police on Wednesday underlined that Mr Beasly had no prior criminal history and had not bought an airline ticket. Yet, he left the country over the weekend returning on Monday.
Police are investigating the apparent suicide of a 50-year-old Australian tourist in Phuket who was captured on CCTV moments before his death tearing up his remaining bank notes and plunging from the fifth floor of a sixth-floor building. It emerged that Justin Beasly had only arrived in Phuket last Thursday but appeared to experience emotional difficulties during his trip and at one point, over the weekend, left the country returning on Monday.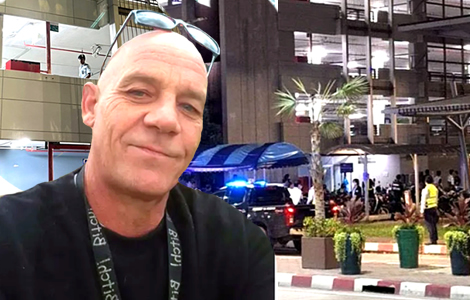 A distraught family in Australia has spoken of their devastation after it was confirmed that the 50-year-old foreigner, Justin Beasly, who jumped from a car park at the Phuket International Airport on Tuesday night the 29th of August at approximately 8.30 pm was their relative whom they had been seeking to find since he called home last Saturday in a distressed state.
A security guard at the six-story car park facility within the Phuket International Airport complex on Tuesday evening observed a foreign man tearing up bank notes on the 5th floor of the facility before jumping to his death in an area reserved for motorcycle parking.
50-year old arrived on Thursday in Phuket and was staying at a hotel in the Patong area of the island
Mr Beasly only arrived in Thailand last week on Thursday the 24th of August but there were indications that all was not well after he made contact with his family in Australia on Saturday. 
The man had been staying at a hotel in the Patong area of the holiday island where police on Wednesday still found his luggage and belongings.
Local police, afterwards, confirming the death of the Australian while withholding his name, made it clear that the Australian did not have any links with criminality and also had not purchased any airline tickets after his arrival in Thailand last Thursday.
Family back in Australia launched an appeal online looking for their loved one after he went missing 
On Monday, his niece Taryn reached out to expat and foreigner groups in Phuket on social media in a desperate bid to track down her uncle who we now know is mysteriously thought to have left the kingdom sometime last weekend and re-entered on the 28th of August, the day before he took his own life.
His family, on Monday, on social media explained that Mr Beasly 'was very distressed when last heard from, cannot make contact with him and his family are horrendously worried if you see him please let him know his family needs to hear from him and to know he's safe.'
On Wednesday evening in a statement to media in Australia, including Yahoo News, the family confirmed that they had been alerted by police in Phuket as to their uncle's fate.
They issued an emotional statement.
'The love his family had for him was indescribable. He was humorous and had the most beautiful soul,' it read.
Beasly's suicide captured on CCTV
On Wednesday, Police Colonel Salan Tantisartsanakun, the police chief of Sakhu Police Station, briefed the media in Thailand on the incident on Tuesday evening at the island's busy international airport.
He confirmed that police have launched an investigation into the circumstances surrounding Mr Beasly's death although the incident was captured on CCTV footage at the airport and did not appear to be suspicious.
Police Colonel Salan said the CCTV footage showed the man tearing up a ฿500 and ฿50 note before he went to jump from the fifth floor of the building. 
As he moved to commit suicide, an alert security guard on duty shouted at him not to jump but to no avail. 
Nonetheless, a criminal investigation case has been opened into the incident and the Australian Embassy in Thailand has been notified.
It is understood that Mr Beasly arrived at the airport on Thursday evening on a rented motorbike. 
Pattern of fatalaties in Phuket linked to Australian tourists since the kingdom reopened in 2022
Tuesday's tragedy follows a continuous roll of fatal incidents involving Australian citizens, nearly all men, who have died in Phuket over the last year or so since foreign tourism to the island resumed.
There is also a similar pattern prior to the pandemic.
The latest case involved the death of Mr Matthew Winder in police custody after being arrested by local police in the Patpong area of Phuket on Sunday 23rd April last for being involved in an altercation with security personnel at an entertainment venue on the Bang La Road.
His body was found the next day at lunchtime after he hanged himself in his prison cell. 
In July last year, 19-year-old Joshua James Connell fell from the top of a hotel he was staying in Patpong, after trying to balance himself on a perimeter wall on the sixth floor of the hotel.
Two months earlier, in May 2022, 22-year-old Billy James Simmons fell from the balcony of the Royal Paradise Hotel and Spa, also in the Patpong district of the island, an act which police attributed to the use of sex drugs and alcohol which was found in his room.
Singapore man who fell from the 5th floor of a Krabi hotel walked away from the incident last Saturday
On Wednesday, Police Colonel Salman had another news story for the media when he revealed that another foreigner, this time a tourist from Singapore, had jumped from the fifth story of a hotel in southern Krabi province, on Saturday, August 26th.
The man, only identified as Mr Brian, had booked into the Krabi Seabass Hotel for one night this week with a friend before the alarm was raised after he fell from his hotel bedroom. 
Amazingly, the man survived, suffering just a few scratches and was taken, at the insistence of emergency responders, to hospital for a checkup even though he was able to walk quite normally after the fall.
His 37-year-old companion Ho Si Ping told reporters that he had been experiencing mental health issues and in the hours before the fall had sought help from Krabi Hospital.
Join the Thai News forum, follow Thai Examiner on Facebook here
Further reading:
Phuket police open inquest into the death of Australian tourist found at Patong Police Station on Monday
Police probe the state of mind of Australian teenager who fell to his death from a Phuket Hotel
Police still probing 'booze fest' party at which Russian woman died in Phuket – 3 to be charged
Arrested foreigners uncooperative with Phuket police after Russian woman dies in balcony fall
Sex drugs found in hotel room of Australian man who died from balcony fall on Tuesday in Phuket
UK man in Phuket jailed on drunk driving charge just hours before flying to reunite with family
Wife and mother from Northern Ireland flies to Thailand after tragic death of her husband
'Insane' UK man David Mitchell found praying after tossing his wife over a balcony in Rayong province
Dutchman in Suphan Buri missing from wife with reports of a mystery rendezvous in Uthai Thani province
Ex UK soldier flies home following rescue by a compatriot after being abused by his Thai partner's family
Australian man's heartbreak cut off from his Thai wife – begs to be included on repatriation flights
Australian retiree is spending his own pension money on supporting the poor during the crisis in Chiang Mai
Stranded 66-year-old German tourist seeks help on the street from a Good Samaritan in central Bangkok
Police in Phuket await post mortem results after deaths of two elderly westerners last weekend at home