Body was removed on Monday by emergency services from the second-floor holding cells area of Patong Police Station and taken to Vachira Phuket Hospital for an autopsy.
Phuket's provincial police chief has promised a full investigation into the death of an Australian tourist in detention in Phuket whose body was found hanging from bars in his cell by the duty sergeant at Patong Police Station on the island on Monday afternoon last.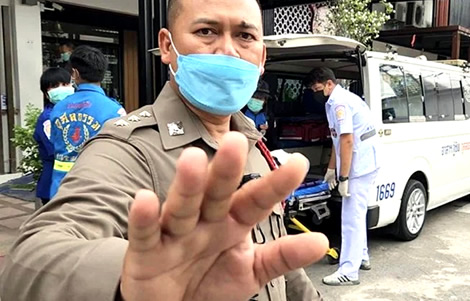 Police in the Patong Beach resort in Phuket are conducting an investigation after the body of an Australian tourist, arrested on Sunday for causing a disturbance and being drunk on the Bang La road nightlife district, was found dead in his cell at Patong Police Station.
31-year-old Matthew Winder was arrested at an entertainment venue and taken to the station where he was held in the holding cells situated on the second floor of the facility. 
Contradictory reports into where the Australian was arrested by police on Sunday morning following a disturbance at a Bang La Road entertainment venue
There are contradictory statements as to where the Aussie was arrested with other reports suggesting that he was picked up by police at where he was staying which was also located on the Bang La road.
The arrest occurred early on Sunday morning.
After midday on Monday, the on-duty police sergeant left for lunch and later brought back something to eat for Mr Winder.
He discovered the Australian hanged with his shirt tied to an iron bar in the cell where he was being held.
After entering to check on the condition of the prisoner, the police officer found that he had no pulse and had already expired.
Australian embassy notified of the death as thorough investigation promised by Phuket's police chief
The Australian Embassy in Thailand has been notified of the death and the body of Mr Winder was sent to the Vachira Phuket Hospital on the island for an autopsy to be carried out.
The media was briefed by Police Major General Sermpan Sirikhong, the provincial police chief in Phuket who said the Australian had been held alone in his cell after his arrest on Sunday.
He gave an assurance that the investigation underway into the death in custody of the foreign tourist would be full and thorough.
Further reading:
Police probe the state of mind of Australian teenager who fell to his death from a Phuket Hotel
Police still probing 'booze fest' party at which Russian woman died in Phuket – 3 to be charged
Arrested foreigners uncooperative with Phuket police after Russian woman dies in balcony fall
Sex drugs found in hotel room of Australian man who died from balcony fall on Tuesday in Phuket
UK man in Phuket jailed on drunk driving charge just hours before flying to reunite with family
Wife and mother from Northern Ireland flies to Thailand after tragic death of her husband
'Insane' UK man David Mitchell found praying after tossing his wife over a balcony in Rayong province
Dutchman in Suphan Buri missing from wife with reports of a mystery rendezvous in Uthai Thani province
Ex UK soldier flies home following rescue by a compatriot after being abused by his Thai partner's family
Australian man's heartbreak cut off from his Thai wife – begs to be included on repatriation flights
Australian retiree is spending his own pension money on supporting the poor during the crisis in Chiang Mai
Stranded 66-year-old German tourist seeks help on the street from a Good Samaritan in central Bangkok
Police in Phuket await post mortem results after deaths of two elderly westerners last weekend at home