New government is taking the helm of an economy beset by structural problems amid a severe slowdown in China and global economic growth falling back to just 2.4% this year with serious concerns being raised about the slump in China with plummeting confidence in that economy which has often been relied upon by Thailand in past decades. There are also heightened concerns that Thailand's household debt problem may be reaching the point of morphing into a crisis that can no longer be ignored.
The incoming government with Mr Srettha Thavisin serving as Finance Minister as well as Prime Minister is making ready to take over a struggling economy beset with a range of chronic difficulties as a limp recovery is threatened by a household debt crisis now reaching critical proportions and an emerging economic implosion in China.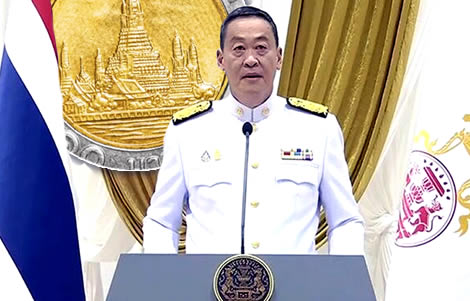 An analytics firm associated with the rating agency Fitch, BMI, has reduced the projected growth outlook for Thailand for 2023 from 3% to 2.8% this week.
It comes as quarterly growth figures from April to the end of June have been released which are particularly disappointing.
The data shows that the Thai economy's rate of recovery has slowed down in the second quarter from 2.6% in the January to March period to 1.8% from April to June. 
Bank of Thailand wants to see the new government adopt a more prudent fiscal, policy and rein in public debt as the threat of a financial shock rises
The economic problems facing the incoming government of Mr Srettha Thavisin, who is currently finalising his cabinet, are in fact growing, with senior banking officials at the Bank of Thailand reportedly anxious to sit down with incoming ministers to discuss the new Pheu Thai-led government's plan for populist giveaways which will fly in the face of efforts by the Central Bank to rein in consumer credit while tasking the government to adhere to a more disciplined fiscal policy given the elevated risk of a global financial shock.
The Bank of Thailand Governor Sethaput Suthiwartnarueput has repeatedly underlined that the risk of such a worldwide financial shock is rising.
As the world economy darkens and fragility within banking systems is being tested with developments both in the United States earlier this year and recently in China which is experiencing a severe test of confidence with indebted regional banks and local authorities facing acute liquidity shortages, the National Economic and Social Development Council (NESDC), through its Secretary General, Mr Danucha Pichayanan, has this week revealed its continuing concern about rising household debt level in the Thai banking system.
Bank is moving to control the equality of loans being extended across the financial system and to curtail excess borrowing by both firms and households
The situation is a growing cause of concern despite plans by the Bank of Thailand to introduce reforms in 2024 and 2025. 
On Tuesday, Mr Danucha told reporters that the economic oversight agency tasked with advising the government is increasingly concerned about the problem and is monitoring it closely.
In the first quarter of 2023, total household debt in Thailand rose to ฿15.9 trillion or 90.6% picking up from 3.5% in the previous quarter.
The warnings from the National Economic and Social Development Council (NESDC) come with similar concerns being raised by the National Credit Bureau (NCB) which has highlighted a potential 13% default rate across the board on the ฿13.5 trillion in loans that it monitors.
Auto loan sector shows hazard lights
Like the National Credit Bureau, Mr Danucha, on Tuesday, highlighted difficulties within the auto loan sector which accounts for ฿2.6 trillion in loans in Thailand.
In a recent update, the National Credit Bureau (NCB) warned that 14.2% of these loans were in default and that up to a million vehicles across Thailand were in danger of being repossessed by financial institutions.
On Tuesday, the National Economic and Social Development Council (NESDC), in its briefing paid particular attention to a surge seen in loans within the savings cooperative sector where the total amount owed by borrowers has now risen to ฿940 billion with 50% of such loans being for non-productive purposes such as personal expenditure or the refinancing of existing loans. 
Impoverished and indebted households and small business concerns forced into the hands of private informal borrowing at extortionate rates
This news comes with anecdotal evidence from the economy and from news reports that Thai borrowers are being forced into the informal borrowing market and debt traps at an increased rate as credit in the country dries up amid a decline in manufacturing activity with the only engine of the economy performing being foreign tourism. 
Many analysts believe that these problems may only be just beginning after Thailand's Central Bank, since last year, raised the borrowing rate by 175 basis points to 2.25%, a level strikingly lower than regional peers and the US Federal Reserve.
It is understood that, despite this, it may pause the current cycle of interest rate rises even though there is continuing pressure from the United States, where last week the Federal Reserve Chairman, Mr Jerome Powell, indicated that the Federal Reserve was willing to continue its aggressive interest rate hike policy in the context of a resilient American economy where consumer spending has continued to grow even as interest rates have soared to between 5.5% and 5.75%.
US interest rates may continue to rise says US Federal Reserve Chairman Jerome Powell at annual visit to Jackson Hole, bad news for China and Thailand
On the annual visit by the Federal Reserve boss to the Jackson Hole Economic Symposium, Mr Powell said: 'We are attentive to signs that the economy may not be cooling as expected. We are prepared to raise rates further if appropriate and intend to hold policy at a restrictive level until we are confident that inflation is moving sustainably down towards our objective.'
The objective of the Federal Reserve in America is to bring US inflation to a targeted rate of 2% or lower. 
We have seen rising US interest rates lead to slower world economic demand and a shift in capital from Asia to the West especially out of China where the Yuan fell to its lowest level against the dollar in 16 years on Wednesday. 
The US inflation rate rose to 3.2% in July from 3% in June but analysts had projected a rate of 3.3% due to external factors including geopolitical divisions across the world and the ongoing war between Russia and Ukraine.
Thailand is also feeling the impact of an increasingly troubled and fractured world and indeed it is fortunate that the US economy continues to outperform expectations. 
US economy may be approaching a tipping point as borrowing costs rise and this would be even further bad news as it is Thailand's largest export market
Most analysts, however, believe that this may not continue in the longer term.
The United States is Thailand's largest export market absorbing 17% of the kingdom's output while China in second place takes in 13%.
Global economic growth is expected to be 2.4% in 2023 compared to 3.1% in 2022 while inward investment in the Thai economy stalled in the second quarter beginning with a 3.1% pickup in the opening quarter of 2023 and falling to 0.4% above last year's already lacklustre figure in the second quarter. 
One of the key negative factors impacting the Thai economy this year has been not only the failure of China to reignite manufacturing output in the kingdom but also the emergence of severe structural problems within the Chinese economy after it reopened from its self-imposed COVID-19 shutdown which are a cause of concern both in the near and longer term. 
Indeed, there are now some analysts who are predicting a possible implosion of the Chinese economy as it appears to be flailing in the face of capital outflows from the communist country as well as the reversal of inward investment with manufacturing continuously moving out of China to other parts of Asia and the world.
The economic data for the second quarter in Thailand showed only a 2.6% improvement in retail sales.
Consumer confidence and spending impacted by rising interest rates in Thailand and the delay in forming a new government after the May 14th poll
This is particularly disappointing since the Bank of Thailand had been anticipating that the domestic economy would help drive GDP growth further this year along with foreign tourism even as exports continue to fall.
The rate of decline in Thai exports was 5.7% in the three months to the end of June, increasing from 5% in the first quarter.
Imports decreased by 2.4% from the period before and indeed this contraction in imports seen in the second quarter was higher than the contraction in exports which was 0.7% although it was a year-on-year fall of 5.7%.
Analysts have been quick to blame the political instability that resulted in the aftermath of the May 14th General Election for the downturn in economic performance seen to the end of June this year. 
Business and household confidence declines as pressure grows over rising debt levels and a more difficult credit market with rising interest rates
They point to a severe downturn in confidence in the business sector and among consumers at the same time while a fall in government disbursements was seen at 4.3%. 
The impact of the late formation of a new government, which was only resolved suddenly on August 22nd, will continue to impact economic growth negatively as the new budget which would have come into effect in October 2023 is now expected to be delayed until the first quarter of 2024.
At the same time, the country's household debt problem appears to be approaching a critical point and will have to be addressed by the incoming government.
Cracks also appear in the foreign tourism sector
It should also be pointed out that Thailand cannot assume that the ongoing recovery in foreign tourism will continue apace, although the country's economy is now depending on this to happen with projections of 28 to 30 million visitors this year, with 2.2 million visitors being seen in June 2023 as the focus of the country's foreign tourism market moves from Western countries to Asia which has seen a 16% reduction in expenditure per visitor in 2023 compared to 2019.
The Thai Hotels Association (THA) has also in recent days made it clear that many smaller hotels in the industry with ratings under four stars are labouring under high debt repayment loads as interest rates rise because of the shutdown of the economy and the foreign tourism industry between 2020 and 2022.
Thai economy's structural problem is clear as you compare it with Malaysia, lower GDP and higher debt
The competitive weakness of the Thai economy and the challenge facing the new Pheu Thai government where incoming Prime Minister Srettha Thavisin is tipped to also be Finance Minister, can be seen from a comparison with Malaysia where GDP per capita is projected at $13,382 in 2023 compared to a projected GDP per capita in Thailand of $7,700.
A very disturbing picture emerges when you look at the fact that 39.7 million people are currently employed in Thailand with only 1.06% unemployment while the country's growth rate is projected at only 2.5% to 3% for 2023.
Malaysia has a current borrowing interest rate of 5.44%, nearly twice that of Thailand.
At the same time, it maintains a household debt level equivalent to 66.8% of GDP. 
The current position shows that the Thai economy, like China, also has significant structural problems, not easily addressed by Keynesian economics or spurring growth through populist giveaways, particularly in the increasingly challenging world economy that is emerging as the world increasingly becomes divided and troubled while also suffering from the devastating impact of demographics or ageing populations, a threat which is emerging as the biggest underlying economic factor into the future.
Further reading:
Concerns over household debt rising as banks report marginally lower non-performing loans
Thailand preparing for a soft landing as 'cracks' open up in the Chinese economy says bank chief
Economic danger signals emerging as politicians wrangle over who will form the next government
Bank of Thailand to tackle household debt in new plan from 2024 which will see higher standards
Politicians skating on thin ice as the economy may not be able to withstand a political stalemate
Debt crisis may be one of the top items on the new cabinet's agenda as central bank stands ready
Potential hazard lights flashing as kingdom's auto loans spiral into default with sky-high borrowing
Bank of Thailand governor gives veiled warning to voters on the danger posed by populist policies
Financial markets debt sell-off sending a signal to Thailand before the May 14th General Election
PM warns giveaway policies of some parties may be 'bad karma' for the country in the longer run
Economic recovery shaky despite strong foreign tourism as global economic outlook deteriorates
Recession fears rise as growth projections are cut and export output continues to decline in 2023
Good news on foreign investment at the start of 2023 fails to mask stunted competitiveness issue for economy
Economy faces export clogs with rules in China and 'green imperialism' from European Union
Vital European Union free trade deal with Thailand with stiff demands from Brussels to take time
Thailand's financials are sound but the economy is exposed if another world banking crisis emerges
Thai economic woes grow with a 10-year high trade deficit as January exports slumped by 4.5%
Credit crunch as firms seek more bank loans with tightened lending criteria and recession fears
Even as the baht surges, Thailand faces economic recession in mid-2023 with lower earnings
Thailand's trade agenda may be complicated and thwarted by raised tensions in the Indo Pacific region