Online for banking for foreigners to Thailand looks like a brighter proposition but the days of the old fashioned branch service are numbered here also
Thailand's banking system has been at the cutting edge of online technology and services to customers making Thailand's online banking services second to none in the world. One leading online bank recently went further and scrapped all its fees. It was closely followed by competitors. It spells particularly good news for foreigners availing of Thailand's banking services online as in recent years, Thai banks have targeted foreigners, particularly those from western countries.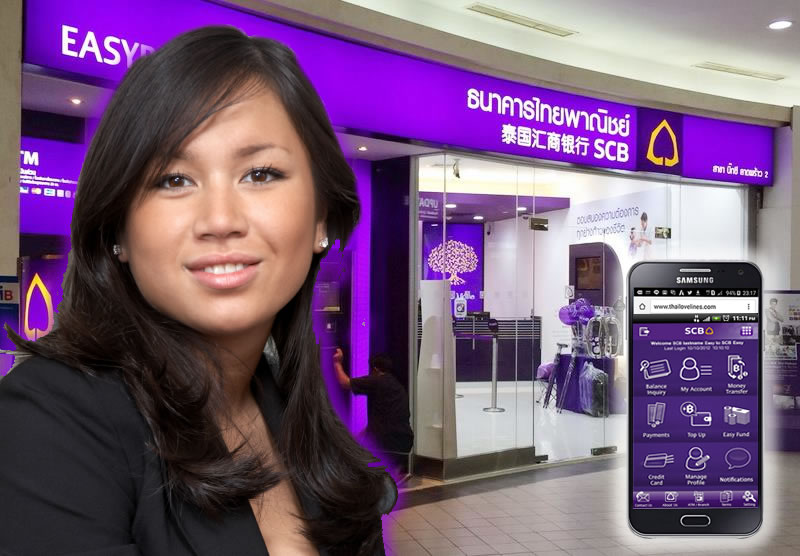 Founded in 1907, Siam Commercial Bank is the oldest in Thailand. Its long history invokes associations with traditions and old customs. So it stunned its competitors in March by announcing the unprecedented termination of all fees for money transfers and bill payments offered by SCB Easy, its mobile banking app.
Thailand's oldest bank scraps all fees on online banking app
The app has been a selling point for the bank, attracting 6.5 million users since its introduction in 2012. The bank officials made it clear that they hoped the dramatic move would gain new 3.5 million app users by the end of this year. That goal, however, will be difficult to achieve because on the same day that the policy was publicized, Krung Thai Bank, Kasikorn Bank and Bangkok Bank, three major Thai banks, quickly declared that they would initiate similar fee cuts. Typically, competitors wait for some time to see customer's reactions towards new policy before following suit so why the rush this time? Part of the answer can be found in 'One Thousand and One Nights': Alibaba.
Chinese banking competition arrives in Thailand with Chinese tourists
Chinese digital payment systems, notably AliPay of Alibaba Group Holding and WeChat of Tencent Holdings, are taking root in Thailand, present in many supermarkets, retailers and restaurants. While they currently only serve numerous Chinese tourists flocking to Thailand the Land of Smiles every year, there is a chance that they will eventually cater to the needs of Thai customers. Therefore, Chinese players represent a big threat to Thai banks as they provide a wide range of services besides banking such as consumer lending and retail, offers. Thai banks are somewhat discouraged from taking this course by government regulation and policies which sees debt in Thailand as key issue to be tackled. Thailand's banks have pushed to embrace digitization as another alternative, especially when the value of monthly bank transactions through mobile phones has exploded, increasing seven times over the past three years. Under such circumstances, moving towards digital services has emerged as the key to sustainable growth for the Thai banking sector.
Old bank has a new data driven strategy to win in Thailand
However, Siam Commercial Bank's new mobile banking agenda is also pursuing online marketing strategies through the use of customer data, especially about their spending habits.  This, it is thought will mean that the bank can come up with the right offers for Thailand's steadily growing middle class market. The performance of the Thai bank has, of late, been disappointing. It is thought that this is linked to lack of growth in Thailand. The country has achieved modest increases in economic growth but international headwinds have limited Thailand's export growth while the domestic economy is held back by high levels of consumer debt. Shares at Siam Commercial Bank have decreased 12% since January. However the bank will be buoyed by this week's surprise economic data showing growth in Thailand has rebounded to 4.7% with growth in all sectors both export and consumer led. It is thought that the bank has paid attention to market conditions and made a strategic decision to lend to consumers and small businesses, an approach that carries bigger risks than loans to big companies. Thanks to the advent of big data, now the bank can expect to manage this risk by learning from client data which Thais is likely to repay their loan and what kind of loan they need to take out.
Many Thai bank branches are closing as banks embrace the new age
The embracing by Thai banks of new forms of banking may put an end however to traditional branches. Many foreigners in Thailand, particularly middle aged ones, appreciate the personal service still available at bank counters in the country. This is a service fast disappearing in western countries. Alas, Thailand is soon set to follow suit.
As more people perform transactions via smartphones or the internet, a lot of stand-alone branches have been shut down or are facing the chop. Automation, a source of concern for workers in the manufacturing industry has already arrived in the banking industry. There are now machines that allow clients to enjoy basic services such as opening an account or traditional teller functions both on the physical world and online. No more human tellers are needed. For the employees that stay, they will be retrained to enhance customer's satisfaction and provide complex, more diverse services like the Chinese competitors who are knocking on the door.
More and more foreigners are opening bank accounts in Thailand
The development of the Thai banking industry has had a big impact on foreigners and even visitors to Thailand. In recent years many Thai banks have targeted them to open accounts and it has led to more inward investment into country. However newly arrived foreigners or visitors to Thailand must be aware of the requirements and the limitations placed on banks. There is necessary paperwork as with everything in Thailand. But what is pleasantly surprising is the ease of use, service and competitiveness of Thai banks. For most bank branches, all you need is a tourist visa or a work permit to open a bank account. However, you should bear in mind that in Thailand, different branches have different policies and interpretations of the rules.
Different branches, different rules can benefit some foreigners
Standard procedures in one branch may not be accepted in another so it is advisable to try many branches before you make you choice. Further requirements for opening an account can vary greatly, you may perhaps need to present your passport, reference letter from your nation's embassy, Thai driving license, citizen ID card, etc. But Thai banks are extremely easy to work with, and if you fail at one branch, just find another one.