The 7 Eleven store network in Thailand is not only reflecting the consumer boom in Thailand but also at the forefront of new developments in retail and technology – it is a world class success but very much a Thai story
The popular retailing chain 7 Eleven has announced its plan to expand into banking in Thailand, following the country's economic recovery. The country has seen export led growth turned into a strong consumer economy in the last two years and the growing number of 7 Eleven outlets are at the heart of it all.
7 Eleven stores in Thailand on the way up. The flourishing retail chain has a turnover of nearly 500 billion baht per year with over 11 million customer a day. All from one initial store in Patpong, Bangkok in 1989. Now it is ready to enter the banking business as a well embracing new AI technology as Thailand's consumer economy booms.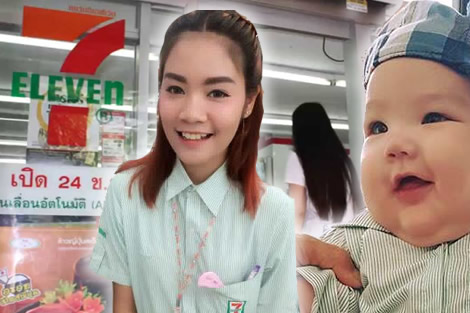 The huge success of 7 Eleven in Thailand has mirrored the growth in the Thai economy and also  reflects the business acumen and love of service that is a hallmark of Thai society. From its first branch in Patpong road in bangkok in 1989, it now has well over 10,000 branches in Thailand and this figure is expected to surpass 11,000 by the end of this year. It is envisaged that the chain will have as many as 13,000 branches by 2021.
7 Eleven says consumer buoyancy in Thailand is up with over 11 million customers a day
At an SME conference held in Bangkok at the beginning of the year, a senior Vice president of 7 Eleven told the audience that consumer sentiment in Thailand had risen sharply. This is supported by macro economic data which shows more imports and overall increase in retail sales. Suwit Kingkaew told an SME conference held at the city's prestigious Dusit Thani Hotel that sales of products produced by Thai SMES through the expanding chain rose by a staggering 20% in 2017.
This has been beneficial to supplies and enterprises in Thailand with prices filtering through the supply chain. Prices for farm produce had risen in the course of the year. He pointed out that the 7 Eleven stores are supplied by 6,600 companies of which 2,200 were SME operations in Thailand.This amounted to 22,000 product lines on sale in 7 Eleven shops across Thailand as part of the groups rising turnover. The conference was the second of its kind, focusing on SME and sustainability in Thailand in partnership with the 7 Eleven chain.
7 Eleven Thailand the second biggest network in the world as Thai consumers love convenience
7 Eleven, the Japanese owned American international chain of convenience stores that has business operations in 17 countries, is run by the Bangkok based conglomerate Charoen Pokphand (CP) in Thailand. It has proved enormously popular with Thai consumers. It is by far the largest chain of convenience stores in the country. The latest data suggests that, 7 Eleven stores in Thailand are visited by nearly 12 million people every day with with well over 30 million customers a week. The convenience store network generated an estimated 480 billion baht in revenue for the year 2017. The runaway success of 7 Eleven in Thailand is quite unique with the company's stores in Thailand being well known by Thai consumers as a place to play utility bills and buy mobile phone credit as busy Thai workers go to and from work. In the United States the chain is more well known for its large sized and iced soft drinks.
7 Eleven Thailand branching into the banking business with relaxation and change of regulations
Now 7 Eleven is extending its services into Thailand's banking sector. Taking advantage of its growing and unparalleled store network and its gigantic customer base, it has identified a canny opportunity for more profit while at the same time boosting footfall and revenues. It is making its first foray into the banking industry in partnership with a Thai bank and has applied to the Central Bank in Thailand to become an agent for commercial banks after a change in regulation made this possible for Thai corporate entities this year.
Government Savings Bank partnership spells opportunity for 7 Eleven as banks scale down
Under the Bank of Thailand's revised guidelines, commercial banks can now appoint any corporate entity to act as their representative and perform basic transactions. The amendment to existing banking regulations has allowed 7 Eleven to launch a pilot banking program in conjunction with Thailand's Government Savings Bank.
Thai customers will be able to deposit and withdraw money at more than 10,000 7 Eleven convenience stores across the country under the new service offering. Deposits will be limited to 30,000 baht daily while daily withdrawals will not exceed 20,000 baht ($600). There are no plans to provide loan services or other banking services. The program only covers Thailand's Government Savings Bank for now but more banks are likely to join in the future. Each transaction will be charged 15 baht with special discounts for young customers. Consumers will be able to make withdrawal fo B5,000 per time between the hours of 8am and 10pm.
Dramatic changes mooted in Thai banking services
Many commentators see this development as the way of the future as Thailand's banks look to scaling down branch networks trimming costs in the face of competition in a new online banking era. One leading Thai Bank Siam Commercial bank announced in April this year that it was cutting its branch network by 200 outlets as it sought to cut its operating costs by 30%. Siam has been at forefront of developing a competitive online offering to compete with other online bank services not just in Thailand but from other Asian countries notably China.
7 Eleven and convenience stores an option for banks managing services in a new world
7 Eleven's venture into banking, along with the rise of mobile banking, is has the potential to cause disruption to traditional commercial banks and threatens the future of bricks and mortar bank branches with many threatened with closure. However, the major bank chains seem quite aware that the new developments are inevitable. In western countries banks have been following a similar path but care must be taken to maintain the level of service to bank customers and loyalty. This has become an issue in western countries and requires careful management. If well executed with online services and a new approach to retailing, it can actually be a facilitator of new business.
Chatchai Payuhanaveechai, president of Government Savings Bank, even hopes that working with the retailing chain will help attract 10 million more customers to his bank in the next two years. 'The bank won't close branches but we also won't open new ones,' said Mr. Chatchai, noting that this is important to cutting down on costs.
Old fashioned stores still have bright and new future through the use of advanced technology
7 Eleven is also at the forefront of radical new technological developments being pioneered in Asia which have the potential to transform the retail industry. A new technology using facial recognition and AI is being proposed for 7 Eleven stores in Thailand as part of a revolutionary new industry which may change the face of retailing and the shopping experience for consumers in the future. The technology may even link online sales activity with normal retail operations through bricks and mortar stores on the ground in a seamless  way. The company working with 7 Eleven in Thailand to bring about this revolution, Nasdaq listed Remmark Holdings is developing a suite of offerings ranging from using facial recognition technology to test store displays to customer loyalty programmes which can be customised and interact on the spot with customers in the store.
7 Eleven looks at facial and gesture recognition technology as well as AI to give it the edge
The company will also harness gesture recognition technology to conduct behaviour analysis. The new technology collects information about customer in-store engagement such as their emotion, reaction to certain products, the amount of time shoppers spend at specific shelves.
The data will then be used to create personalized promotional programs as well as shelving choices. Artificial intelligence is also employed to monitor and analyze staff activity, thus improving their performance and efficiency. It is still unclear about the security policies of 7 Eleven Thailand relating to privacy concerns caused by big data and facial recognition. In Japan, just recently, 7 Eleven said that it would impose strict limits on access to personal information held in its stores.
Thai economy is rising and consumers have finally bought in to the success with rise in spend
7 Eleven's expansion comes at a time when Thailand economy is coming roaring back and spending power of Thai consumer is on the rise. As the anticipated Eastern Economic Corridor (EEC) initiative which is instrumental to improving the Thailand's connectivity and luring more foreign investment kickstarts, more convenience store and mini-supermarket chains such as FamilyMart, Lawson 108, Mini Big C and Tesco Express have shown the eagerness to increase their share of the lucrative Thai market. Despite the competition,  7 Eleven publicized earlier this year their plan to open 700 new stores every year to reach 13,000 by 2021.
CP is the owner of the 7 Eleven franchise in Thailand, it's Chairman Soopakij Chearavanont, feels that this approach will not only help the chain drive more revenue and sales but also allow to manage costs and stock inventory more effectively.