Evidence of a Tanzanian woman to a Bangkok court last month led to an arrest warrant being issued against a Scotsman who left Thailand last month. It is reported that man who is well known in Pattaya and known as 'Big Daddy' married the woman in Dar es Salaam last year. The Scotsman, who also holds an Australian passport, trafficked east African prostitutes into Thailand and put them to work on the streets of Bangkok.
Today a Scotsman who has been named in recent days in media reports linking him to an African trafficking ring has threatened media outlets by email and claimed that he is the victim of a defamation campaign. He claims the reports about him stem from questionable journalistic sources. He claims that they are fabricated and untrue. The Scotsman, with connections to Australian crime syndicates in Australia and Pattaya, is reported to have ducked out of Thailand in April 24th last, weeks before a court order was issued for his arrest as a human trafficking lord known as 'Big Daddy' who was involved in smuggling east African prostitutes into Thailand. The man was once a police volunteer force recruit in Pattaya. He is reported to have been a witness for the prosecution against Perth Australian man, Luke Cook and his Thai wife Kanyarat, an Aussie Thai couple from Pattaya. Both were sentenced to death last year for drug running. 'Big Daddy' is also a long time associate of Antonio Bagnato, an Aussie career criminal linked with the notorious Hell's Angels crime gang in Pattaya.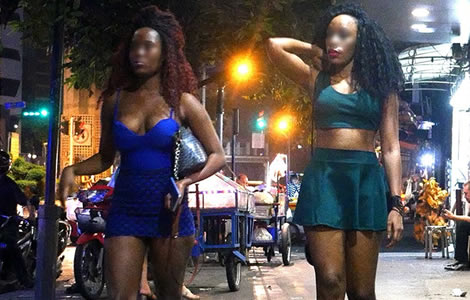 Thailand's Human Trafficking Department, an elite force within the Royal Thai Police, have issued an arrest warrant this week for a 36 year old Scotsman who also holds Australian nationality. The Scotsman originally hails from Lochgelly in Fife but is now closely linked to the criminal underworld in Australia and Pattaya. He also holds a UK passport as well as an Australian one. The man is believed to have been involved in the importation of east African prostitutes into Thailand. The Scotsman is reported to have left Thailand on April 24th last using his UK passport to pass through immigration at Suvarnabhumi Airport. It is not reported where he was traveling to.
'Big Daddy' was formerly a member of volunteer police force in Pattaya deploying foreigners
The 36 year old has been named in arrest warrants as 'Big Daddy' which is the name he came to be known by in the human trafficking underworld that operates between Thailand and Africa. The man has been linked with a complex network of crime in Pattaya for some years. Ironically, the Scot is reported to be a former member of a volunteer police force in Pattaya which recruited foreigners into its ranks.
Scotsman is closely linked to Antonio Bagnato, a notorious Aussie Thai crime figure
The Australian Federal Police in New South Wales are also interested in the activities of the man and his circle of friends in recent years. He has been closely linked to Australian Thai crime figure, Antonio Bagnato. Bagnato was a career criminal in Australia and is wanted there in connection with an active investigation into the brutal murder of Bradley Dillon in 2014 after which he fled to Thailand. Bagnato was later sentenced by a Thai court to death for the murder of another Australian, Wesley Schneider, in 2015. Schneider was at the center of the notorious Aussie crime network in Pattaya known as the Hell's Angels. Bagnato was subsequently released from prison late last year after his conviction was quashed. There are reports that he has been convicted on lesser charges and is currently serving time in a Thai military prison.
'Big Daddy' reported to have been a prosecution witness against an Australian and Thai wife sentenced to death last year for drug smuggling
The Scotsman and Bagnato are also linked with another fellow Australian from Perth, Luke Cook, who with his Thai wife Kanyarat Wechapitak, also known as 'Kookie', was convicted last year for a huge drugs smuggling plot that went wrong in 2015. Both were sentenced to death (read linked stories below). The drug shipment was reportedly worth $15 million and linked to Schneider and the Hell's Angels crime gang in Pattaya. The plan was to import a huge load  of methamphetamine pills into Australia from China via Thailand. An American citizen from California, Tyler Gerard, was also sentenced to death in connection with the racket.
It is believed that the Scotsman was a witness for the prosecution against the married couple who claim that they are innocent. Both Cook and Bagnato were also linked with the murder of Wesley Schneider.
Tanzanian woman gave evidence recently in a Bangkok court detailing Scotsman aka Big Daddy's lucrative trade east African prostitutes into Thailand
The Thai court order for the arrest of the Scotsman reportedly came after a Tanzanian woman recently gave evidence to a Thai court in Bangkok. Sara Musa Chitanda was charged with human trafficking in a case taken on the orders Police Colonel Nalinee Chiewnoi, the Head of Thailand's Human Trafficking Police. It is reported that the man was married to Ms Chitanda at a marriage ceremony in Dar es Salaam last year. Both Chitanda and the Scotsman worked as a human trafficking gang and brought Tanzanian women into Thailand to work as street prostitutes. The women were accommodated in an apartment in the Din Daeng area of Bangkok.
Further reading:
DSI arrests: Women warned of sex trafficking snare – massage job offers abroad from prostitution 'brokers'
Government reviewing prostitution laws, public consultations expected in 2021 amid reform calls from workers
Murder of a Thai woman in Portugal is troubling as police probe further and seek body parts taken by abettor
Assets of brothel bosses sequestered by Thai court which deemed them illicit proceeds of vice and crime
Thailand eyes up the sex trade with ongoing raids and a new drive against human trafficking
Thai woman masterminded a sex ring that sparked the biggest police raid in German history
Child prostitution gang that ran a sex racket that terrorised children smashed by armed police
Calls to legalise prostitution in Thailand after Pattaya sex raid on Walking Street this week
Record year for Thai tourism but not so good for Thailand's bar girls and luxury hotels as market has changed
Police raid on prostitution bar in Udon Thani linked with serving policeman and his Thai wife
Activist slams Air Asia ad campaign in Australia that she claimed promoted Thai sex tourism at Aussie blokes
Thai police raid a sex for sale hotel in Loei province staffed by Laotian women working as prostitutes
Police to re-arrest Australian death row inmate after he is released under court order at Bangkwang prison
93% of Thai people want to see the death penalty put to use to curb shocking murders and drug gangs