The grisly discovery of a Thai woman's head on a Portuguese beach on the Atlantic coast, far away from Thailand, on Thursday March 7th last, has sparked an extensive police investigation in the Portuguese city of Matosinhos, north of Porto. It sheds light on an appalling crime against a Thai woman committed there by a fellow Thai national and member of her own sex. It shows the lengths and distances that Thai women will go to make their way in the world and care for their families. The crime and subsequent investigation led by police and magistrates, is also giving us a glimpse into the nasty underside of emigration from Thailand showing the easy exploitation of Thai women seeking employment abroad. It offers another glimpse of the underworld of human trafficking which is not necessarily always about large international crime gangs.
A Thai woman being held in custody in Portugal has confessed to the brutal murder and dismemberment of another Thai woman from Surin who worked for her at a massage parlour in a coastal city in the north of  Portugal. The head of 40 year old Natchaya Saranyaphat was found on March 7th last at a beach near the city. It is reported that the killer's husband, a Pakistani man with Thai citizenship, is on the run and is believed to have disposed of the murdered woman's remaining body parts. Latest reports say he may have fled to Thailand.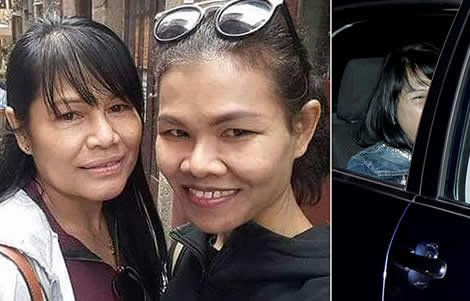 An extended Thai family in Surin province is still in shock at news from Portugal that a loved daughter of the family and key provider has been gruesomely murdered in the European country sometime on or before March 7th last. Another Thai woman has been arrested and is being held in custody by Portuguese magistrates in relation to what is believed to be murder.
Thai massage shop proprietor in Portugal admits to murdering her employee from Surin and giving her body parts to her Pakistani husband
The detained Thai woman, named as Sangam Sawaiprkhon, initially denied any culpability in relation to the death of Natchaya Saranyaphat. She later changed her story suggesting or causing people to think that the victim of the crime was her business partner concerned with a €10,000 joint undertaking. The Thai woman who was the principal of the massage parlour in Matosinhos City where the victim worked, claimed that this money, held in common, with the murdered woman was for investment in a joint undertaking do with the massage industry.
Thai woman insists that she acted alone
The detained woman has repeatedly refused to disclose the location of the victim's body according to police and media reports. She has reportedly told Portuguese police known as the judicial police in Portugal, that she alone is responsible for the murder of the Thai woman at her massage shop which she says occurred on March 7th, the same day the head was found on the local beach nearby. She claims she only asked her husband to dispose of the body parts after she had committed the crime. Portuguese authorities have still not been able to find the Thai victims's body parts which is suspicious given that the Thai woman's head was disposed of so casually and openly.
Murdered Thai woman demanded €10,000 in pay withheld by her employer leading to a row
Although the head of the Thai woman was found at the Atlantic coast beach on March 7th, it took the Portuguese police some weeks to track down the identity of the murdered Thai woman. During that time, there were no reports filed in realtion to her as a missing person even though she resided at her employer's premises and it was her place of work. The Portuguese police have since revealed that Sangam Sawaiprkhon has admitted killing the Thai woman who worked for her at the massage clinic on March 7th after Natchaya Saranyaphat demanded €10,000 in pay that was being withheld from her. A vicious row broke out in which the Thai woman was killed by her employer according to the killer. Ms Sawaiprkhon has also admitted to police in Portugal that she then dismembered the body of the other Thai woman from Surin, a much loved daughter and mother.
Pakistani man, an accomplice to murder, disposed of Natchaya Saranyaphat's body parts. He is reported to have fled to Thailand
The juidicial police in Portugal are believed to be searching for the arrested Thai woman's partner. He is believed to be a man of Pakistani origin, who is also thought to be involved in the crime. Only the head of the Thai woman was found on Palmeira beach near Matosinhos on Thursday March 7th. There are also reports that the accused Thai woman's husband has fled to Thailand. These report are being investigated by Thailand's immigration police. Police Major General Pananchai Chuenjaitham told the press this week: 'At present we are investigating claims that the suspect has come to Thailand.' The police officer denied reports that the police in Thailand already have the suspect in their custody. It is understood that even though Sangam Sawaiprkhon's partner and husband is a Pakistani national, he is also believed to have Thai citizenship. He is reported to have fled the scene of the murder with the victim's body parts in the immediate aftermath of the murder and dismemberment of the Thai woman's body by his Thai wife. He remains still at large.
Murder in Portugal has shocked many and shown the hardworking Thai expat community, quite unfairly, in an unwelcome light
This is a crime that has shocked many people in Portugal and unfortunately cast the hard working Thai community there in a poor light. Portugal, unlike many other European countries right now, through its socialist government, is working to increase immigration and making it easier to obtain visas and residence permits. This of course has caused a muted backlash from some, smaller elements within Portuguese society which is quite progressive. There has also been considerable praise for the Portuguese police in identifying the Thai woman from the head found on the beach at Palmeira beach on March 7th and their ability to track down the alleged killer in her lair.
Raid on the Thai massage parlour in Matosinhos
The judicial police in Portugal later raided the massage parlor run by Thai woman Sangam Sawaiprkhon and her Pakistani partner. There, they carried out extensive forensic searches. They found traces of blood and other evidence that suggested that the workplace was the scene of the crime and where the Thai woman had met her death. This is what the Portuguese Polícia Judiciária or judicial police believe to be the case. Matosinhos is a city in northern Portugal near the coast and north of Porto on the Atlantic ocean.
Portuguese locals says the massage parlour was not very busy after heavy police raid
Locals in the Matosinhos were surprised at the intense activity generated by local police when they raided the massage some weeks ago. They suggested that it was not a particularly busy establishment at any time. One local told the Portuguese media that the massage shop was staffed by one or two Thai women at all times but never appeared to be very busy. Advertising for the the massage shop which was called 'Sangnam' shows a well appointed massage center, immaculately clean facilities with its principal, Sangam Sawaiprkhon, in many of the shots. The Facebook profile of the murder victim, Natchaya Saranyaphat, leads with a now ironic quote: 'The enemy of achievement is fear.' The dead Thai woman's profile is also littered with heart rending tributes to her young daughter with whom she kept in contact through the popular LINE app.
Thai woman initially denied any knowledge of the murder of her compatriot
The Portuguese judicial police initially arrested the Thai woman who ran the massage shop after traces of blood traced to the victim, 40 year old Natchaya Saranyaphat, were found on the premises. She was taken into detention and later brought before an investigating judge or magistrate which is the pre trial criminal procedure in Portugal. Thai woman, Sangam Sawaiprkhon, at first would only confirm that Natchaya Saranyaphat was an employee or 'maid' and that she had gone missing without notice. She said the woman had been missing for several weeks.
The judge was not impressed by the woman's testimony, however, and remanded her in detention on suspicion of murder pending a full trial given the evidence against her presented by police.
Murder of Thai woman may also reveal a case of human trafficking in plain sight
The real basis for the murder is also emerging. The €10,000 in dispute was not a loan given to the victim by her employers but rather the other way around, neither was it a joint investment in a project or undertaking gone wrong. It appears that the Thai murder victim may well also have been a victim of tactics used by human traffickers as her employers appear to have withheld money from her on an ongoing basis. This became the basis for the dispute. Such practices are closely associated with the human trafficking trade run by criminal groups between Thailand and countries in Europe where Thai women are forced to work long hours and have their pay withheld on the basis of exorbitant and unreasonable charges or contract commitments.
Many Thai women in Europe and America held in similar 'slave' working conditions
Evidence from the Facebook page of Natchaya Saranyaphat does however suggest that she was not held as a captive. The Thai woman shows photos of her experience in Portugal including pictures of her socializing with her employer and now alleged killer. She did, however, live at the place where she worked. Similar stories of Thai women exist in Europe and America where women enjoy some latitude or freedom but are still bound to work in virtual slavery. This is human trafficking. At the same time, her demands for her money from her employer also suggest that she saw herself certainly not as a victim until she really did become one in the most brutal fashion.
Thai woman's body dismembered to conceal the crime according to Polícia Judiciária
Reports in Portugal suggest that the murder victim had been pressuring her Thai boss Sangam Sawaiprkhon and her Pakistani partner to repay monies owed to her. The Thai woman, who was murdered, reportedly had an ambition to establish her own massage business. Some reports from Portugal even suggest that the amount involved may have been as little as €2,000. It is thought that Portuguese judicial police believe that this may be the case. It is also thought, at this stage, that the Thai woman's body was dismembered in order to conceal the crime.
Portuguese local said that all Thai staff lived and worked in the massage shop premises
Portuguese police believe that the murder took place on the premises which was home to all involved in the massage enterprise. According to on Portuguese local: 'They were all sleeping there, where they woke up each morning. Usually, there were always two women who cared for people, but there were few clients.'
Thai Foreign Ministry confirms murder and arrest of Thai killer in Portuguese police probe
This week a spokeswoman for the Thai Ministry of Foreign Affairs confirmed that a report had been received from the Royal Thai embassy in Lisbon on the matter as well as from the Polícia Judiciária in Portugal. The reports simply confirms the murder of a Thai woman in northern Portugal and the arrest of a suspect who is also a Thai national in connection with the case.
Thai family in Surin appeal for help
The mother and family of Natchaya Saranyaphat have revealed their grief and loss following news of the Thai woman's murder in Portugal. Natchaya was the youngest in the family which is now concerned at funding to bring back her remains for proper traditional Thai funeral rites in her own province. One of the victim's aunts has said that the family simply cannot afford the expense involved. This has also been confirmed by the victim's elder sister, Somwang Wongsri.
Dutiful Thai woman and daughter had been sending home valuable remittances from Portugal
Natchaya's mother, 76 year old Soei Jenjob, revealed that the murdered Thai women was her youngest child out of five. Since her 40 year old daughter traveled to Portugal, she had been sending back remittances of between ฿5,000 and ฿7,000 per month. The murder victim's mother said that Natchaya's extended family had relied on these funds to meet day to day obligations. The family are appealing to both provincial and national authorities for help at this traumatic and difficult time. 'We hope the authorities will be able to help us,' she said this week from her home in Surin. 'She should not have died such an untimely death.' It has also been revealed that Natchaya's father passed away in the intervening period over health effects linked with hearing about the brutal demise of his daughter in Portugal.