The Air Asia bus advertisement had not received any complaints since it was launched on February 18th in the capital city of Queensland but a poster version at Brisbane Airport had drawn one public complaint according to Australia's advertising regulator, Ad Standard. However, the bus wrap advertisement with the sales line, 'Get off in Thailand', caught the attention of women's rights campaigner Melinda Liszewski on Friday last and instantly became controversial. By Monday, all copy was being taken down and an apology issued from the company. The activist was adamant that the advertisement promoted sex tourism to Thailand and furiously wondered how such a message could be allowed to be made public in the first place.  The controversy even brought a Labour Party city council member in Brisbane, Councillor Kara Cook, to publicly decry the sexual exploitation of women and children in Thailand.
An activist in Brisbane, Australia launched a furious attack over the weekend aimed at local officials and Air Asia over a local, city bus advertisement that came to her attention over dinner on Friday evening last. The Air Asia advertisement promised flyers that they could 'get off in Thailand' by flying directly to the land of smiles from Brisbane to Bangkok.
Air Asia which is expanding fast and is at the centre of a boom in inward tourism into Thailand  became embroiled in a controversy in Australia over an advertisement for travel to Thailand. It moved quickly to scotch the problem on Monday.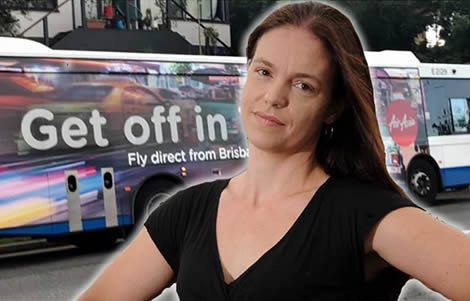 The problem arose when an advertisement on the side of a local city bus drew the attention and subsequent ire of Melinda Liszewski. Ms Liszewski works with an activist organisation in Australia called 'Collective Shout' which campaigns against the sexual objectivation and exploitation of women and girls.
Woman's rights activist spots Air Asia city bus in Brisbane promoting what she says is sex tourism
The advertisement on the bus was spotted by the eagles eyed Ms Liszewski while she was having dinner on Friday last with her friends in the West End of Brisbane, the capital city of the Australian state Queensland. She looked across from her and saw the bus with its advertisement for travelers to Thailand. The advertisement sales line was: 'Get off in Thailand' and the women and girl's rights campaigner was not impressed. 'Looking at the bus advertisement, I'm not willing to give them the benefit of the doubt that it was an accident,' a vehement Ms Liszewski was quoted by Australia's Sydney Morning Herald on Monday.
Advertisement was a 'dog whistle' for Aussie men seeking prostitution in Thailand
Ms Liszewski took a photo of the bus advertisement and distributed it to friends. She has described the advertisement as a 'dog whistle' to Aussies traveling to Thailand seeking a sex holiday. She quoted academic research suggesting that 250,000 men traveled to Thailand every year solely seeking to indulge in prostitution and the consequent sexual exploitation of Thai women. 'It's appalling that an ad like that would appear on a Brisbane bus,' she concluded.
Air Asia expanding both national and international flights to Thailand from Don Mueang Airport
Air Asia commenced a direct flight from Brisbane to Bangkok this year. It comes as the budget airline has been expanding its operations in Thailand since the 2012 move of its operations to Don Mueang Airport in the Thai capital where it now operates both domestic and international flights.
Thailand's government committed to wiping out sex tourism to Thailand since it came to power
The current Thai government, since it came to power, has vowed that Thailand is no longer a welcome host for sex tourists. Thailand's first female Tourism Minister said in 2014, on taking up office, that she was committed to ending sex tourism to Thailand. Kobkarn Wattanavrangku vowed to put an end to the false and misleading portrayal of Thailand in this respect. The pioneering minister introduced new advertising campaigns and even prioritized making Thailand a more appealing destination for western women to visit. In 2016, she left nobody in any doubt when she told Reuters: 'We want Thailand to be about quality tourism. We want the sex industry gone.' Her strong line has been echoed by Thailand's Prime Minister since 2014, Prayut Chan ocha, who has said openly that he stands personally opposed to Thailand's sex industry. Prime Minister Chan ocha looks like he will win another term after this Sunday's election in the kingdom.
Action not just talk against the sex trade in Thailand by the military government since 2014
Since then, Thai police have begun to discreetly curtail the sex trade in Thailand with regular raids and an aggressive police operation focused on rooting out the sexual abuse of underage women or girls as well as combating human trafficking why women are trafficked in or out of Thailand to other countries across Thailand's borders. A key feature of the campaign has been government liaison with foreign NGOs, many of whom have set up regional operations centres in Thailand often near the business red light areas in Bangkok and Pattaya.
Activist group also campaigns against sex dolls in Australia and the objectivation of women in the mainstream media and advertising
'Collective Shout' with which Ms Liszewski works, is an activist organisation in Australia which has as its mission the elimination of the sexual objectivation and treatment of women and girls in the media. The organization openly encourages Australian women to report such activity within the mainstream media and advertising industry. A recent campaign by the group also called for the removal of sex dolls from stores in Australia.
No complaints about Air Asia bus advertisement to the ad regulator before the issue was raised
Following the revelation of the Air Asia advertisement, the regulator for advertisements and their content in Australia, an organization called Ad Standard  revealed that it had not received a report or complaint in relation to the Air Asia bus advertisements prior to Ms Liszewski raising the issue. However, it did confirm that a similar poster advertisement displayed at Brisbane Airport had prompted one complaint from the public. It transpired that the offending bus advertisement had been launched on February 18th when the wraps were applied to the bus. The advertising campaign was to run until March 17th, 5 days before Ms Liszewski noticed it.
Australian Labour Party councillor: 'appalling situation facing many women and children who are victims of sexual exploitation in Thailand'
A Labour Party councillor in the city was quick also to condemn the advertising campaign. Councillor Kara Cook told the media that she had written to the transport chairman and Deputy Mayor of Brisbane, Adrian Schinner, on Monday to have any buses bearing the advertisement pulled off the roads immediately. 'This advertisement is completely inappropriate and makes light of the appalling situation facing many women and children who are victims of sexual exploitation in Thailand,' Councillor Cook told the Australian press. She said that city councillors had a responsibility to take action in such situations.
Meanwhile, it was revealed that the Air Asia billboard with the same message at Brisbane Airport was being removed on Monday as a matter of urgency.
Air Asia spokesman said advertisement were being taken down and issued a public apology
A spokesman for Air Asia has said that the campaign had ended and the all advertising materials were now in the process of being removed. 'We take community feedback extremely seriously and sincerely apologize for the concerns raised' he said.
Brisbane City Council denies responsibility
A spokeswoman for Brisbane City Council pointed out that the council was not involved in determining the suitability of advertisements or dealing with complaints. She pointed out that this was the proper role of the Advertising Standards Bureau in Australia.
Fury expressed at an advertisement that was blatantly sexist and promoted sex tourism
This provoked a furious response from Melinda Liszewski who accused the council of fobbing off their responsibility. She has also expressed her unhappiness that a sexist, sex tourism message has been openly promoted in Brisbane. 'They are responsible for what they put on their vehicles, on the front of their businesses and even the owners of the billboards and signs, they also have a responsibility,' she thundered. 'There is some advertising which is just blatantly sexist and in this case promoting sex tourism, that's horrific. How did that get through so many people?'