A leader of an anti-corruption group says that Thailand's anti-corruption watchdog was unaware of the case when he contacted officials this week. Mana Nimitmongkol is the Secretary-General of the Anti Corruption Organisation. He has called for stronger action to investigate cases involving foreign firms in Thailand. In March this year, a Japanese court heard from two senior executives of Mitsubishi Hitachi Power Sytems, a large Japanese engineering firm that has worked in Thailand. The two men gave evidence that they paid ฿11 million to a senior Thai government official at the Ministry of Transport in 2015 to improperly unload cargo from a ship required for a large power plant project that the company was working on. 
The US tech giant Microsoft has pleaded guilty and accepted all charges against it this week in relation to corrupt bribery payments made in Thailand. The payments were made by a third party on its behalf and only were discovered when the firm's auditors refused to sign off on its financial statements. The payments of ฿3 million were treated in the accounts as training expenses for staff when in reality, they were funds dispersed for holidays and travel to Thai banking officials.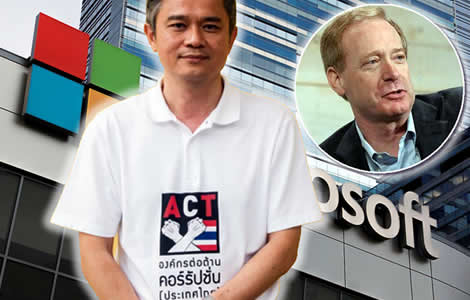 A leader of a Thai anti-corruption organisation is calling on the National Anti Corruption Commission to investigate Microsoft's operations in Thailand after news emerged this week of a settlement between the parent company in the United States and the Securities and Exchange Commission over a number of bribery and corruption allegations related to three foreign countries including Thailand. Mana Nimitmongkol is the Secretary-General of the Anti Corruption Organisation of Thailand also known as ACT.
Payments of ฿3 million on travel expenses from a third party to Thai bank personnel admitted by Microsoft as corrupt payments in a 3-year non-prosecution deal
It is understood that the corrupt practices in Thailand including the payment of holiday and travel expenses from a third party account to staff working at Thai banks. The corrupt payments came to light when auditors in the United States, preparing Microsoft's financial statements, queried the funds. The payments were improperly accounted for as training for staff and agents in Thailand. The amount involved is reported to be $100,000 or over ฿3 million.
Payments in Thailand breached US Foreign Corrupt Practices Act – 'accepted' and 'acknowledged' by the US tech giant as illegal and improper
This week, it is reported that Microsoft which is headquartered in Redmond, Washington has admitted to the wrongdoing. The firm has entered into a three-year non-prosecution agreement with the US Securities and Exchange Commission as well as other federal authorities including the Federal Department of Justice. The company, in its statement, says that it 'admits, accepts and acknowledges' the corrupt payments made, including those in Thailand which were in breach of the strict requirements laid out in the US Foreign Corrupt Practices Act which forbids US firms from engaging in bribery and other corrupt acts while doing business outside America.
Microsoft President Brad Smith: 'employee misconduct that was completely unacceptable'
'The agreement includes the payment of an $8.75 million fine as part of an overall $25.3 million package of settlement between Microsoft and US authorities. The software giant has accepted, in full, the charges against it. The President of Microsoft, Brad Smith, has issued a statement by email to all staff at the huge international firm. He blamed the payments which also included sums of money disbursed in Turkey and Hungary on 'employee misconduct that was completely unacceptable' adding that the only a small number of Microsoft employees were involved. It appears that the main focus of the probe was a more elaborate corrupt programme in Hungary. 
Anti-corruption campaigner says the Anti-Corruption Commission was not aware of the case
Yesterday, the ACT official Mr Mana, revealed that he had contacted the relevant officials at Thailand's anti-corruption agency and was told that they were not aware of the situation at that time. He said that information coming for the United States necessitates that the government watchdog is seen to act. 'Now that the issue is public knowledge, the NACC has a duty to tell the public about what happened, and what it plans to do about it,' he told the Bangkok Post newspaper. 'They can't just turn a blind eye to it.'
Microsoft is a key player and partner in Thailand's digital transformation process
Microsoft is very active in Thailand operating through its Thai subsidiary Microsoft Thailand which was established in the kingdom in 1993. In recent years, the firm, as well as providing support for its range of popular software titles, now found on virtually every PC in Thailand, has been partnering with other technology companies to bring new upgraded technology into play in Thailand's business and government sector. 
At the forefront in advising business and government leaders in Thailand on AI technology
The company, in the last few years, has led the way in the use of sophisticated AI technology and works with a range of government departments in many different areas as Thailand is in the process of moving towards a digital future with a stated aim of transforming all aspects of government activity so that ministries, agencies and data are interlinked and accessible to the public.
Important role of Microsoft even acknowledged by anti-corruption campaigner
This important role of Microsoft right now was acknowledged by Mr Mana yesterday when he particularly mentioned national security and the critical value of national databases. However, he insisted that action must be taken to investigate the information that has been revealed in the United States and accepted by the company's most senior management there.
Former Governor of Tourism Authority of Thailand saw jail sentence for corruption of 60 years upheld –
He said that it was of particular importance as it was an international case and reflected on the 'dignity' of the country and people. He noted that the only prosecution to date was that against the former Governor of the Tourism Authority of Thailand, Juthamas Siriwan, who this year had a severe sentence of 60 years imprisonment upheld by a Thai court for accepting bribery payments in relation to the rights of the Bangkok  International Film Festival from 2002 to 2007.
Activist raises the cases of Rolls Royce and Mitsubishi Hitachi Power Systems bribery payments
Mr Mana said that he was aware of 12 such cases which are being investigated by the government corruption agency and linked to foreign parties. He particularly cited corruption concerning Rolls Royce's business operations in Thailand, the respected UK engineering firm and the well known Japanese firm Mitsubishi Hitachi Power Systems. 
Reported that ฿20 million was paid to key local individuals by Mitsubishi Hitachi in Thailand
Last year, the President of the National Anti Corruption Agency, Police General Watcharapol Prasarnrajkit vowed to charge a number of Thai people after reports emerged of bribes being sought from the Japnese engineering firm in relation to a large construction project in Thailand. This was after it became known the ฿20 million had been paid to key Thai individuals linked to the project. At the time of the controversy, a member of the National Anti Corruption Commission said that a government official with Thailand's Marine Department, a local politician and a village head man were key parties to the corrupt payments.

At one point, it was reported that executives with Mitsubishi had photographic evidence showing the payments being handed over. In December 2018, a Tokyo court heard from executives with the Japanese firm who openly admitted to paying bribes to key officials in Thailand.
Rolls Royce linked to corruption payments in Thailand but paid penalties and fines
In the case of Rolls Royce, the renowned UK engineering firm, a $13 billion giant, the firm has a long history of corruption payments around the world. In 2017, it was announced that Rolls Royce, a byword for engineering excellence, was forking out £671 million in penalties and fines after it made settlements with the UK Serious Fraud Office and the US Department of Justice for a series of corruption scandals around the world centred on bribery and kickbacks.
In London, there were allegations that Rolls Royce had made bribery payments to large Thai firms. Allegations surfaced in relation to Thai Airways which awarded the firm a contract to fit its engines on the air fleet of Thailand's national carrier.
UK Serious Fraud Office dropped the case this year in 'the public interest' including the claims linked to Thailand and relationship with Thai firms
Since then, in February this year, the UK Serious Fraud Office announced that it as dropping its enquiries into Rolls Royce including a probe of payments to Thai officials. The main reasons given were that it would not be in the public interest and difficult to successfully prosecute. 
'After an extensive and careful examination I have concluded that there is either insufficient evidence to provide a realistic prospect of a conviction or it is not in the public interest to bring a prosecution in these cases,' said the Director of the Serious Fraud Office in London, Lisa Osofsky. 'In the Rolls-Royce case, the SFO investigation led to the company taking responsibility for corrupt conduct spanning three decades, seven jurisdictions and three businesses, for which it paid a fine of £497.25 million.'
Firm admitted to corrupt payments to Thai officials twenty or thirty years ago
 The UK firm has admitted that corrupt practices occurred in the distant past in Thailand, as long as twenty or thirty years ago, but has not disclosed any significant details. 
Last year, Thai Airways announced that its new business operation in relation to the maintenance and repairing of Rolls Royce Trent engines will see the firm generate an additional ฿5 billion in earnings in 2020.
Two Japanese executives with Mitsubishi Hitachi gave evidence in March of paying ฿11 million to a senior Thai government official at the Ministry of Transport
In March this year, two senior executives with Mitsubishi Hitachi Power Systems pleaded guilty to corruption and bribery charges involving a high-level official in Thailand's Department of Transport. The pair had reached a plea deal with prosecutors which was the first of its kind in Japan. They disclosed that ฿11 million was paid to the official to facilitate the unloading of cargo from a ship in connection with the construction of a power plant in Thailand.
The two men were named as 63-year-old Fuyuhiko Nishikida and 57-year-old Yoshiki Tsuji. The former executives of the company were both handed down suspended jail sentences by the court. 
Payment linked to ship cargo needed for Thai power plant project and not allowed to be unloaded
The two men, in their evidence, were also supported by the project manager of the power plant project 64-year-old, Satoshi Uchida. The evidence revealed that the cargo in question did not meet the appropriate conditions to allow it to be unloaded in Thailand. The payment to the senior official at the Thai Ministry of Transport occurred in February 2015 to allow the cargo to be given the green light to unload.
Thailand a bit behind the curve on corruption
Mr Mana has ruefully observed this week that  Thailand appears to always be in the position of commencing investigations after other countries have finished their probes. He considers that this means one thing: 'that we don't have the adequate mechanisms in place to detect and prevent graft.'
Private sector organisation ACT funded in 2011 to campaign against graft in the kingdom
The Anti Corruption Organisation of Thailand or ACT was founded in 2011 as a private sector initiative to tackle corruption which is considered to be rife in Thailand and a root cause of bad government. The founder was a former President of the Thai Chamber of Commerce, the late Mr Dusit Nontanakorn. It has since grown into an organisation and ongoing movement to fight against corruption in the kingdom.
Big issue for Bangkokonians during the 2013 and 2014 street protests as Suthep now faces corruption probe
The issue of corruption emerged strongly to the fore during the Bangkok street protests of 2013 and 2014 led by former Democrat politician Suthep Taugsuban. This week, it was announced that the National Anti Corruption Commission is finalising a case against the former MP for Surat Thani centred on a controversial contract to build police stations in Thailand awarded when Mr Suthep was a deputy prime minister in the government of Abhisit Vejjajiva which was in power until  2011. This will be submitted shortly to public prosecutors.
The politician has always vigorously denied the charges and provided his account of what transpired including how and why the contract was awarded.
Campaigner holds out hope for the new government
Mana Nimitmongkol, the anti-corruption campaigner, holds out some hope for the new Thai government. He points to the commitment to fight corruption contained in the government's policy statement which is being debated today before Thailand's parliament.
'Since 1932, no government included anti-corruption measures in their policy manifestos,' Mr Mana said. 'The inclusion now means the government is committed and will be scrutinised for it.'