Mickey and Minnie Mouse highlight what's so great about Thailand in a campaign and collection kicking off this month.
Walt Disney Thailand is to launch a collection featuring Mickey Mouse and Minnie in Thailand enjoying the sights, food and the culture of the land of smiles. The 'Mickey Go Thailand' range will be available at a large selection of retail partners and online all over the kingdom from this month until the end of 2020.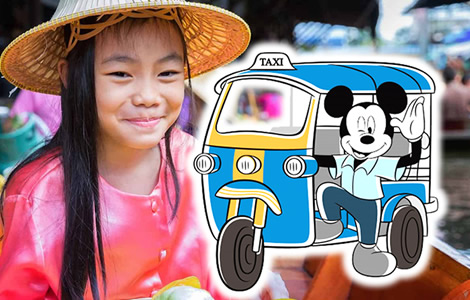 Thailand and all things Thai will be getting a boost from this month as Walt Disney in Thailand launches a retail collection centred on Mickey and Minnie Mouse in the Land of Smiles. It's good news for the country as tourism bosses today reported a rebound in tourist numbers for July which were up 4.7% year on year.
The collection and campaign will be marketed in conjunction with commercial firms in Thailand such as S&P and will see the attractive Disney merchandise featuring the characters being made available throughout the country including at convenience stores, shopping malls and online channels.
Campaign to run until the end of 2020
The campaign, which runs until the end of next year will show the world-famous Disney characters experiencing everything that is wonderful about Thailand including appearing in quintessentially Thai dress, visiting iconic landmarks in Thailand and of eating delicious Thai cuisine.
Iconic characters portrayed enjoying Thailand
The Director of Consumer Product Commercialisation for Disney in Thailand explained some of what is going on. 'This is the first time that Mickey Mouse and Minnie Mouse will indulge in the exotic and intrinsic charms of Thailand ranging from landmark destinations and unique Thai cuisine to Thai culture. Their adventures in Thailand will be presented to fans through both offline and online channels. Thai Disney lovers will be able to see countless combinations of our cute and iconic characters with Thai culture or heritage such as 'krajang' patterns and Thai traditional loincloths.'
The elegance of Thai culture
Mr Preecaha also explained that the characters will be portrayed in distinctive colours to highlight the 'joyful' characteristics of Thai people by using pink, yellow, blue and green while colours such as brown, purple and dark blue will emphasise the depth of warmth and kindness in the kingdom. He also pointed to what he described as the 'elegance' of Thai culture which will be highlighted with gold.
A collection for foreigners visiting Thailand
All this will be made available through a product collection to be known as the Mickey Check-in Bangkok collection. The campaign is inspired by the recent success worldwide of the 'Share a Smile' campaign to celebrate the 90th anniversary of Mickey Mouse who is a huge star in Thailand among people of all ages.
The collection will be ideal for foreigners visiting Thailand or expats who want to buy something special for a loved one. Some of the products feature key Thai expressions such as Sawasdee (Hello) and Khun Khun (Thank you).