Spit second tragedy or simply bad timing: Locals say the van was driving at speed and despite warnings, failed to slow down as the train travelling from Bangkok to Kanachaburi arrived at the crossing point at the same time. The train sounded his horn just as the van approached but it was too late for the driver to stop.
A van driver for Thailand's Kerry Express died on Saturday morning while making his rounds at speed when he failed to stop for an oncoming train travelling from Bangkok to Kanchanaburi.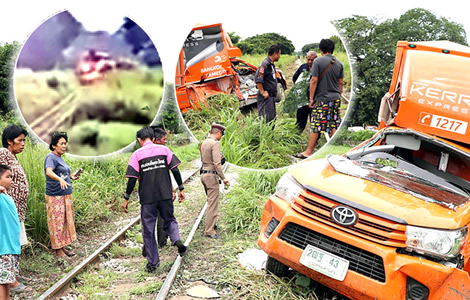 A delivery van driver was killed on Saturday morning while driving at speed at the Ban Pong railway crossing in Ratchaburi province, west of Bangkok.
Driver named s 37-year-old Jirawat Raknitwet
The man's vehicle was hit at speed by the train travelling from Thonburi in Bangkok to Kanchanaburi. The driver of the van was named as 37-year-old Jirawat Raknitwet. He suffered serious head injuries when his commercial vehicle was hit by the train and carried along the railway tracks for 200 metres before violently being flung to the side.
Driver's side the van severely damaged by the train
Police Lieutenant Colonel Kriangsak Buaphor of Ban Pong police station briefed the media. He said that the impact of the train on the van had collapsed part of the driver's side of the van's cabin and crushed its windscreen. The driver was found alive at the scene but suffering from serious head injuries. He died later at Ban Pong Hospital.
Local people witnessed the tragedy unfolding and shouted at the van driver but he failed to hear
Police interviewed witnesses to the accident while there was also a video of the incident which shows what happened. The local witnesses told the police that the van had been travelling at speed and despite their efforts to alert the driver that the train was coming, the van did not decelerate. 
As the train approached it also sounded its horn but the van driver at that point was moving at speed towards the railway tracks and did not slow down.
Van carrying goods to nearby villages
Police report that the van driver was heading to nearby villages to deliver goods. Kerry Express is a rapidly expanding firm with offices and depots all over Thailand servicing the burgeoning trade in deliveries of consumer products purchased online.
Driver travelling at speed failed to notice the danger
Police are carrying out a full investigation into the incident which appears to show that the driver was distracted as he made his rounds at speed and just happened to arrive at the railway track on Saturday just at the time when the train was approaching.
He appeared not to hear the warning shouts of local people and by the time he train horn sounded, he was still moving at high speed. The railway crossing at Ban Pong is unmanned.