Police are anxious to interview the driver who survived the crash but is seriously injured in hospital. An eye witness suggests that the vehicle suddenly lost control while travelling at speed.
In the early hours of Sunday morning disaster struck in the Bang Phli district of Samut Prakan near Bangkok when 13 young students from Thailand's northeastern province of Si Sa Ket were killed in a horror vehicle accident following a party to celebrate the end of their onsite training period. 
A shocking and horrific accident happened overnight in Samut Prakan province adjacent to Bangkok when 13 young students from the northeastern region of Isan had their hopeful lives cut short when the pickup truck they were being carried on overturned on a main street.
Pickup truck came on to the street at speed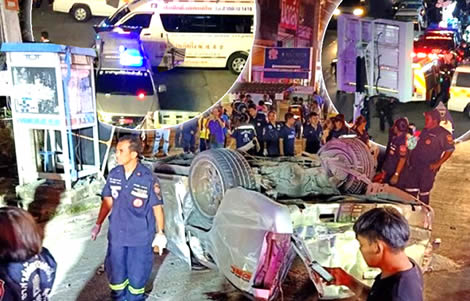 There was carnage at the scene with only one of the seriously injured young students surviving the smash which was witnessed by a taxi driver. It occurred at 1 am.
The man says he saw the pickup truck coming out of a street driving at speed and on the right lane. He said that the vehicle appeared to suddenly skid off the road onto the kerbside and hit two electric posts which were damaged by the impact.
Bodies of twelve students in the back left lying on the road after the horrific accident on the street
Twelve students who had been travelling in the back of the truck were killed immediately. Their bodies were left strewn across the main road. Six more students were taken from the scene by rescue services with serious injuries to hospital. Of these, one later died, bringing the death toll from the freak accident to 13 students.
Students from Si Sa Ket technical college
Police tasked with investigating the incident have reported that the students were from Si Sa Ket Technical College. They had been in the locality for an onsite training period at a local garage named as the Patara Body Service which is located at 22/22 Soi King Kaew near where the accident happened. 
Party where food and alcohol were served.
The students had been treated to a party where alcohol and food were served until late at night. Following this, they travelled to see a mor lam show nearby on Soi King Kaew 2. Mor lam is a tradition from of entertainment in the Isan region of Thailand. They had just begun to travel from there in high spirits when disaster struck
The driver survived the crash and is hospitalised
The driver of the pickup survived the smash although he is in hospital with serious injuries. Police are understood to be anxious to interview the man so that he can shed light on just what caused the dreadful accident.
Police Lieutenant Colonel Samran Chuaythao was the duty officer at Bang Kaew police station which is handling the investigation. He confirmed that the accident occurred at 1 am and that the truck was overloaded.