55-year-old mother told investigating police that her son had applied to join the army as part of the draft and was due to report on November 1st. The killer dragged him out of the bedroom and left him outside the house.
A 21-year-old Thai man from Hat Yai was murdered in his bedroom on Sunday by a former old friend in a clinical execution while playing online with his smartphone.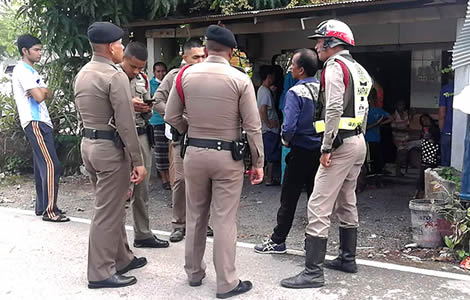 A young man in the Thai province of Songkhla was murdered on Sunday morning by an old friend in a bizarre killing that left the man's family shocked.
Man found by rescue services in front of his home
Police investigating the incident have revealed that emergency services were called to a house in Hat Yai in the Bang Muang community and found the 21-year-old man lying in front of his home. 
Police Lieutenant Colonel Sathaporn Suksaany named him as Abdullah Sanbuatboo. He was just about to enter compulsory military service with the Thai army.
Mother said her son was in his bedroom playing on his smartphone when the attacker arrive by motorbike
His 55-year-old mother Preeda Sanbuatboo was in the house when the attack happened. She explained to investigating police officers that her son was alone in his bedroom playing online with his smartphone. The attacker, who she named by his nickname as Met, arrived on his motorbike. She knew him to be an old friend of her son's.
Stabbed with a 1-metre blade
Met was carrying a 1-metre knife in his hand. He made straight for her son's room and stabbed him in the left-hand side of his upper body. The man left the knife in the bedroom and then dragged her son's body out of the house and left it there. He then fled the scene on his motorbike.
Friends had rowed recently
The man's mother could only tell police that the two friends had rowed recently and their friendship ended with a fistfight about 1 month ago. Her son had submitted his application to join the military after being drafted and was due to report for service on November 1st next.
Further reading:
Suspect arrested linked to Yala outrage as top brass face up to a new threat in the South
Thai court issues warrants for two southern insurgents linked to ฿85 million gold heist in Songkhla