A key issue for police, at this stage, in the final stages of the investigation aside from getting the alleged serial killer to confess, amid overwhelming evidence as to her guilt, is to establish the exact source of the cyanide she was able to obtain from 2015 to 2023.
Top cop General Surachate Hakparn has told reporters that the main driver behind the serial killing spree perpetrated by suspected cyanide poisoner Ms Sararat Rangsiwutthaporn was a desperate need to fund her addiction to online gambling. General Surachate said that Am, whom he has been engaging in prison house interrogations to get the alleged murderess to confess, had lost as much as ฿1 million in one day on such sites and that officers had traced the financial path across over 180 bank accounts to online gambling sites which continue to proliferate in Thailand generating vast profits for organised criminals in the kingdom while leaving behind a trail of misery and evil doings for those connected with the activity.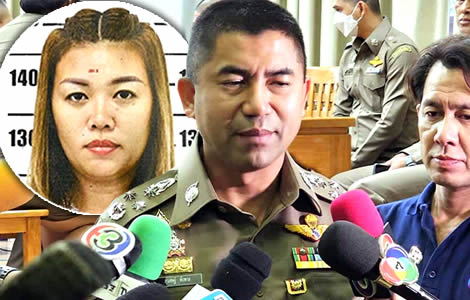 Deputy Police Chief General Surachate Hakparn, on Wednesday, revealed that the key driver in the serial murder case involving Am Cyanide or Ms Sararat Rangsiwutthaporn was online gambling.
The top cop divulged the information as police begin to close down their financial examination of the defendant which confirmed that Ms Am had access to no less than 180 bank accounts and appeared to have lost ฿78 million through gambling with online websites.
He said that, in one day alone, the alleged mass murderess had lost ฿1 million to her addiction.
Task force finalising its case but is looking closely at people who were intimate with the killer including her former husband Mr Withoon Rangsiwutthaporn
It comes as the task force finalising the murder cases against her is viewing mass evidence concerning people intimately close to the suspected serial killer as well as her husband, former police officer Withoon Rangsiwutthaporn, who investigators are looking in relation to the possible suppression of critical evidence against his wife in the case.
General Surachate said police also wish to interview seven witnesses in the case based on conflicting testimony received from Ms Am Cyanide or Ms Sararat during jailhouse interviews with the senior officer which has led to a partial confession by the killer that she played a part in the death of the last victim, 33-year-old Ms Siriporn Khanwong or Koi.
Ms Sararat made the dubious claim that cyanide poison was mixed with illegal drugs which the victim ingested while in her company.
Money trail leads to illegal online gambling sites which Ms Sararat used creating a voracious appetite for more hard cash which she ultimately supplied
On Wednesday, the top officer dismissed this claim by the suspect as unlikely to be true.
He said that consuming cyanide with illegal drugs was a doubtful prospect as the poison was so lethal that any quantity posed an imminent risk of loss of life
General Surachate revealed that the money trail in the case leads to online banking sites which have emerged as a source of massive profits and corruption in Thailand according to revelations this year showing huge online gambling networks flourishing in the kingdom under the control of criminal elements including the Chinese mafia and rogue officers within the Royal Thai Police. 
General Surachate's task force has been able to show links between the monies taken by Ms Sararat from her murder victims' accounts and such illegal online gambling websites.
Police are interested in establishing the exact source and trail of the cyanide that Ms Am or Sararat had access to over an extended eight-year period
The top cop said that police were still focused on identifying the exact source of the cyanide used by the alleged serial killer and understanding just how she managed to easily gain access to it over an extended period of eight years from 2015 to 2023.
The top cop, also known in Thailand as 'Big Joke', also reiterated that arrests were still imminent from among Ms Am's former inner circle based on forensic analysis by police of 400 pieces of evidence taken from crime scenes in the case.
The main suspect also faces further questioning at the Central Women's Correctional Institution in Bangkok, the prison where she is being held on remand while facing 15 capital charges including those for premeditated murder.
Further reading:
Alleged cyanide killer's lawyer off the case as police and key witness meet Am Cyanide in prison on Saturday
Am's ex police officer husband bailed, visits her in jail, wants her to confess to the serial poisoning murders
Police to arrest serial killer suspect's husband, 10 more charges for gambling addict 'Am Cyanide'
Thailand's biggest serial killer suspect legally protected from the death penalty as horror grows
Damning evidence mounts against what police now believe to be a prolific cyanide serial killer
Mother of murdered woman at the hands of a suspected serial killer calls for the death penalty to be meted out
Killer sentenced to death for the 2nd time for the murder of a woman 7 months after being paroled
Sadistic rapist, drug dealer and serial murderer is sentenced to life in prison by Thon Buri court
Scotswoman to appeal dropping of death sentence on brother in law and two hired hitmen by court in Phrae
Death sentence for murderous trio who executed a loving Thai wife and her UK husband in Phrae
Death sentence imposed on school boss who murdered a 2-year-old boy in a gold shop robbery in January
School director pleads guilty in court to murder and other charges after Lopburi shopping centre massacre
Master of lies and death, the gold shop killer's life, actions and motives probed by police as wife flees
Lopburi child killer is a primary school director who murdered 3 people this month just for kicks
Mum's heartbreak after 2 year old's murder as police now know the identity of the cruel and evil killer
93% of Thai people want to see the death penalty put to use to curb shocking murders and drug gangs