Both men appear to be pursuing a different vision with Mr Sethaput Suthiwartnarueput acting to protect the country's financial stability while Mr Srettha is adamant that Thailand must return to 5% growth per annum through government stimulus efforts including higher fiscal expenditure and public debt.
Prime Minister Srettha Thavisin and Bank of Thailand Governor Sethaput Suthiwartnarueput have agreed to hold monthly meetings after a Monday morning breakfast meeting at Government House. The face-to-face was called at Mr Srettha's behest with an open agenda and follows apparent discord between the two men as to the country's economic policy and direction. It is clear to see that both are divergent with the Bank of Thailand last week surprising markets with a 25 basis point rise in interest rates bringing them to a 10-year high.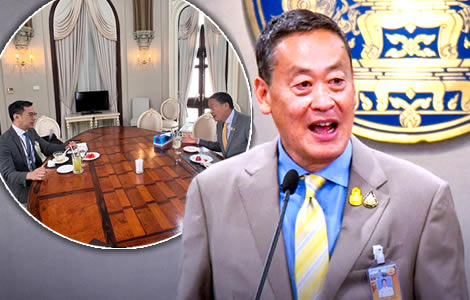 Thai Prime Minister Srettha Thavisin had a meeting with the Bank of Thailand Governor Mr Sethaput on Monday morning at Government House to discuss what appears to be, increasingly, a clash of opinion or strategy between the Prime Minister's government and the Bank of Thailand over the future direction of the Thai economy.
At the end of September, while on a visit to the United States, where he attended the United Nations General Assembly and attempted to drum up investment for Thailand, the PM was questioned over critical comments made by Governor Sethaput at an economic seminar the week previously in Bangkok.
The newly installed prime minister, a former building tycoon, dismissed reports of a fracture between himself and the Bank of Thailand boss, a former aide to General Prayut Chan Ocha who was installed by the previous government.
PM dismissed reports of friction with the Bank of Thailand chief while on New York visit but the clear difference in policy emphasis cannot be concealed
From New York, Mr Srettha said he had met the Bank of Thailand governor several times and that they both respected each other's views.
On Monday, Mr Srettha took to Twitter, now known as X, where he described the Monday morning meeting between the pair over breakfast as an exchange of opinion and told the public that they would meet every month.
Mr Srettha wrote: 'The exchange of opinion was productive and we will meet on a monthly basis.'
The new Prime Minister, since his government took office on September 5th, has also assumed the role of Minister of Finance in the new administration. 
The government's policy is to help reduce the cost of living in Thailand while also using increased government expenditure and higher borrowing to pursue stimulus measures to spur growth in the economy. 
This means higher government expenditure including a renewed capital programme as well as injecting cash into the economy.
By contrast, the Bank of Thailand Governor, well before and up to the May 14th General Election, has consistently questioned the emphasis by the country's political leadership on achieving GDP growth while insisting that the important matter for the economy, at this time of severe world uncertainty, was to preserve the country's financial stability with warning signals that household debt levels are already out of control.
Srettha doubles down on pro-growth stimulus policies such as the ฿10k digital wallet and lowering electricity costs to help with the cost of living
On Monday, Mr Srettha doubled down on the government's commitment to the signature ฿10,000 digital wallet giveaway which is scheduled for February 1st 2024 and will give every adult in Thailand over 16 years of age ฿10,000  in digital credits to be spent within a radius of 4 km of their abode.
The programme is budgeted to cost the exchequer ฿560 billion and has been criticised by many economic experts for increasing the country's public debt while artificially boosting consumption over a limited timeframe which could also lead to higher inflation. 
A newly developing challenge for the new government at the moment is the rising cost of oil on world markets which threatens to ignite inflation in the kingdom which had just been brought under control.
Decision to allow visa-free access to tourists from China and Kazakhstan puts pressure on police after this year's spike linked to Chinese arrivals
Since Prime Minister Srettha's government took office, some of the key initiatives his cabinet has moved to implement include a reduction in electricity costs to consumers and businesses while also waiving visa rules for Chinese and Kazakhstan tourists in a move which countermanded security protocols installed by the former National Police Commissioner General Damran Kittipapas in April, this year, following a crime surge linked directly with Chinese tourist arrivals.
The Royal Thai Police has responded by activating increased surveillance measures on incoming tourists which they have promised will ensure the security of both the tourists and the public under the new visa-free regime launched on September 25th.
Bad economic news from the Central Bank last week
Last week, the Central Bank's Monetary Policy Committee surprised most analysts when it raised Thai interest rates by 25 basis points to 2.5% leading to borrowing costs reaching their highest level in 10 years.
It was a move which was seen as counterintuitive to the government's policy of pursuing growth in the economy and assisting many firms which are struggling under massive levels of private sector debt. 
The Bank of Thailand, also last week, released information which showed that despite an uptick in exports, the country's earnings from its output in August had continued to decline.
At the same time, growth projections for the economy are falling with many private analysts now only predicting growth of 2.7% this year.
Thailand's troubled economy continues to underperform with growth projected now to be as low as 2.7% only marginally ahead of the 2.6% in 2022
On Monday, the World Bank, in a more positive assessment suggested a possible growth rate of 3.4% for 2023 but this in itself was down from 3.6% in April showing the current trend as the country's export and industrial sector continues to be challenged with foreign tourism, according to the central bank last week, also showing lower numbers for August although with increased earnings because of more Japanese and German arrivals.
The country's economic performance continues to be below par when compared to other Southeast Asian economies.
It appears to many analysts that Thailand may only grow by 2.7% in 2023, just marginally ahead of the 2.6% seen in 2022.
This outcome would be lower than the growth rate for war-torn Myanmar despite that country being in the throes of a revolution.
The federal state, where rebel forces last week claimed to control 60% of its territory, is still projected to grow by 3% although analysts also question if this figure from the World Bank is perhaps overestimated. 
Robust exchange of views at Monday morning's open agenda tête–a–tête between the government leader and the Bank of Thailand boss at Government House
It is understood that Mr Srettha and Mr Sethaput had a robust discussion on Monday, with Mr Srettha, in advance, of the tête–a–tête saying that 'everything' was on the agenda. 
Governor Sethaput had been asked on Friday what the purpose of the meeting was and replied that he did not know.
The decision by the Bank of Thailand to raise interest rates last week received a cautious response from Mr Poonyawat Sreesing of Siam Commercial Bank, a senior economist with the bank's Economic Intelligence Centre (EIC), who suggested it would further impede private investment in the economy. 
A Reuters poll conducted from September 27th to 29th suggested that all analysts believed that the central bank would now pause interest rate hikes and that there would be a holding position at the next meeting which is scheduled for November 29th, 2023.
Srettha talks about more and improved trade pacts
Bankers and economists are now openly commenting on the divergence between the central bank and government policies with the Bank of Thailand focused on protecting the country's financial stability and its economic recovery, while the government seems intent on pushing economic growth, despite the frail nature of the economy which is labouring under chronic problems including the country's large private sector debt levels as well as an ageing workforce and a lack of inward investment.
On Monday, Mr Srettha appeared to suggest that the government's pursuit of a pro-growth agenda would continue when he announced that it would move soon to further reduce the cost of electricity which was a key platform objective announced in December 2022 before the General Election this year. 
Further reading:
Bank of Thailand boss appears critical of the new government's policy initiatives on the economy
Economy tanks as demand for loans surges with an acute credit crisis and falling export output reducing growth
Concerns over household debt rising as banks report marginally lower non-performing loans
Thailand preparing for a soft landing as 'cracks' open up in the Chinese economy says bank chief
Economic danger signals emerging as politicians wrangle over who will form the next government
Bank of Thailand to tackle household debt in new plan from 2024 which will see higher standards
Politicians skating on thin ice as the economy may not be able to withstand a political stalemate
Debt crisis may be one of the top items on the new cabinet's agenda as central bank stands ready
Potential hazard lights flashing as kingdom's auto loans spiral into default with sky-high borrowing
Bank of Thailand governor gives veiled warning to voters on the danger posed by populist policies
Financial markets debt sell-off sending a signal to Thailand before the May 14th General Election
PM warns giveaway policies of some parties may be 'bad karma' for the country in the longer run
Economic recovery shaky despite strong foreign tourism as global economic outlook deteriorates
Recession fears rise as growth projections are cut and export output continues to decline in 2023
Good news on foreign investment at the start of 2023 fails to mask stunted competitiveness issue for economy
Economy faces export clogs with rules in China and 'green imperialism' from European Union
Vital European Union free trade deal with Thailand with stiff demands from Brussels to take time
Thailand's financials are sound but the economy is exposed if another world banking crisis emerges
Thai economic woes grow with a 10-year high trade deficit as January exports slumped by 4.5%
Credit crunch as firms seek more bank loans with tightened lending criteria and recession fears
Even as the baht surges, Thailand faces economic recession in mid-2023 with lower earnings
Thailand's trade agenda may be complicated and thwarted by raised tensions in the Indo Pacific region