Social media activist who in the last year has exposed misery and suffering beneath the surface of Thai society brings his latest victim to 'Big Joke' for help. The senior officer promised an investigation into her claims of abuse.
A cry for help from a badly beaten young woman used as a slave by her drug-dealing boyfriend involved in the trade with his soldier father in Nakhon Pathom was made to Deputy National Police Chief General Surachate Hakparn also known as 'Big Joke' on Sunday. The woman's Hell had lasted for three months before she escaped on Saturday night. The senior police officer promised to respond to the case in his official capacity but by the book and according to the law, as he spoke with the injured 28-year-old  brought to him by online social justice activist Kannarat 'Gun' Pongpaiboonwet or Gun Jom Palang.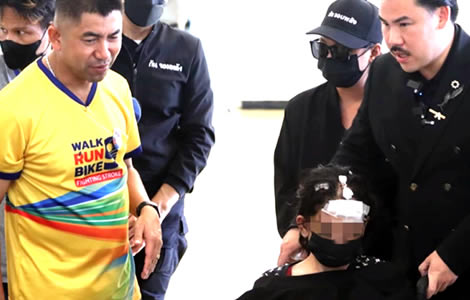 A Thai influencer who fights injustice, on Sunday, brought a case to Thailand's National Deputy Police Chief General Surachate Hakparn seeking his intervention and help.
The latest case involves a 28-year-old woman who was abused for two days up to Saturday night, the 28th of October, by her drug-dealing boyfriend in Nakhon Pathom and managed to escape his clutches.
Young woman was beaten for hours over two days before making her escape on Saturday night last, suffering severe injuries to her body and head
Mr Kannarat 'Gun' Pongpaiboonwet, also known popularly as Gun Jom Palang, told the police chief that the victim had been beaten for hours on end by her obsessive relationship partner, including with an iron bar and a pestle used for mixing drugs for sale.
The 28-year-old showed clear signs of physical abuse as she was provisionally interviewed by General Surachate, who promised to investigate the case but made it clear it would be conducted according to proper procedure.
Furthermore, the victim told the police chief that her boyfriend, whom she had only been dating for three months, had forced her into dealing and trading in drugs.
He appeared to be part of a more extensive network in Nakhon Pathom in central Thailand, approximately 57 kilometres west of Bangkok.
Perpetrator is the son of a soldier who is also involved in an illicit drug dealing business. Woman claims to have been forced into work in the trade  
The victim also told Big Joke that her boyfriend was the son of a soldier as it was revealed that she had been repeatedly stomped upon and punched in the face, leaving her with a broken cheekbone and cracked ribs, among other injuries.
Previously, she complained that she had been regularly beaten by the man she was dating and forced into dealing drugs and making deliveries for her boyfriend.
He had threatened her that if she revealed his activities to authorities, he would kill her whole family.
She told the police general that her boyfriend appeared well-connected and knew many people in Nakhon Pathom. Because of this, she feared for her safety.
Significant bodily harm, initial investigation for assault says 'Big Joke' with the crime committed within the precincts of Sam Phran Police Station
General Surachate acknowledged that the woman appeared to have suffered significant bodily harm, and on this observation alone, there was a case to be prosecuted.
He pointed out that the crime was committed in the area served by Sam Phran Police Station in Nakhon Pathom, located in a southern district of the province.
General Surachate said the case would initially be treated as one of family violence and severe harassment.
He said he would be acting as the Director of the Centre for the Protection of Children, Women, Families and the Suppression of Human Trafficking, in which there are programmes and responses to deal with such a situation.
He explained that the victim would have to be interrogated at length and subject to a physical examination. 
Even though the culprit in the case is already known to them, police will initially contact him and ask for a statement.
Victim suffered over 48 hours of horrific assault at the hands of her boyfriend, whom she had only been dating for three months, says activist
Mr Kannarat, who brought the case to the senior police officer, pointed out that she had suffered over 48 hours of continuous abuse at the hands of her boyfriend, whom she had only been dating for three months, and had to escape from him as she was also being falsely imprisoned.
He claimed that the perpetrator of the violence against the young woman was involved in a drug dealing operation with his father, who is a member of the armed forces.
General Surachate said this aspect of the case would have to be carefully examined, particularly the allegations that drugs were used on a military camp. 
The social media influencer said he had rescued the young woman because she was living in an area where another young person had recently been murdered without receiving any help from locals, suggesting fear in the local community.
Influencer who has exposed injustice and evil hidden underneath the surface of Thai society this year
The influencer, who has exposed many severe criminal cases in Thailand this year, including the 2022 case of a female army officer who kept a house slave and had connections with the Senate, has an instinct for detecting injustice and more severe criminality.
His cases include the shocking case of a father living in Bangkok in September who was revealed as a serial killer after murdering his infant children over an extended period.
The activist told the media that he had already referred the present case to the Inspector General of the Royal Thai Army.
He said that the victim in the case was terrified that she would be tracked down by those involved in the drug dealing group and murdered.
They were relying on the help of Police General Surachate to take decisive action to ensure the young woman's safety.
He revealed that the reason for the latest attack on the 28-year-old was sexual jealousy, with her boyfriend insisting that she consume drugs to have sexual relations.
Boyfriend linked with an illegal drug network in Nakhon Pathom, which used blue bags and subjected her to violent, physical abuse from the outset
When she refused, she was subjected to days of physical torture, which the social activist described as inhumane.
At length, he pointed out that the victim had suffered severe injuries in four to five places, including damage to her eyes and an attempt by the perpetrator to disfigure her face with a pair of scissors. 
Mr Kannarat 'Gun' Pongpaiboonwet said he believed the victim was on the verge of a nervous breakdown and that the man who perpetrated the attack on her had to be stopped.
Speaking to reporters, the victim said that in the three-month relationship she had with the perpetrator, he had been physically violent to her from the outset and was deeply involved in the drug trafficking trade.
She said she was not aware if he was connected to a significant drug dealing network or not and only knew that he used blue bags, but in any event, she believed the threats he made against her and was seeking protection from authorities.
Further reading:
Man with four wives suspected of murdering five of his ten children in eleven years of terror
Mother of murdered woman at the hands of a suspected serial killer calls for the death penalty to be meted out
Killer sentenced to death for the 2nd time for the murder of a woman 7 months after being paroled
Thai Justice Minister promises to push legal measure for the castration of rapists with public support
Sadistic rapist, drug dealer and serial murderer is sentenced to life in prison by Thon Buri court
Scotswoman to appeal dropping of death sentence on brother in law and two hired hitmen by court in Phrae
Death sentence for murderous trio who executed a loving Thai wife and her UK husband in Phrae
Death sentence imposed on school boss who murdered a 2-year-old boy in a gold shop robbery in January
School director pleads guilty in court to murder and other charges after Lopburi shopping centre massacre
Master of lies and death, the gold shop killer's life, actions and motives probed by police as wife flees
Lopburi child killer is a primary school director who murdered 3 people this month just for kicks
All quiet in Lopburi as fears grow that the gold shop killer may have slipped the police arrest net – media blamed
Mum's heartbreak after 2 year old's murder as police now know the identity of the cruel and evil killer
2-year-old shot dead by gold robber Thursday night as 3 die, 4 injured in mass shooting with silencer gun
Party over for 45 year old composed armed robber who took ฿4 million in Bangkok gold shop raid