Harrowing and disturbing details were released by investigators working on the case on Friday and Saturday as police moved to charge 46-year-old Mr Songsak Songsaeng and his third wife Ms Jessada Meepian before the Criminal Court with the barbaric murder of four infant boys from 2013 to 2018 according to the latest information which shows the children were brutally tortured to death by their mother and father before the bodies were disposed of in black bags. 
The third wife of the suspected serial killer, 46-year-old Songsak Songsaeng, was arrested by police on Friday on charges including murder. She appeared before the Criminal Court on Saturday in connection with the deaths of four infants between 2013 and 2018. Ms Jessada Meepian is the 33-year-old mother of a 12-year-old girl, Ms Wiyada, the only surviving child out of five from the relationship between the pair who, it was revealed, on Friday, alerted authorities and activists to the murder of a two-year-old girl at the hands of Ms Songsak and his fourth wife Ms Sunan Nahuanin, the mother of the baby girl. Both parents were already committed by the Criminal Court on Friday on charges related to that murder.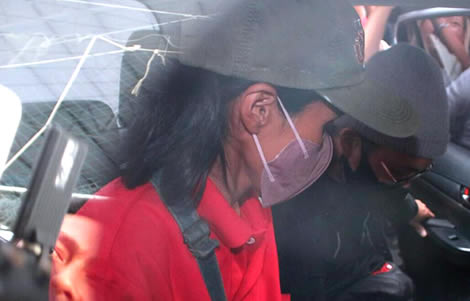 On Friday, there were more developments in the investigation into serial killer Mr Songsak Songsaeng when his third wife Ms Jessada Meepian was the subject of an arrest warrant issued by the Ratchadapisek Road Criminal Court on five serious charges including physically harming infant children, murder and the concealment of bodies in conjunction with her then-husband between 2013 and 2018.
The warrant number 7241/2566 was dated Friday 22nd September.
Ms Jessada was taken into custody at Bang Khen Police Station before appearing before the court on Saturday, 25th September, after which she was remanded to the Central Women's Correctional Institution in Bangkok.
Due in court on Monday facing more charges related to an assault on her 12-year-old daughter and the murder of her four infant sons with her ex-husband
Ms Jessada is due before the court again on Monday, 25th September, concerning further charges and evidence to be presented by the police in the case. 
After Friday's arrest, police released extremely disturbing information linked with the alleged offences committed by Ms Jessada with her husband in the period as well as details of a brutal assault, this month, on the couple's 12-year-old daughter 
Ms Jessada is a noodle seller in Bangkok who became Mr. Songsak's third wife after he came to work for her in her business.
The couple had five children together, four sons and one daughter. It is understood that Mr Songsak, who was allegedly assisted by his wife, murdered four infant baby boys because their crying caused him to lose control of his temper.
Police action against Ms Jessada began when her ex-husband broke down under intense questioning by police this week into the murder of a two-year-old
Mr Songsak, after initially denying the murder of his two-year-old daughter with his fourth wife earlier last week, subsequently caved in under intense police interrogation and then also admitted to the further murders of four baby boys while he was living with Ms Jessada who, it was reported this week, left him when she found out that he had a fourth wife.
However, new evidence being put forward by police on Friday suggests that the couple's relationship continued even after his fourth marriage.
According to Bang Khen Police on Friday, the pair were linked with an alleged abuse incident which saw physical injuries inflicted on the surviving 12-year-old daughter from Mr Songsak's third marriage, the only one of five children not to have been murdered in infancy.
Raid on Mr Songsak's home in Bang Khen, Bangkok on Sunday, September 10th by social workers and activists in which two young girls were rescued 
It is now thought that this is what led to the operation on September 10th when the Social Development and Human Security Department sent officers in association with Facebook activist, Kanthat Pongpaiboonvej also known as Kan Chompalang, to Mr Songsak's home in the Bang Khen area of Bangkok while he was away with his fourth wife in an operation in which he buried the body of his two-year-old daughter with his forty-year-old fourth wife Ms Sunan Nahuanin at a property owned by her in the upper central Thai province of Kamphaeng Phet. 
The 12-year-old girl at the heart of the story, together with another four-year-old daughter of Mr Songsak and his fourth wife, were rescued at that point.
Both Mr Songsak and his current wife Ms Sunan appeared before the Criminal Court in Bangkok on Friday on serious charges including the murder of the two-year-old infant and were denied bail.
Police last week uncovered the remains of the little girl at the property in the Khanulaksaburi District of Kamphaeng Phet leading to an expanded investigation ordered by the Metropolitan Police Bureau chief in Bangkok, Police Lieutenant General Thiti Saengsawang. 
Harrowing case details released by Bangkok Police on Friday makes disturbing reading as it details the callous and brutal murder of four infant boys
Police after the arrest of Ms Jessada on Friday and her appearance before the court on Saturday released further information from their investigation which revealed that on October 9, 2013, Mr Songsak and Ms Jessada were jointly involved in the murder of an infant boy whose name was Sakda at an apartment in the Anusawari sub district of the Bang Khen district in Bangkok.
It is understood that Mr Songsak beat the child two to three times, with force, in the stomach area causing the infant to have seizures and later die.
The couple put the child's body in a black bag and disposed of it at a dump near the Chatuchak Park area of the city.
The second murder took place on the 11th of November 2014 and again involved Mr Songsak and his third wife Ms Jessada.
This occurred at an apartment in Pathum Thani province when Mr Songsak used his hands to again inflict severe injuries in the torso and abdomen area of an infant child named Theerapap.
After inflicting fatal injuries on the infant, Mr Songsak put the baby in the bottom of a TV cabinet where the child died.
Infant baby with a neck wound and running sore was not brought to hospital for medical treatment and left to die by his parents in April or May 2016
The third murder in the extremely distressing police briefing to reporters allegedly occurred in April to May 2016 and again involved the 46-year-old alleged serial murderer. It involved a suspected murder by omission.
The couple were living in the Sai Mai area of Bangkok.
This involved an infant baby who was named Thanasap, who it is understood, developed a wound in his neck area from which an infection had developed causing pus to gather.
Mr Songsak and Ms Jessada have told police that they failed to take the child to be treated at hospital and that he eventually succumbed to the infected wound.
This child was also placed in a black bag and disposed of along the Phahonyothin Road in the Sai Mai district of Bangkok.
The fourth murder, again involving Mr Songsak and his third wife, happened while they were living in the same apartment in Sai Mai in February 2018.
The child has been identified as Nat and he was suffocated by his parents.
The baby began to have a seizure after his father placed a cloth in his mouth with the infant placed also inside a television cabinet, leaving him to die. 
This child was also dumped along the Phahonyothin Road in the Sai Mai district in a black bag. 
12 year old surviving daughter from Mr Songsak's third relationship violently attacked by her mother and father this month suffering shocking injuries
It is understood that the reason for the breakthrough in this case and its exposure came in early September when the daughter of Mr Songsak and Ms Jessada, Miss Wiyada, was attacked by the pair in the Bang Khen district of the city. 
The child's mother and father attacked her with a clothes hanger, a burning candle and a hot knife, while her father also kicked her in the stomach.
The wounds inflicted on the young girl are understood to be of a serious and shocking nature which may take five to six months to fully heal.
Mr Songsak told police this week that he suffered from serious mental illness for which he had been taking medication since 2016 and this caused him to become uncontrollably angry when children cried.
Serial killer enraged by crying baby boys
He also told police that his third wife, Ms Jessada, participated in these criminal acts.
Ms Jessada, however, when interviewed by police interrogators, told officers that she only went along with the physical violence because she feared her husband would turn on her. 
Officers working on the case have spoken to medical staff and doctors at Ramathibodi Hospital in Bangkok who have examined Miss Wiyada, the 12-year-old surviving daughter of the pair. 
They have told police that she has signs of serious scarring on her forehead, hands, upper arms, lower arms, abdomen, chest and back from being attacked by her mother and father.
The doctors believe that the implements or steel weapons used to inflict the injuries ranged from heated, sharp and at times, blunt.
They have told police that it will take up to six months for the young girl to completely recover from the serious assault inflicted upon her.
Third wife to appear again in court on Monday as charges mount and the police investigation into her ex-husband and the deaths of her sons continues
Investigators have formed an opinion that Ms Jessada played an active part in the physical assaults on her children and in particular in the recent assault of her 12-year-old daughter.
She is charged under various sections of the Criminal Code including Sections 184, 199, 290, 297 and 83.
Officers suggest that the 33-year-old woman has confessed to her crimes after initially denying the charges, but believe she finally relented in her denials on the promise of reduced punishment for her cooperation with police and the investigation.
In court on Saturday, no relatives were present to put up bail for Ms Jessada which was opposed by police on the basis that the penalty for the crimes she is accused of are of such a high nature that she is likely to attempt an escape.
She was committed on remand to the Central Women's Correctional Institution.
Further reading:
Man with four wives suspected of murdering five of his ten children in eleven years of terror
Mother of murdered woman at the hands of a suspected serial killer calls for the death penalty to be meted out
Killer sentenced to death for the 2nd time for the murder of a woman 7 months after being paroled
Thai Justice Minister promises to push legal measure for the castration of rapists with public support
Sadistic rapist, drug dealer and serial murderer is sentenced to life in prison by Thon Buri court
Scotswoman to appeal dropping of death sentence on brother in law and two hired hitmen by court in Phrae
Death sentence for murderous trio who executed a loving Thai wife and her UK husband in Phrae
Death sentence imposed on school boss who murdered a 2-year-old boy in a gold shop robbery in January
School director pleads guilty in court to murder and other charges after Lopburi shopping centre massacre
Master of lies and death, the gold shop killer's life, actions and motives probed by police as wife flees
Lopburi child killer is a primary school director who murdered 3 people this month just for kicks
All quiet in Lopburi as fears grow that the gold shop killer may have slipped the police arrest net – media blamed
Mum's heartbreak after 2 year old's murder as police now know the identity of the cruel and evil killer
2-year-old shot dead by gold robber Thursday night as 3 die, 4 injured in mass shooting with silencer gun
Party over for 45 year old composed armed robber who took ฿4 million in Bangkok gold shop raid
Police near closing the ฿9 million gold robbery case in Khon Kaen as the last suspect returns
Convictions of Burmese Koh Tao murderers and death sentences upheld by Thai Supreme Court
Koh Tao victim's family endorse the conviction of Myanmar migrants
Koh Tao claims by UK teenager questioned by Thai police – arrest warrants indicated for some media
Australian man pleads for help for his son and Thai wife sentenced to death for failed drug trafficking plot at sea
Police to re-arrest Australian death row inmate after he is released under court order at Bangkwang prison
93% of Thai people want to see the death penalty put to use to curb shocking murders and drug gangs