Police arrested the 46-year-old and his fourth wife on Monday, September 11th in the Rangsit area of Bangkok after they returned from Kamphaeng Phet where the couple had buried the body of their two-year-old daughter in the kitchen of a property owned by the woman in the upper Thai province.
Police in the Bang Khen area of Bangkok this week were investigating another possible serial killer after it emerged that a 46-year-old man with four wives and a history of violent domestic abuse but who claims mental illness, may have murdered five of his ten children in the period from 2012 up to this month when he murdered his two-year-old daughter. 46-year-old Songsak Songsaeng was committed to prison on Friday when he appeared in court on multiple charges linked with the death of his daughter while police are still investigating the death of four of his sons from 2012 to 2017.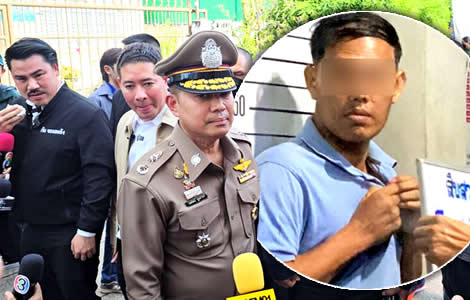 A Thai husband and wife appeared before the Criminal Court on Friday charged in connection with the murder of a two-year-old girl whose body was unearthed in Kamphaeng Phet province in upper central Thailand.
In the previous few days, police have revealed that they are investigating a horror story linked to a mentally ill man who, it is feared, may have murdered five out of his ten children over the last eleven years. 
46-year-old Mr Songsak Songsaeng was one of the two people who appeared in court on Friday.
Charged with murder, concealing a body and coercing others with violent threats into committing criminal acts. More charges are expected in the case
He was charged under the Criminal Code Sections 83, 199 and 290 (1) in connection with the murder of his two-year-old daughter in recent weeks after an activist on Facebook came forward to Bang Khen Police Station in Bangkok on September the 10th as part of an operation to rescue two of his daughters at an apartment room in the same district of the capital. 
Social media influencer Kanthat Pongpaiboonvej also known as Kan Chompalang conducted the rescue operation to secure the twelve and four-year-old girls while reporting the circumstances to shocked police officers and social services.
On the same Sunday, while the mother and father of the girls were away from home, investigating police discovered the couple had three children, all girls, but that a two-year-old had gone missing.
They were also apprised by the young girls and the activists of the campaign of abuse including physical violence regularly dished out by their father including the recent murder of their younger sister at his hands.
Neighbours came forward to give evidence to police. The couple had told them that the two-year-old was sent up country to stay with her grandfather
Neighbours told the activists and police that they had been informed the girl was sent to her grandfather's home in another province.
Speaking to their rescuers and the police, the young girls revealed that their younger sister had been murdered by their father and his fourth wife Ms Sunan Nahuanin, the mother of the three girls, who is 40 years of age.
Police immediately ordered the arrest of the couple who were away from home when the rescue was carried out.
The couple were expeditiously arrested at the Big C shopping centre in Rangsit as they withdrew cash while driving a black Honda Jazz car, which police have identified as being the vehicle which transported the body of the two-year-old to Kamphaeng Phet province on September 10th, in an operation where the parents buried the young girl under cement in the kitchen of a property owned by her mother. 
Fourth wife broke down and confessed first
On Wednesday, Police Colonel Anan Worasat, the chief of Bang Khen Police Station, confirmed that both suspects were in the custody of police and were being intensively interrogated.
It appeared that the accused woman, 40-year-old Ms Sunan, broke down and revealed all that she knew to police investigators.
At that time, it was reported that her husband Mr Songsak was un-cooperative with police, except for indications of distress.
Detectives quickly established that the 46-year-old had no less than four wives with the oldest of his children being 20 years old while his youngest was a two-year-old, was the daughter murdered in recent weeks.
The 20-year-old child was by his first wife and police established the child, now an adult, was living in Trang province in Southern Thailand.
Police summoned the accused former wives for questioning as they attempt to fully understand his complex personal life and detect any further victims
The woman, identified only as Ms Sirinam, was summoned by police in Bangkok for questioning as the investigation into her husband widened after disturbing reports about his third wife identified as Ms Jessada Meepian, a noodle seller living in Bangkok.
It was discovered Ms Jessada had a 12-year-old daughter by the alleged killer but she quickly confessed to police this week that her estranged husband had murdered four infant boys between 2012 and 2017
The first child was reported to have been six to seven months old and identified as Sakda.
He was killed by his father in the absence of the mother in 2012 and his body was dumped near Chatuchak Park while the father was, so it was claimed, cared for the couple's younger daughter at the time while the mother, Ms Jessada, was working.
The second male infant murdered was identified as Teerapap, who was between one to two months old. He was murdered at an apartment near Si Mum Mueang Market in the precincts of Khu Khot Police Station in Bangkok.
Four boys murdered and their bodies dumped in the same vicinity of Bangkok spanning several police stations. Some remains were found by police
The body of this infant was left at a deserted area on the Phaholyothin Road which would have been in the precinct of Sai Mai Police Station. The infant was allegedly murdered by his father in 2014.
The third alleged victim was a two-month-old baby identified as Master Thanasap who died in the same building the couple lived in and whose body was also dumped in an area near Chatuchak Park in 2016. 
The fourth child was identified as Natthaphong was less than one month old when he was murdered at the same building and his body was taken by motorcycle and abandoned in a deserted area in the precinct of Sai Mai Police Station in 2017.
Police are currently investigating the four murders and have revealed that they are in possession of DNA and autopsy evidence related to two of the infants. 
Their bodies were recovered and identified to police at the time with the skull of one showing signs of blunt force trauma. 
Mother tells police she was not present on four occasions where her infant boys were murdered by their father and their bodies disposed of by him
From initial police inquiries, officers have established that in the four instances, the mother Ms Jessada, was missing when the murders occurred with the father, Mr Songsak, being in the company of his young daughter, who it is understood accompanied him each time the bodies were disposed of. 
The woman admits however that she did not report the deaths to police.
The emerging horror story of another possible serial murderer in Thailand being investigated by officers in Bang Khen, this week, drew the attention of the Commissioner of the Metropolitan Police Bureau, Police Lieutenant General Thiti Saengsawang.
He has ordered a meticulous investigation commencing with inquiries in respect of Mr Songsak's wives who have been asked by police to attend interviews so that the complex nature of Mr.Songsak's personal life can be plotted out and understood by police investigators so as also determine if there may be others. 
Mr Songsak is reported to have been a delivery driver working alongside his fourth wife Ms Sunan. The pair worked for well-known food service providers in the Bangkok area. 
He has told police that he has been receiving medication for mental illness since consulting a doctor in 2016.
Accused admits to the murder of his daughter
In court on Friday, Mr Songsak confessed to the murder of his young daughter.
Various charges were brought before the court including one of murder, concealment of a body as well as coercing another into committing a crime with threats of violence or death.
Further charges are expected as the investigation into the alleged killer widens.
It is understood that his wife Ms Sunan who has also been charged with murder and concealment of human remains, is contesting the charges against her and claims she was not responsible for the death of her daughter.
It is understood that Mr Songsak has a second wife in the southern province of Trang who has a son by him who is 10 years of age.
This woman has been identified as Ms Saranya and has also been summoned to Bangkok for questioning. 
Married his third wife Ms Jessada, a noodle seller after working for her at a rate of ฿500 a day but she later found out that he had a fourth wife
Mr Songsak's fourth wife, the co-accused in court on Friday, is Ms Sunan who lived with him in the Bang Khen area of Bangkok but is from Kamphaeng Phet province.
His third wife Ms Jessada is a noodle seller in Bangkok and met Mr Songsak when he worked also selling noodles for her while employed at a salary of ฿500 a day. 
It is reported that Mr Songsak, while an employee of Ms Jesada at her noodle shop, saw their relationship break down after she discovered that he had another wife.
The third wife told police that she had helped pay for a Honda, the black Honda Jazz car owned by the accused. The instalments were ฿8,000 per month which she ceased paying after she found out.
Police probe the killer's mental illness claims
It is understood that police are inquiring into the accused's mental health and the nature of medical treatment he has been receiving as to whether this consists of just being in receipt of medication or deeper psychiatric care. 
Investigators are pointing to the nature of how Mr Songsak and his wife attempted to conceal the body of the two-year-old who was murdered while working as delivery drivers as indications that the accused is not mentally impaired in terms of criminal liability.
In-depth interviews will be conducted with all of the man's four wives to understand his motives and the complex lifestyle he pursued.
Police are also liaising with the Ministry of Social Development and Human Security to look at the conditions in which the surviving children are currently being cared for, as well as checking on the history of the perpetrator, with reports from neighbours and confidential sources suggesting that Mr Songsak's home life was one where regular domestic abuse and physical violence occurred.
Police thank local people and neighbours in Bangkok for their assistance in the harrowing investigation at Bang Khen Police Station which is ongoing
Police this week have thanked eyewitnesses and neighbours who have come forward saying their testimony and contribution to the investigation was extremely helpful.
The investigation is looking closely at whether Mr Songsak's other wives may have committed offences or were also victims of the mentally ill man.
Ms Sunan was charged with violence causing the death of her two-year-old daughter which she denied in court.
Investigating officers objected to bail for both the accused because of the high penalty rate that they are facing.
In any event, it was also reported from the court that no person came forward to provide surety or bail for Mr Songsak who was committed to Bangkok's Remand Prison.
The investigation into his family affairs continues.
On Friday, no charges were brought linked with the four infants who are alleged to have been murdered by the accused. But, certainly, a huge police investigation into these deaths is underway with further developments likely and imminent.
Mr Songsak also faced charges in court on Friday of using threatening and abusive behaviour to force his wife to carry out illegal acts, including threatening her life under Sections 297(4) and 309 of the Criminal Code. 
The accused was escorted from the court by correctional officers on Friday.
Further reading:
Mother of murdered woman at the hands of a suspected serial killer calls for the death penalty to be meted out
Killer sentenced to death for the 2nd time for the murder of a woman 7 months after being paroled
Thai Justice Minister promises to push legal measure for the castration of rapists with public support
Sadistic rapist, drug dealer and serial murderer is sentenced to life in prison by Thon Buri court
Scotswoman to appeal dropping of death sentence on brother in law and two hired hitmen by court in Phrae
Death sentence for murderous trio who executed a loving Thai wife and her UK husband in Phrae
Death sentence imposed on school boss who murdered a 2-year-old boy in a gold shop robbery in January
School director pleads guilty in court to murder and other charges after Lopburi shopping centre massacre
Master of lies and death, the gold shop killer's life, actions and motives probed by police as wife flees
Lopburi child killer is a primary school director who murdered 3 people this month just for kicks
All quiet in Lopburi as fears grow that the gold shop killer may have slipped the police arrest net – media blamed
Mum's heartbreak after 2 year old's murder as police now know the identity of the cruel and evil killer
2-year-old shot dead by gold robber Thursday night as 3 die, 4 injured in mass shooting with silencer gun
Party over for 45 year old composed armed robber who took ฿4 million in Bangkok gold shop raid
Police near closing the ฿9 million gold robbery case in Khon Kaen as the last suspect returns
Convictions of Burmese Koh Tao murderers and death sentences upheld by Thai Supreme Court
Koh Tao victim's family endorse the conviction of Myanmar migrants
Koh Tao claims by UK teenager questioned by Thai police – arrest warrants indicated for some media
Australian man pleads for help for his son and Thai wife sentenced to death for failed drug trafficking plot at sea
Police to re-arrest Australian death row inmate after he is released under court order at Bangkwang prison
93% of Thai people want to see the death penalty put to use to curb shocking murders and drug gangs