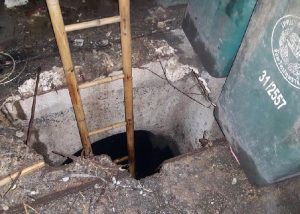 A British man told rescuers this week that he would file a legal complaint against local authorities in Bangkok for neglecting to cover a sewer hole or place a warning after he fell into the Bangkok sewerage system.
The 46 year old British man suffered minor injuries this week in Bangkok after falling into an uncovered sewer in the northern precincts of the metropolis. The British man who remains unidentified had to be released by rescue workers from the hole where he was found up to his chest in  foul smelling sludge.
The man had been walking with several friends having left a nearby restaurant when the incident occurred. His friends rushed to seek help from local residents who also alerted the police. Luckily rescue workers when they arrived at the scene were able to pull him from the three metre deep hole although in his struggle to merge the man suffered cuts and bruises.
Similar incident in July 2014 saw Thai man drown in sewage
The incident was similar to that where a Thai man fell into a similar uncovered sewerage in Bangkok's Din Daeng district in July 2014 but unfortunately was drowned in the sewage. It emerged that the sewerage manhole at Ding Daeng had been left open by Bangkok city workers who were involved in road repairs in the area.