Murder conviction and death-sentence upheld for Spanish national whose callous and cruel crime shocked Thailand in 2016.
After a long absence, the death penalty has made a comeback in Thailand with the execution of a murderer in June. There are a number of foreigners currently among the hundreds on Thailand's death row. One of them is a notorious Spaniard whose death sentence for a particularly gruesome murder was recently upheld by a Thai court.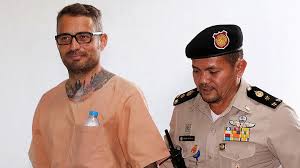 Thailand has always had the death penalty on its statute books. However, over the past decade, it has indicated that was looking at and willing to abolish the death penalty. In the last nine years up to mid June, no convict suffered the ultimate penalty either by firing squad or lethal injection. The last year that saw the death penalty carried out was 2009. That changed suddenly this year as Theerasak Longji, a gang member suspected of violent crimes, sentenced to death on charges of murder of a 17-year-old teenager was executed at Bangkok's Bang Kwang Central Prison. The move caught many human rights groups off guard and many fear that it is a sign of a toughening of policy under the present government.
Thai law prescribes the death penalty for a range of crimes and is popular with a conservative Thai public
His execution has opened the floodgates to a public debate about the morality and consequences of the death penalty. Generally, the Thai public support overwhelming support for the death penalty and this position have been strengthened in recent times by outrage over a series of, particularly horrific and callous murders.
There is certainly a very traditional and conservative attitude in Thailand currently towards law and order.
The popular feeling in support of the death penalty is in direct opposition to the voices of NGOs and international rights groups who are active in Thailand. It is also the case that a sizable proportion of convicts waiting for their executions in Thailand are foreigners.
Thailand has, in recent times, indicated to the UN Secretary-General, in a questionnaire, a range of crimes for which there is a mandatory death sentence including the importation and export of narcotics.
There is some confusion regarding this response as Thai law can be interpreted as meaning there is no mandatory death sentence although it could also be the case that the punishment is laid down but with mitigating factors to be taken into consideration by Thai courts.
Prior to this year, the death penalty was carried out in 2009 with the execution of two Thai men for drug trafficking.
Spaniard sentenced to death for torturing and murdering a business partner to obtain money
One of the foreigners facing death is Artur Segarra Princep, a 38-year-old Spanish man, who was found guilty of killing and dismembering another Spanish man in 2017.
He was sentenced to death by the Criminal Court. He appealed the sentence to the Appeals Court but it decided this year to uphold the sentence of death. The hair-raising details of the crime and the casual demeanour of the convict have provided anti-abolitionists a solid case to argue in favour of flying in the face of western norms.
The details of this case, when they emerged, in a Thai court last year, shocked people living in Thailand. The Spaniard kidnapped his victim and tortured him for days using a meat grinder to obtain access codes so that he could steal tens of millions of baht. He later fled to Cambodia where he was apprehended.
Since his conviction, he has appeared in court with a smile and displayed a bible reference while his lawyers vow to fight the conviction to the end.
Court documents reveal details of a heinous crime in Thailand that beggars belief

According to court documents, Mr Segarra was a business partner of David Bernat, the victim. In January 2016, after sharing some drinks, Mr Segarra lured Mr Bernat to a room at PG Condominium Rama IX in Huay Kwang district where he imprisoned Mr Bernat and tortured him for several days to make him transfer 10 million baht into Segarra's bank account. Mr Bernat was reported to have had 37 million baht in his account.
Mr Segarra killed Mr Bernat after withdrawing about 700,000 baht in cash. He stored his body in a freezer. Later, he dismembered the body and dumped the parts in the Chao Phraya river.
He then fled to Cambodia but was arrested by local authorities in Sihanoukville and extradited back to Thailand to face trial.
Spaniard protested his innocence and blamed his ex-Thai girlfriend but judges reject his claims

Mr Segarra remained calm although he consistently denied all charges and once requested to be sent to a hospital. He asserted that the crime was a plot by his Thai ex-girlfriend but the court rejected that claim. The judge used CCTV footage of the hotel, witness testimony, including that of his Thai girlfriend, as well as forensic test results that found the victim's DNA and bloodstains in Mr Segarra's belongings as evidence to implicate him
. His fate is likely to be shared by Wayne Schneider, an Australian citizen.
The Aussie received the death penalty in connection with the murder of a former Hells Angels member in well-publicized murder. He has an appeal pending before the Thai courts.
Thai leadership appears to be adopting a hard line on crime since it came to power

Since taking power, the Thai military government has taken a hard line against criminality, be it foreign or Thai, in order to restore law and order. It is a popular policy as many Thai people, including the victims of crime, have called out for the ultimate sanction.
Thai Prime Minister Prayuth Chan-o-cha is on record as supporting the death penalty. 'The death penalty is legitimate,' he once told reporters.
'Many cases of severe crime have happened. Capital punishment exists to guarantee national peace and teach lessons. It is a necessity for us and people want it.'
Polls show over 90% favour the execution of those convicted of the most serious crimes in Thailand

Most Thai people want to keep the death sentence in place with only 8 per cent of the population against it, according to an opinion poll. The suspension of executions for nearly a decade has caused a backlog of inmates waiting to be executed by the administration of a lethal injection.
Thai Justice Department figures indicate that there were 516 on Thailand's death row in mid-June including 93 women. The execution in June has sparked severe criticism from civil liberties groups. However, it appears that the Thai government is determined to tackle crime robustly.
There is also apparently little appetite for a change of course among Thai people who hold traditional values and attitudes on law and order in the country.
Further reading:
Thai Justice Minister promises to push legal measure for the castration of rapists with public support
Sadistic rapist, drug dealer and serial murderer is sentenced to life in prison by Thon Buri court
Scotswoman to appeal dropping of death sentence on brother in law and two hired hitmen by court in Phrae
Death sentence for murderous trio who executed a loving Thai wife and her UK husband in Phrae
Death sentence imposed on school boss who murdered a 2-year-old boy in a gold shop robbery in January
School director pleads guilty in court to murder and other charges after Lopburi shopping centre massacre
Master of lies and death, the gold shop killer's life, actions and motives probed by police as wife flees
Lopburi child killer is a primary school director who murdered 3 people this month just for kicks
All quiet in Lopburi as fears grow that the gold shop killer may have slipped the police arrest net – media blamed
Mum's heartbreak after 2 year old's murder as police now know the identity of the cruel and evil killer
2-year-old shot dead by gold robber Thursday night as 3 die, 4 injured in mass shooting with silencer gun
Party over for 45 year old composed armed robber who took ฿4 million in Bangkok gold shop raid
Police near closing the ฿9 million gold robbery case in Khon Kaen as the last suspect returns
Convictions of Burmese Koh Tao murderers and death sentences upheld by Thai Supreme Court
Koh Tao victim's family endorse the conviction of Myanmar migrants
Koh Tao claims by UK teenager questioned by Thai police – arrest warrants indicated for some media
Australian man pleads for help for his son and Thai wife sentenced to death for failed drug trafficking plot at sea
Police to re-arrest Australian death row inmate after he is released under court order at Bangkwang prison
93% of Thai people want to see the death penalty put to use to curb shocking murders and drug gangs
;