Miss Universe pageant has a special relationship with Thailand and although there will be controversy in the current world media climate, it will be a huge positive for Thailand
Thailand has been chosen to host 2018 Miss Universe Pageant. This is the third time that the kingdom has hosted the renowned beauty pageant since 1992, when it hosted the event for the first time. The event is occurring at a time when such events are under the microscope by liberal media outlets in western world but strangely becoming more popular particularly in Thailand among Thai women. The event promises be a huge success for Thailand and great advertisement for the country.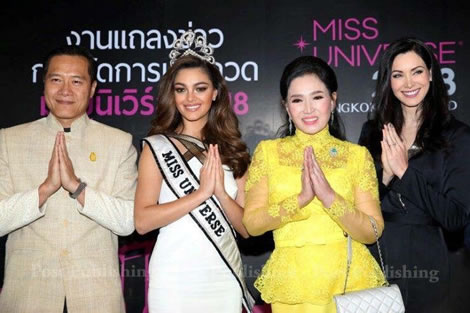 The rumours about the host of this year's event were confirmed as Paula Mary Shugart, president of the Miss Universe Organization, made a big announcement at press conference held in Thailand. Thailand was chosen to host the 2018 Miss Universe international beauty pageant.
'The Miss Universe contest has come here every 13 years,' she told those attending. 'Thailand hosted the contest in 1992 and 2005, so 13 is a lucky number!' The huge show caters to a worldwide audience and is often held in the United States alternating with exotic and attractive locations throughout the world. It is a speacticular coup for the Thai government and Thailand's tourism image abroad. On hand for the launch, Thailand's Sport Minister, Weerasak Kowsurat assured the press that everyone involved in its return to Thailand would be safe and able to fully enjoy the country's hospitality and rich culture. It  was also revealed that Thailand had beaten off contenders such as Japan, the Philippines and China, to stage the show in Bangkok.
Former Miss Universe winners come together to announce event in Thailand
Several beauty queens from previous contests were present at the conference, such as Miss Universe 2017, Demi-Leigh Nel-Peters, Miss Universe 2005 Natalie Glebova and former Thai Miss Universe 1965, Apasra Hongsakula. Apasra Hongsakula is one of Thailand's two winners to date. Natalie Glebova was crowned when the pageant was last held in Thailand.
Contestants from nearly 100 countries and territories will arrive in Thailand in early November for pre-contest activities, and the grand finale is set to take place at the Muang Thong Thani complex in Nonthaburi juts outside Bangkok on December 17.
Miss Universe Thailand, Sophida Kanchanarin will represent her country.  According to Thailand's Prime Minister Prayut Chan-o-cha, the Thai Ministry of Tourism and Sports would be responsible for arranging the event. He looked forward to the world beauty pageant sending out a 'positive image' of Thailand to the rest of the world.
In December Bangkok and Thailand will be live in homes across the world
This year's Miss Universe Pageant is anticipated to boost the Thailand's already robust and record breaking tourism inductry as well as improve the country's image. It will be coming after a spectacular party in Chiang Rai to celebrate the worldwide effort that resulted in the successful rescue of the Thai 'wild boar' soccer team in July. Many tourism officials expect the pageant, occurring during the peak of tourism season, will bring in millions of baht in income as well as positive exposure for Thailand's brand across the world.
Thanawat Wansom, CEO at TW Investment Group, said that the event would set out to promote Thai culture and the arts.
The value to Thailand and its tourism industry will be immense as the show will be beamed live into homes around the world particularly in the valuable US market durng prime time TV periods. The final held at Muang Thong Thani Impact Arena (near the hq of this website) will start eealy at 7am so as to catch prime time audiences in the United States where the pageant will be broadcast on the Fox TV channels reaching a huge worldwide audience. The event will be broadcast to over 170 countries making it truly a universal event with Thailand and Bangkok at the centre. The Impact arena and Muang Thong Thani complex is a very impressive world class venue ideal for the event situated on Bangkok's perimeter in Nonthaburi.
Miss Universe is  a big deal with Thai women and the feeling is mutual
The pageant is hugely popular with Thai women, more so than the Olympics or even the World Cup. Thai women of all ages are not only interested in beauty but also in watching and hearing from women representing different countries across the globe. It will be essential viewing. At the press conference to announce the holding of event in Thailand, Paula Mary Shugart, the Miss Universe boss, indicated that the competition organisers were well aware of the interest among Thai women in the pageant. She said that the contest was, in fact, a 'coming together' of women to support each other. Last year's winner Nel-Peters went further. Recalling her wonderful visit to Krabi in Thailand two years ago, where she celebrated her 21st birthday, she praised the beauty and nature of Thai women. 'Thailand has so much beautiful nature and culture and the women are so beautiful too,' the pageant queen said. 'I've never seen so many people so happy and calm as Thai women. No matter how busy or stressed they are, they remain very patient.'
Thailand's 1965 winner is a driving force behind the event
Thailand's 1965 winner is 71 year old Apasra Hongsakula. A highly respected and well known figure in Bangkok society,she was born and raised in Bangkok and later sent to Malaysia in order to study English. Married twice, she is the daughter of Group Captain Perm and Kayoon Hongsakula. A former Miss Thailand (1964) winner, she was the first Thai woman to win the Miss Universe crown in 1965. When she won the Miss Thailand title in 1964 she was a high school student in Penang, Malaysia and went on to win the Miss Universe contest in 1965 when it was held in Florida's Miami Beach.
Apsara whose nickname is 'Pook' is very involved with the Miss Universe pageant acting as a judge in 1979 and 1973 as well as the local Miss Universe competition. She also played a prominent role in the event when Thailand hosted it in 1992 and was crowned again by the 1991 winner, receiving a new crown from the Miss Universe organization. The truly international nature of the pageant can be seen from the statistics. In 1964, prior to her win, the crown was won by Corinna Tsopei of Greece and Pook was succeeded by Margareta Arvidsson of Sweden in 1966.
Her son Patsornkorn Chirathivat, by her second marriage to Suthikiati Chirathivat, is the Chairman of the Board of Directors of the Bangkok Post, Thailand's leading and most influential English speaking newspaper. Apasra's younger sister, Pavena, is a well known politician in Thailand.
Apasra Hongsakula has other business interests in Thailand and has been appointed an ambassador for Thailand's Tourism Authority.
Miss Universe always generates a spark of controversy that gives it the edge
The Miss Universe contest is not without its detractors notably in the western feminist world. However the contest has become noticeably more popular in recent years even in western countries, as in spite of its detractors, more and more people question politically correct values which have led the organisers of Formula 1 last year to remove the grid girls from most Grand Prix events to the consternation of many. The uproar over the #MeToo Twitter movement has drawn critcal attention to such events.
However Miss Universe itself shown itself capable of being more progressive. This era will see its first transgender participant when Angela Ponce representing Spain will compete with 90 other women from countries all over the world for the much sought after title. The international pageants organisers have left it to local organisers whether to implement the reform. Thailand does not have transgender participants yet but it has been noted by some commentators that this may be in order not to disrupt a number of thriving pageants in Thailand that already cater for LGBT participants. These include Miss Tiffany's Universe and the Miss International Queen contests.  These are well known and widely followed competitions which feature LGBT contestants.
US President Donald Trump owned the pageant for nearly twenty years
The Miss World pageant was owned by US President Donald Trump from 1996 to 2015 when the TV rights were owned by America's NBC TV network. Indeed the current controversy swirling around the embattled President are connected with a discredited dossier which provided a starggering account of a 'wild' night he spent in Moscow during the 2013 Miss Universe contest held there.
Miss Universe now owned by IMG/WME in the United States
Since 2015 the pageant has been owned by IMG, the huge rights, events and management company founded by legendary US lawyer and sports agent Mark Mc Cormack. Mc Cormack died in 2003 and that company was bought by William Morris Endeavour, a talent agency, in 2013.
Expect some controversy over the Miss Universe swimsuit event
The Miss Universe format format will remain unchanged. It will include the much anticipated swimsuit competition. This is bound to be controversial as western media continue to seek targets in the #MeToo era. ReIn 2014 the organisers of Miss World, a similar global beauty contest, decided to scrap the swimsuit competition to focus on other qualities. This was foloowed by a smilar move by Miss America earlier this year. Indeed one former beauty  queen has announced that they are no longer beauty contests at all. In June, Gretchen Carlson, the former popular Fox TV new anchor, who sued former and now deceased Fox News Chairman Roger Ailes for sexual harassment, described her Miss America as 'no longer a beauty pageant.'
'Miss America will represent a new generation of female leaders focused on scholarship, social impact, talent and empowerment,' she said in a statement adding: 'We're experiencing a cultural revolution in our country with women finding the courage to stand up and have their voices heard on many issues. Miss America is proud to evolve as an organization and join this empowerment movement.'
Last year's Miss Universe winner highlights the positive impact  on her life
Last year's winner South African DemiLeigh NelPeters has described how winning Miss Universe in 2017 has changed her life. She described broadening her horizons through world travel. 'Miss Universe has completely changed my life,' she told Thailand's The Nation publication. 'I'm more dedicated to my country. I've grown so much personally and emotionally. I have so much more confidence in the future as a woman. And Miss Universe gave me a global platform to speak about the things I'm passionate about, things I care about, a chance to make a meaningful difference in changing the world.'
Miss Universe organisers in Thailand and Tourism mInistry working to promote Thailand
The organizers also said that TW Investment Group, a large Thai firm, would be granted the sole proprietorship of the 67th competition. 'We've spent more than Bt1 billion to bring about this spectacular contest,' Tanawat Wansom told The Nation newspaper in an interview following the announcement. He revealed that the the contestants would begin arriving in Thailand in November and would be accompanied by over 6,000 people including a huge media army. 'We hope to make this a really memorable show, featuring charming elements of Thai culture along with a high-tech presentation,' the executive is reported as saying.
He revealed that all contestants would experience Thailand's unique culture while touring the country leading up to the final in December. This would include experiences in silk weaving, basket carving and cooking traditional Thai dishes. Tanawat also welcomed the first transgender participant in the contest from Spain, Angela Ponce. 'We hope to make this a really memorable show, featuring charming elements of Thai culture along with a high-tech presentation,' Tanawat said. He also confirmed that Steve Harvey, the American comedian, would be MC or compere for the event.
Speaking at the event, the Tourism minister highlighted the opportunity to give exposure to secondary cities in Thailand as well as tourism amenities.