Bangkok becoming the Geneva of Asia is the new goal as Thailand passes key legislation allowing for personnel of international organisations to be granted privileges in a thriving city that aims to host more international agencies
Thailand's National Legislative Assembly (NLA) has in the last few weeks enacted a new law and legal provisions that will pave the way for Thailand to become Asia's city of global organizations and a key administrative and diplomatic centre for the international community. Dismissed by cynics and critics of the military government as a pipedream, the plan is, in fact, well-founded and already on its way to success.
Thailand has passed a landmark new law making provisions that will allow for privileges and protections to be extended to foreigners working with international organisations. It has been suggested that the law opens the way to implementing an ambitious plan of the current Thai government to make Bangkok 'the Geneva of Asia'. For some people, this accolade would more suitably today apply to Singapore where the recent high profile meeting between US President Donald Trump and North Korean leader Kim Jong Un was hosted in July. Perhaps they should think again.
Bangkok has a long tradition of being a non-aligned city in Asia where deals are brokered and people seek refuge and safety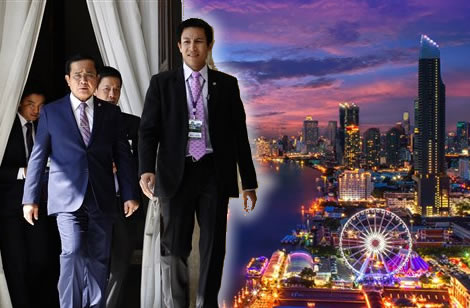 Bangkok, alongside Singapore and Hong Kong, has always been considered a key city of significance in Asian commerce and diplomacy. It is well established that Bangkok and Thailand has an old and long tradition of being an independent nation and player in Asia. Prior to the Trump's summit with Kim Jong Un in July, Bangkok was reported to be on a shortlist of cities which was being drawn up to host the event with the support of the Thai foreign ministry. A key attraction was seen to be Thailand's unique non aligned status in Asia and world affairs. This can be seen at work in Thailand's ongoing co-operation and relationship with North Korea, an isolated and ostracised state. The unique status that Bangkok holds in Asia extends to Thailand's delicate status of being a transit country for North Korean defectors taking flight from the communist dictatorship. It is a role long played by Bangkok and Thailand. It is underlined by the extent of media and international Non-governmental organisations (NGOs) and international government organisations already based in Bangkok. In media terms, it can be seen in international media reports on Myanmar, Cambodia or events in Southeast Asia that are often broadcast and hosted from Bangkok.
Bangkok to be on a par with Geneva and New York
In fact, there is a strong likelihood that it will be Bangkok in the future will attain its goal, as there are already international organisations operating in Bangkok and more are interested and have already approached Thai authorities. Already Bangkok is home to many UN agencies and organisations as Amnesty International and Human Right Watch. The Institute for Democracy and Electoral Assistance which is based in Stockholm has already approached authorities in Thailand in order to make Bangkok it's Asian headquarters. The new law passed by the National Legislative Assembly allows Thailand to more easily grant protections required under the Vienna Convention of 1961. This new ambition for Bangkok has been promoted by the Thai military government, who set it out as a vision shortly after taking power in 2014.
The new law is a significant and tangible step forward towards the goal. On September 18th, Thailand's National Legislative Assembly (NLA) passed the bill which makes it easier to grant diplomatic immunity and to set up offices for international organizations seeking to base themselves in Thailand. The law, officially known as the Act on Privileges and Immunities for International Organizations and International Conferences in Thailand, cleared up a major obstacle in Thailand's path to being on par with worldwide centres for diplomacy such as Geneva and New York.
Bangkok already home to many UN agencies
Currently, Thailand hosts approximately 60 international organizations, 28 of which are UN agencies. It is reported that up to 10 organizations have already expressed interest in establishing a base in Thailand. One of the most serious disadvantages that organizations, wishing to be present in Thailand, the experience is that the country, up to the point of the new provision, only granted privileges and immunities on a case by case basis. This was viewed as a deterrent to many international bodies considering Thailand as a viable location.
This problem stemmed from the deep misgivings of some Thai senior officials that the possibility that universal diplomatic privileges would undermine the country's sovereignty and lead to abuse. This has long been a key consideration of the Thai state going back to ancient times. That fear, however, appears to be overcome as Thailand's new law on privileges and immunities, required by the 1961 Vienna Convention, are set to be similar to those of such countries as the US, Switzerland, Austria and Singapore.
Huge benefits for Bangkok and Thailand in new status and direction in economics and prestige

Thailand is likely to enjoy considerable benefits if more international organizations move or open their office in the kingdom. Bangkok will become a city where global high-ranking diplomats, campaigners and advocators live and work as well as a venue for important conventions and dialogues. The new status and coverage will certainly improve Thailand's visibility and profile. Such developments are forecasted to have a positive effect on the country's economy, trade and tourism. Bangkok's newly enhanced role will not only strengthen Thailand's reputation but will also see an increased presence of international workers and cause even more foreigners to travel and settle in the country.
Thailand is living through an exciting period of transformation as it progresses 4.0 plan

The expertise and capital that these added foreigners may bring could chime well with the new era of growth for Thailand envisaged under the government's blueprint for development currently being worked through entitled Thailand 4.0. Thailand is already a very tech-savvy country with nearly three-quarters of the population connected as regular internet users. The Thai startup ecosystem is also grown rapidly thanks to a government-backed $570 million venture fund. The influx of highly educated expats opting to live in Thailand from western countries, many of them married to Thai spouses, demonstrates the attraction that Thailand holds even to those from the world's richest countries. Today many foreigners, opting to live in Thailand, are establishing business ventures. Many bring skills and work in partnership with Thai nationals.
Some scepticism from liberal foreigners online
The move by the Thai National Assembly in passing this significant new law that envisages Bangkok becoming the Geneva of Asia has drawn some criticism and scepticism from some foreigners commenting online. To many liberal-minded people it sounds quite farcical that a country emerging from a period of military government should consider such a move as at all practical. Like everything in Thailand, there is always a contradiction but there is also a lot of sense in this proposal. The most cogent argument is that Bangkok is already playing this role as it now hosts an exceptionally large number of international and governmental agencies. Bangkok has a long and successful tradition of being one of Asia's most important cities. The other thing to point out is, again ironically, is the stability, in spite of regular periods of military governments, of the Thai state and legal system.
For a start, Thailand and it's capital city Bangkok has a long history of being an independent player in Asia. Famously the country and nation that was never colonised, the intensity and strength of Thai sovereignty was the main reasons why Thailand's leaders mulled the proposal over for a couple of years before finally approving it.
Sound historical basis for the move
Thailand's strong sense of sovereignty is the reason why the country has set itself apart in its historical past. Bangkok, alongside Hong Kong and Singapore, is recognised as a leading city in Asia and crucially has always been seen as an independent location where deals could be made and which has always had an independent touch. In recent history, Bangkok and Thailand have been havens for freedom fighters and a place of sanctuary for those fleeing oppression.
Thailand moving to a new more stable Thai form of democracy with elections due in 2019

The idea would seem to be at odds with the fact that Thailand's current military government. However, we are now witnessing a new era in Thai politics which that government is ushering in. The county will henceforth be operated under the scrutiny for an upper house dominated by the military and the military and its supporters have made it clear that Thailand will not be allowed to return to the factions, wrangling and street protests which the country experienced in the run-up to the 2014 coup. It can also be said that Thailand is now returning to a Thai style of democracy and most significantly, the way the military junta has conducted itself since coming to power in 2014. It is thought that the country will go to the polls on February 24th 2019 to elect a new government under the provisions of the new Thai constitution. Nearly two-thirds of Thai people survey in a NIDA poll last weekend expected the current Thai Prime Minister to be elected PM in the aftermath of the election.
Military government has managed Thailand with care
Although there have been notable exceptions, authorities in Thailand under the military government have used their extraordinary powers including the right to rule by decree to crack down on criminal activities and to quieten the county's discordant elements while allowing a fair latitude of freedom to ordinary citizens and indeed foreigners living in Thailand. This can be seen from online forums and discussions groups where the government is openly criticised in a way that would be unheard of in some countries and given the censorship now implemented in European countries, this includes the UK and Germany. It is fair to say that Thailand is not a country where people are living in fear of a repressive government despite that label being used by some critics. This why Bangkok has retained its status as the home in Asia of many leading world institutions with more to come under the new policy and legal provisions.
Thailand and Switzerland have some things in common such a strong sense of sovereignty

The comparison to Switzerland is apt. Both countries have independent traditions and strong, robust sense of sovereignty and independence. Both have, for instance, retained the concept of military conscription and both are decidedly conservative societies. Both are centres for people of immense wealth. So the comparison of Bangkok to Geneva is not so strange. Then there is the other reality that Thailand has de facto like Geneva since the 1950s and 60s become already a preferred location of choice for many international and supranational bodies.
Thailand and Bangkok a popular posting for staff assigned to international bodies in Asia

It is not unusual to see motorcades in Bangkok ferrying dignitaries from Suvarnabhumi Airport associated with the strong complement of influential in NGOs active in Thailand and using it as a base for international operations. It can also be seen that despite years of army coups and political instability these NGOs and international organisations have not been forced to move. In Bangkok, they have been treated remarkably well. The city is a very popular posting for many officials. Bangkok offers a low standard of living with all the attractions of a developed and connected country as well as the cultural delights that Bangkok is famous for as well as its thriving and exhilarating nightlife.
Bangkok is one the globe's exciting cities with huge potential as a bridge between Asia and the world
There are other reasons to take this proposition seriously. For a start, the single-minded General Prayuth Chan Ocha, the prime minister and possibly future prime mInister, is reportedly determined to make the goal a reality. He may be pushing an opening door. In the business world, Bangkok is becoming a very attractive city for international companies to base themselves in. While its popularity with expats has dropped in the last two years according to some surveys, there are many signs that the country is up and coming with the inflow of foreigners continuing unabated. We must also remember that Bangkok is home to some of the richest people on the planet, just as with Geneva, as Thai billionaires thrive in a dynamic, laissez-faire economy that is open to international trade in both Asia and worldwide. The growing wealth in Bangkok, as it prospers, also filters down to a growing middle class with more educated young Thai people. Thailand is country where poverty is being steadily reduced by successive Thai governments of whatever hue while a thriving middle class continues to emerge.
Bangkok the most connected city in the world
Bangkok is already perhaps the most connected city in the world and is Facebook's biggest metropolis in terms of connectivity. The Thai government ambitious 4.0 programme is also being steadily implemented with key laws passed also by the National Legislative Assembly in the last few years establishing a framework for developing Thailand's knowledge-based economy and assisting efforts on the ground with training, financial support and infrastructure. This has seen a huge level of venture capital floating around Bangkok. Many of the companies have involved foreign partners and many are promoting projects which are copies of American success stories with a local touch. Already many are successful in e-commerce, travel and even financial services.
New Thai tech companies – Thai e-commerce competitor Lazada is better for Asian customers

Thai tech talent has also now emerged and shown that it can compete with the best in the world. Take for example the Thai e-commerce site Lazada which competes with Amazon. The site is designed for Thai and Asian customers. It is faster and more intuitive to use than its giant American competitor. It also provides unique payment solutions that suit Asian customer such as an effective pay on arrival scheme linked with local courier companies.
Bangkok is already the Geneva of Asia
It would be wrong to underestimate the determination and abilities of the Thai people to make this goal, like any other, a success. It also is a good thing for the world that this tradition, conservative non aligned country be seen as one worthy of respect. In fact, it may well be that Bangkok already occupies the role in Asia as Geneva does in Europe.