The brutal slaying of a French man in the early hours of Wednesday morning drew a remarkably candid apology form a senior Thai police officer at the scene and an assurance to visitors. The CCTV footage online is both compelling and disturbing and shows that last moments of a foreigner who pushed his luck in Thailand too far after a drunken dispute over a Thai woman
A brutal murder of a French man by an off duty Thai police officer in the last 48 hours has made news worldwide. A senior officer from Thailand's police force has apologised and especially assured foreigners to the country that the Royal Thai Police are at their service and that the country is safe. The French man, originally from Paris and the police officer, were known to each other as the victim was a regular visitor to Thailand and customer at a local bar on Sukhumvit. The murder occurred in the aftermath of a fight which erupted over the Frenchman's 32 year old Thai girlfriend. It ended with the slaying, by gunfire, of the French man as he came face to face with the armed police officer in the foyer of a Bangkok apartment building. 
Dramatic security footage emerging from Bangkok, shows the moments an off duty Thai policeman mercilessly gunned down a French national in a shopping centre near Nana, off the Sukhumvit road, this Wednesday. The incident occurred sometime after the Thai cop and the French man had been involved in a fist fight at a popular bar in the Sukhumvit Soi 13 area of the city. This area of the city is well know to foreigners and expats and is near the Nana BTS station. It is an area in Bangkok with a raunchy nightlife scene but is also home to many more upmarket apartments and adjacent streets.
Thai police commanders were quickly at the murder scene and anxious to express their regret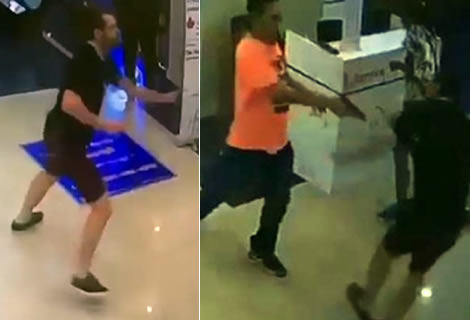 Thailand's Head of Immigration Police said, shortly after the the killing, that the Thai policeman would be dismissed and charged with murder. The brutal incident occurred in an apartment building and shopping area on Soi 13, off Sukhumvit known as Trendy Office and Plaza, beneath where the French man had been staying with his Thai girlfriend in an apartment. It is reported that the man, originally lived in Paris, had become a regular visitor to Thailand. However, in the last few months, he had settled in the country and was reported to be seeking employment. Senior Thai police officers were quickly at the scene of the murder and anxious to fully brief the media. They were determined to be as transparent and open as possible. They stressed that the suspect would face the full rigour of Thai law. A police spokesman, in fact, issued an apology for what had happened to the French national. Police Colonel Kritsana Pattanacharoen also expressed condolences to the family of the dead man. He had a message also for Thai police officers in Thailand, many of whom work long hours, that they should make every effort to put aside any issue for a personal nature and focus on being more patient.
Thai police spokesman addresses tourists saying police force is sorry and will act diligently to bring the suspect to justice
The senior police officer went even further. He asked that police commanders all over Thailand take steps to monitor the personal behaviour of all police officers under their  command. He said he was very concerned that a situation had arisen where a member of the Royal Thai police force had become a suspect in a serious crime and was apparently guilty of abusing his position in the force. He was anxious that damage from the incident to the image and reputation of the police in Thailand should be limited. He assured his audience that the perpetrator of the crime would not receive any preferential treatment from prosecuting members. The policeman, who was quickly arrested, would not be protected from the legal consequences of his actions.
At the end of his apologies he explained: 'This is something we could never foresee.' He went on to address an international audience saying that the Thai police were aware that this may affect tourists visiting Thailand or who planned to visit. He pointed out that the Thai police would act quickly in prosecuting the case and have wasted no time in doing so. The Police commander offered his personal assurance to all visitors to Thailand that Thailand is a safe country and that The police personnel will do their utmost to be of assistance to foreigners.
Fired policeman denied bail as he is held for 12 days while Thai police complete investigation
The police officer involved, 49 year old, Sen Sgt Maj Kantapong Huadsri, who served at the busy Lumpini Police station in Bangkok, has been dismissed from the force. He is now facing a murder charge. It is reported that he has already admitted his guilt in the murder. At a court appearance, the police officer, charged with murder, was denied bail. The former police officer is to be held by Thailand's Criminal Court for 12 days until a full Thai police investigation is complete. The serious and violent nature of the crime were the grounds police put forward by prosecutors in their request to have bail denied by the court.
Flirtatious chat at bar off Sukhumvit led to fist fight and duel between French and Thai man
The story began at the 'Lucky Shot' bar on Sukhumvit, early Wednesday morning the 12th December. Police Sen Sgt Maj Kantapong Huadsri, who is 49 years old, was known to 41 year old Malik Djamel,  who had been a regular visitor to Thailand for the last 12 months, having settled in Bangkok recently. The French man was at the venue with his Thai girlfriend, 32 year old Kwanjira Yutthakrai. It appears that the older police officer began to talk and flirt with the French man's girlfriend. The French man is reported to have become irate. Both men were reported to be drunk. This state was confirmed later by Thailand's top cop and Head of Immigration Police, 'Big Joke' Surachate Hapkarn. An argument broke out between the two men, which turned into a fist fight, which the younger French man had the better of. The French man's Thai girlfriend told the English speaking national newspaper in Bangkok, The Nation, that the Thai policeman withdrew at that point.
Thai policeman caught up with the French man later at a public foyer where he executed him
The attack and murder by the Thai policeman came later. It was all captured on CCTV footage both outside and inside the Trendy Office and Plaza Building on Soi 13, also off Sukhumvit (near Nana) where the French man was staying at an overhead apartment. The events took place at about 8am on Wednesday 12th December. While approaching the building, he had another altercation with the Thai policeman who had come running after him. After the Thai man was bettered again, he pulled out his gun as he rose and gave chase. It has been revealed that the gun was left at the bar in the keeping of the waiter. It was reported that a second man, seen at the scene, was this individual, who police later confirmed is innocent and facing no charges.
French man ran for his life from armed Thai police officer but found no sanctuary in public foyer
The police officer ran after the man, having risen from the ground and pulled his gun. Many witnesses to what happened next were interviewed by Thai police in the foyer of the busy building where they witnessed the terror. The CCTV footage shows the French man running for his life. It also appears to show him gesticulating to the raging Thai police officer, perhaps pleading for his life. The brutal slaying is captured frame by frame as the Thai man pointed his gun downwards and fires twice at the French man's torso area. There were two shots and they proved fatal. The French man had been shot in both the chest area and his hip. He fell to the ground. Disturbing video footage and photographs beamed across the world, show the French man in T shirt and short trousers, similar to many foreign visitors to Thailand, on the ground in pools of blood. The Thai police officer fled from the scene initially but later gave himself up to answer for the crime.
Thai policeman had been charged with killing before in 2012, this time a taxi driver and suspect
It is reported that the policeman was involved in another fatal shooting in 2012, six years ago. Then, he had killed a man driving a taxi who was said to have been a drugs suspect. It is reported that the man drove the taxi directly at the police officer, intending to run him over when he fired, killing the man. He was later acquitted of the charge on the basis of self defence but it is understood he was convicted of firearm offences.
Bangkok is effectively the World's most visited international city and this is bad publicity
As well as the murder charge, he is now also facing other minor charges for producing a weapon in a public space without justification. He fled from the scene immediately after the slaying on Wednesday. The video footage of the events is causing a sensation online and will disturb Thai authorities, who are targeting a record breaking year for tourists. Outside of Hong Kong, which has a huge number of commuters from mainland China, Bangkok is effectively the most visited city on earth. Thai police have been painted, in the past, in a negative light online but many forget the challenges they face and the relative safety and security that Thai people and foreigners enjoy in Bangkok and Thailand. Bangkok was recently placed in a list of the safest 50 big cities in the world. It is why people always come back to Thailand. The CCTV footage of the body of dead French man and the later arrival of an emergency crew to retrieve him, are very bad publicity at one the busiest times of the year for Thai tourism.
Conservative Thai public concerned with gun crime and murder but foreigners must be aware of 'face' and honour in Thailand
There is some concern among Thailand's conservative population about an increase in violence, murder and gun crime in recent years. This has prompted support in Thailand for capital punishment. Thai people are quite different, both in temperament and culture, from western people with an animistic belief system and strong sense of national identity. Thailand is also has a very patriarchal and macho culture with a powerful sense of identity and pride. This is similar to most people in Asia. The number of press reports involving violent murders of love rivals among Thai men has been notable in recent times. In one recent week, a taxi driver killed his rival with a gun after inviting him to a meeting in his car while a factory worker killed his younger rival with a crossbow after knocking on his apartment door.
No excuse for this brutal murder but foreigners should always understand Thai culture – Thai people are proud but it could also just have been that the French man met a bad cop
It is unwise for foreigners to engage in any sort of dispute or conflagration with any Thai person without being aware of the sensitivity of Thai people have about their own self image. Ironically, Thailand is also a country were politeness, humility and deference are considered prize qualities. The two are linked. Well bred and balanced Thai people will not resort to violence, preferring calmness and patience. To forcefully cause some Thai men or indeed women to be embarrassed can be a recipe for trouble. This is a cultural trait common not only in Thailand but also in Asia. It is very strong in Thailand where people are proud. There is a very strong sense of personal honour among Thai people. This may well be a stereotype but it is still good advice for foreigners to bear in mind. It is always wise to be patient and polite in Thailand as it is anywhere in the world. Good advice also for the Thai police and for foreigners who enjoy this beautiful country and otherwise warm and friendly people. There is is no excuse for the brutal and tragic murder of the unfortunate French man, enjoying his life in Thailand. The news that the policeman man had killed before, albeit in self defence, suggests that he may already have had a lethal instinct. The fact that both men were intoxicated may also have played a part, especially over a woman. We must now await the outcome of the police investigation into the matter and the judgment of the Thai criminal court.
Street fight between Thai cop and French man which led to murder

Video and CCTV footage emerged this week of an off duty Thai police man fighting with a French man after a row in a bar. He later chased the man to a foyer of an apartment building and gunned him down. Senior Thai police officers have been anxious to assure foreigners that the now ex police officer will face the full rigour of Thai law, that Thai police are at their service and that Thailand is safe. Read the full report online.

Posted by ThaiExaminer.com on Thursday, December 13, 2018