Many TV reports and coverage of snakes in Thailand seem to highlight the importance of returning the creatures to the wild and encourage users not to exaggerate the dangers posed. However, there has been a doubling of snake home invasions in Thailand in the last four years and last year a little girl died when she was bitten by a cobra. This week, a lucky Thai woman avoided being bitten by a python in her bedroom as it lunged for her in the dark while asleep.
Early last  year a little Thai girl, nine year old Prapawadee Prawat, died when a lethal cobra snake slithered into her bedroom and bit the little girl on her finger. She never woke from her sleep in the bed that her grandparents had laid down for her the night before in Thailand's southern province of Nakhon Si Thammarat. Over the last four years, the number of home invasions by snakes in Thailand has doubled. In October 2018 alone, there were 4,000 emergency calls to first responders. In many cases, the snakes enter the home through the plumbing system and emerge from the depths of toilet bowls. There has been an ongoing stream of reports of Thai people whose posteriors and genitals have been viciously attacked by snakes. The latest scare story was this week when a shocked son reviewed late night video footage from his mother's bedroom in Bangkok. It revealed his mother's  extremely lucky escape from a reptilian visitor in the middle of the night.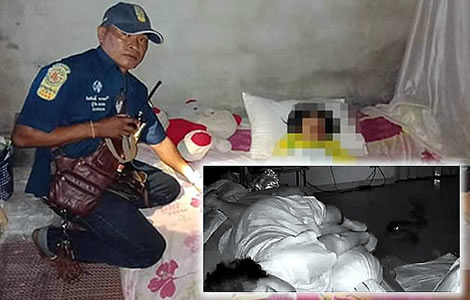 There has been a startling rise in the number of home invasions throughout Thailand by snakes with the country on target to record nearly 35,000 instances where emergency authorities have had to be called out to the end of 2018. Thailand is home to as many as 60 different breeds of snake and it is estimated that over 30% of these can be venomous. Thailand is also home to the deadly python, cobra and viper snakes which have claimed lives in recent years both in Thailand and nearby Malaysia.
Several Thai people have been bitten on the bottom by snakes at their toilet
The problems with snakes in Thailand is growing. It is not something confined to remote or rural areas. There is now a stark rise in home invasions within Thailand's capital city and its suburban areas. In fact, there have been numerous reports of incidents on Thai media where Thai people have been bitten or attacked on their exposed bottoms by snakes who have entered their homes through the home's pipes or plumbing system.
Thai man's 30 minute struggle with a snake biting into his genitals ends with wife's intervention
In May 2016, Attaporn Boonmakchuay made worldwide headlines and was featured on international news media from the BBC in London to the New York Post in New York when he was viciously attacked by a snake in Chachoengsao province near Bangkok. He had been sitting on the toilet. The man was seriously injured and hospitalised as a result of the attack but the outcome could have been far more serious. The attacking snake was a lethal python which had bitten at and attached itself to the Thai man's genitals. He somehow managed to open the jaws of the monster snake while his wife arrived juts in time with a rope to bind it. He was later removed to hospital in a bloodied state where doctors treated his injuries. They later praised his positive attitude. Attaporn had struggled with the python snake for 30 minutes before he got the upper hand when his wife arrived on the scene. On that occasion, authorities revealed that the snake had entered the Thai man's home through the plumbing system.
Snake invasions of Thai homes has doubled in the last four years from 2014 to 2018
Since that report, there have been a continuous series of similar incidents. Figures for call out to tackle snake invasions in Thai homes have doubled in four years from  2014 to 2018. In October 2018, across Thailand, there were 4,000 incidents. One man in Bangkok required 15 stitches to his genital area after being attacked by a 3 metre python snake, again, while on the toilet seat. In Bang Pakong another snake, again three metres long, attacked a Thai women in the rear end. The woman only escaped severe injury by managing to grab the reptile with her left hand and somehow remaining calm.
Blame placed on poor house design and poor workmanship which leave exposed pipes
Experts are attributing the rise in attacks to new construction methods and the increased prevalence of broken pipes and plumbing in homes. This in turn has been explained by poor design and indeed in some instances poor workmanship. There is an increased risk of such incidents from properties which use water and toilet facilities that are not connected to main public water systems. Septic tanks are thought to be an increased risk factor. Some experts believe that the snakes are simply pursuing natural instincts.
One news report in Thailand quoted a vet from Kasetsart University pointing out that the increased number of incidents should not come as a surprise due to more developments in Thailand that are overstepping the natural habitat of Thai snakes. Many snakes, for instance, perceive an open toilet pipe as something built by rats or mice and will act according to their predatory instincts. Snakes play a crucial function in Thailand in controlling the huge rat population. This may be some consolation for unfortunate human beings whose private parts are mistaken by a venomous and lethal snake for food!
Threat from snakes should be taken seriously in Thailand after death of young Thai girl
The threat from snakes to human beings in Thailand is a serious one and should not be lightly dismissed. Many experts suggest that the numbers of people killed or injured by snakes is statistically irrelevant and that snakes should simply be left alone. However, the number of injuries is growing and there are also now recorded deaths. It was in January 2018 that the tragedy involving nine year old little girl Prapawadee Prawat occurred. She was found dead in her bed in Nakhon Si Thammarat province by her loving grandparents and locals. A lethal python snake had slipped into her bedroom and bitten the little girl on her finger as she slept. Her grandparents tried to rouse her next morning only to discover he body was lifeless. Her grandparents had made her comfortable little bed with a mattress on the ground the evening before at 7.30 pm. She had died in the company of her furry toys. The scene enraged locals who entered the room to witness the scene the next morning. They found the killer snake still there and battered it to death.
Thai people tend not to panic when confronted by snakes but instinctively know the danger
In spite of the real threat to human life, most news reports on snakes in Thailand tend to downplay the danger. Indeed, although many Thai people instinctively react to snakes as potential lethal threat, they do not tend to panic. A current report on snakes on what is becoming a popular international TV station for foreigners in Thailand, France 24, ticks all the boxes. It highlights a Thai fire brigade station where today most call outs are in response to snake home invasions. The fire station has a cage where a number of pythons are kept awaiting release back to the wilderness. The fire chief told the reporters that such call outs were better than being called out to fires as they generally do not end in death or tears but in success with a captured snake. It is generally a happy outcome, he explained. However, the death of little Prapawadee and the increasing frequency of reports of injuries or attacks should make people more mindful of the need for safety and precautions to ensure snakes cannot get access to human habitats.
Snake takes its lethal revenge on Thai man who imprisoned and confined it as his sister watched
Two months before the Thai girl was killed in January 2018, another python intentionally cornered a Thai man and strangled him to death in his own home. The chilling encounter began when a 55 year old Thai man, Sawan Tubklai, was confronted with a python snake that he had imprisoned for three days in a jar. No one knows how the snake escaped its confinement but its revenge was swift, chilling and brutal. It was witnessed by the Thai man's sister who saw the creature wrapping itself around her unfortunate brother's upper body. The creature proceeded to tighten its grip strangling the man and eventually breaking his neck. His sister could only look on and scream for help. Rescue workers to the scene retrieved the snake, which showed some signs and marks from its struggle with Mr. Tubklai. They eventually discharged the creature, its revenge sated, back to its natural environs.
Watch out for deadly snakes in Thailand – they're not your friend
Snakes alive in Thailand – Part I

We're reporting on the threat of snakes in Thailand this week, the reptilian kind of course. This video shows the rescue of a deadly python by Thai emergency professionals who last year responded to 35,000 calls last year to deal with the threats of snakes lurking in homes and particularly in bathroom toilets. In May 2016, Thai man Attaporn Boonmakchuay made worldwide news when he was viciously attacked by a python snake while sitting on his toilet in Chachoengsao province near Bangkok.The attacking snake was a lethal python which had bitten at and attached itself to the Thai man's genitals. He somehow managed to open the jaws of the monster snake while his wife arrived just in time with a rope to bind it.

Posted by ThaiExaminer.com on Sunday, March 3, 2019