Thai police discovered what happened to a missing 2 year old Jordanian boy yesterday when a speedboat operator discovered the body of the 2 year old at 5 pm on Monday afternoon. They quickly sourced CCTV footage from near the Bali Hai pier in Pattaya. They had earlier interviewed the child's Jordanian father at a rented apartment in the seaside resort city. They eventually caught up with him in the early hours of the morning as he attempted to leave Thailand via a flight at Bangkok's Subharnabhumi Airport.
Thai police reacted swiftly yesterday when the body of a toddler was found by a shocked speedboat operator floating off a south Pattaya pier. The boy's mother, a Jordanian woman, had filed a complaint the day before with Pattaya police which implicated her husband in the child's disappearance. The Jordanian man was arrested early this morning as he attempted to flee Thailand via a flight at Suvarnabhumi airport. Returned to Pattaya, he has admitted to the shockingly callous killing of his 2 year son on Friday last. He has already been charged by Thai police with premeditated murder.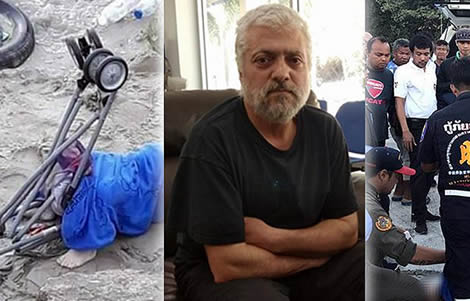 A Jordanian man was arrested by Thai police at Suvarnabhumi airport at 3 am on Tuesday morning as he attempted to board a flight home to the Arab kingdom. 52 year old Wael Nabil Salman Zureikat was later charged by Thai police with the shocking murder of his 2 year old toddler son in the resort city of Pattaya.
Grim discovery of 2 year old baby boy, bound to baby walker, in the sea off Pattaya
The body of the child was earlier found floating in the sea tied to his baby stroller. The grim discovery was made on Monday evening at 5pm by a speedboat driver at the Laem Bali Hai pier in the south of the seaside town. It is believed that child had been dead for 2 to 3 days. The body did not show any signs of bruising and was taken to Bang Lamung Hospital. The child's legs are reported to have been bound to the collapsible stroller.
Jordanian father has admitted to the appalling act and has been charged with premeditated murder
The Jordanian was taken for questioning by Thai police to Pattaya following his arrest in Bangkok. It is reported that the man has admitted to the appalling act which occurred last Friday. He told police that he had killed his son having become irate over his wife's inattention to the child. He complained that he was left to care for the child on his own. He told Thai police that when he protested about this to his wife, she would became agitated. The couple had rowed constantly over the issue.
Friday night quarrel with his wife led Jordanian man to act in rage against his 2 year old son
It appeared the situation had got out of control on Friday night the 8th March. In a rage over his wife's disposition, he took his infant son to the Bali Hai Pier on the south side of Pattaya. There, he bound the toddlers legs to the baby walker and thrust it into the sea.
Did not admit to his wife what he had done their son when he returned to the Pattaya hotel
After this, he returned to the hotel and but did not tell his wife what he had done. He immediately regretted his actions and appears to have had a nervous breakdown. His wife rushed from the hotel in a vain attempt to find their son. Even when she returned empty handed, he did not tell his wife what he had done.
Thai police chief revealed today that Jordanian mother had filed a complaint with Pattaya police on Sunday implicating the child's father
On Tuesday afternoon, Police Lieutenant General Surachate Hapkarn briefed the media. He revealed that on Sunday last, the 10th March, the Jordanian woman had filed a complaint with the police in Pattaya. She told officers that she suspected that her husband had taken the boy.
Jordanian found at a rented Pattaya apartment on Monday but denied knowledge of son's whereabouts
This prompted Thai police to track down the Jordanian man. They found him at a rented apartment in the Bang Lamung area of Pattaya on Monday. They could not find any trace of the man's son. At that point, the Jordanian told Thai police that he did not know where the boy was.
Discovery of baby's body lead Thai police quickly to arrest Jordanian father after CCTV search
When the boy's body was found attached to stroller later that day at 5 pm by the speedboat operator, Thai police moved quickly to examine CCTV footage from the area. This lead them to pursue Wael Nabil Salman Zureikat who was later arrested in the early hours of Tuesday morning at the airport as he attempted to flee Thailand.
Mother being treated by Thai health professionals following news of the fate of her son
Police Lieutenant General Surachate Hapkarn said that the 52 year old Jordanian had now fully admitted to the crime. Thai police believe that the child's mother is not a culpable party. She is being treated for trauma and depression by medical personnel.
The Jordanian father is being detained by Thai police. He will shortly face a Thai court. Police will seek permission to detain the man further as they carry out a full murder investigation. The 52 year old is facing legal action for the premeditated murder of the 2 year old boy and has already been charged.