Thai locals in Sa Kaeo province in the village of Ban Klong Yang were shocked to see an African man dressed as a Buddhist Thai monk acting suspiciously near a revered temple this week. They called in the Thai Immigration police. It appears that a Ugandan national, Sararee Baker, was dressed as a Buddhist monk in a ploy designed to evade the new strict controls imposed by Thailand's immigration authorities who are are determined to keep illegal immigration in the Kingdom at what authorities have terms a 'zero level' with regular overnight and simultaneous sweeps on homes and accommodation centres taking those in Thailand illegally into custody. The African man said he had come to Thailand to study Buddhism but is now in police custody facing immigration charges and for impersonating a monk.
Thai Immigration police displayed the effectiveness of Thailand's new zero tolerance to illegal immigration when the African man was tracked down by Thai police. Although he presented Thai immigration police with a Ugandan passport showing no entry stamp, the country's new biometric PIBICS system was used to identify him and his entry into the country on January 9th last using a tourist visa.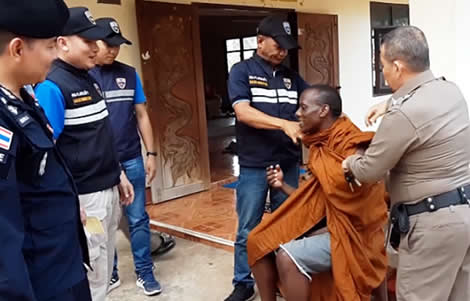 Thai police have exposed a black African monk in Thailand's Sa Kaeo province about 200 km east of Bangkok. Villagers near the Wat Klong Yang Buddhist temple in the province called in the immigration police when they observed a black African man wearing Buddhist monk's robes and behaving suspiciously within the precincts of the temple.
No entry stamp on his Ugandan passport
The Chief of Immigration police in Sa Kaeo province was quick off the mark and soon Thai police arrived at the well known temple to investigate. At the monastery they found  32 year old Sararee Baker. Police found the the African man had a Ugandan passport but oddly, the document bore no immigration stamp indicating that the man had entered Thailand.
Buddhist monk ordination papers were not in order
It appeared that the so called monk was in possession of real ordination papers as a monk but these appeared not to be bona fide. A close search of the monk revealed that he was wearing western style trunks underneath his saffron robes. This made Thai police officers even more suspicious as it is not something that an authentic Thai Buddhist monks would never wear.
PIBICS immigration system used to identify Ugandan man and that his visa was expired
Thai Immigration officers in Sa Kaeo used the country's new, state of art, PIBICS system to get a fix on the mysterious black monk. The PIBICS immigration system uses biometric data. It is used to monitor passports and people entering and leaving Thailand. PIBICS itself stands of Personal Identification and Blacklist Control Systems. The system is also linked to an international Interpol database. It goes to show the progress that Thailand's immigration police have made in controlling foreigners entering Thailand illegally and staying in the country illegally often to pursue criminal purposes.
PIBICS assisted Thai Immigration police in Sa Kaeo province to identify the Ugandan as an African who entered Thailand on the 9th of January last at Suvarnabhumi Airport. This would have made the visa 5 days outside the tourist visa granted to him at that point.
Fake African monk arrested by Thai police
The African was able to speak up for himself. He told Thai police that he had come to Thailand to study the Buddhist religion. He explained that his visa had run out and that he had put on the Buddhist monks robes in order to avoid Thai police checks. Thailand's immigration police have achieved what they call 'zero levels' of illegal immigration in the country in the last 6 months. Authorities now conduct regularly nationwide sweeps with simultaneous and overnight raids on accommodation centres without notice. Authorities have shown a steely determination not to let foreigners, who enter Thailand using tourist visas, stay on illegally and pose a security risk to the kingdom. Illegal immigration has been shown, in stark terms, over the past few years to be directly linked with a complete spectrum of crime ranging from drug dealing and romance scamming to prostitution and fraud. Despite his professed interest in Thai culture and Buddhism, Thai immigration police nevertheless arrested The Ugandan man and he faces prosecution for a number of offences.
Facing overstay charge and impersonating a monk
It appears that the sight of an African man dressed in Buddhist monk's robes was simply too much for local Thai people not to question. The man was apprehended when locals in the village of  Ban Klong Yang in the Aranyaprathet district of Sa Kaeo province alerted the police to the man. The area is close to the Thai border with Cambodia.
Thai police have confirmed that the Ugandan man is now being held in their custody. His is facing charges connected with overstaying his visa in Thailand and impersonating a Thai Buddhist monk.