Merciless Mervyn was recognised by many people in Phuket who watched the video of his twisted antics. They identified the attacker as a UK expat living in Rawai beach. Visited by Thai police officers on Wednesday evening, he initially lied outright and denied any knowledge of the incident. He later confessed that it was a revenge attack as the elderly dog had regularly attacked his own dog.
UK man Mervyn Harding is being held in jail in Phuket following his cruel and bizarre behaviour in the early hours of Tuesday morning when he launched a night stealth attack against an old dog sleeping outside its owner's massage shop on Nai Harn beach. Arrested this Thursday for pursuing the dog into the dog owner's massage shop and using a 50 cm extendable steel rod to beat the canine, police requested that he be denied bail before Phuket Provincial Court. He is now also being looked at by immigration authorities and could, as a result of the serious charges he is facing, have his visa declared void, be deported from Thailand and blacklisted.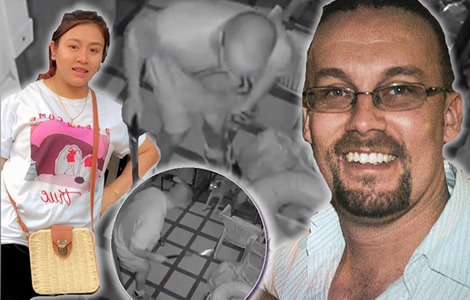 A 42-year-old British expat from Plymouth is now behind bars in Phuket and can expect to be there for up to a month after he was arrested on Thursday morning by Thai police at Chalong Police Station in Phuket following an early morning incident on Tuesday the 16th July in which he mercilessly attacked an elderly dog and committed violent, nighttime trespass by following the dog into its home, a massage parlour shop on Nai Harn Beach.
The attack, according to the UK man himself, was revenge as he claimed to police that the 15-year old dog had persistently attacked and bullied his own dog prior to the incident.
Report that the UK man was involved in another dog fight last month with a Thai woman
There are also reports that this is not the first time that the British expat, who lives in beautiful Rawai beach near to Nai Harn, has been involved in spats and altercations over dogs in the area. It is reported that last month the UK man was fined by the Royal Thai Police at Chalong Police Station after he became violent to a Thai woman who took issue with his anger towards another dog in the area.
CCTV footage of Merciless Mervyn beating the old dog has caused outrage in Phuket
The arrest of the UK man followed an outpouring of anger by Thai people after a CCTV video of the attack on the dog was posted on a popular Facebook page that supports the many beach dogs that live in Nai Harn, another resort town on Phuket. Thai people like others around the world, love dogs and in particular street and beach dogs.
Cruel UK man caught the attention of the Chalong police chief who ordered an investigation
The public reaction caught the attention of the Chief of Police in Chalong, Colonel Therdthoon Sroisukphaphan, who assigned his deputy, Lieutenant Colonel Sanan Janrong, to investigate the case and find the cruel man pictured in the video.
Local residents recognised the UK man as a Rawai beach resident from the shocking video
This did not take long as many residents in Nai Harn had already recognised the 42-year-old Brit as a resident of Rawai. On Wednesday at 8.30pm police officers from Chalong Police Station led by Capt Weerayut Tanyasirisukvorakul, turned up at the UK man's home to question him in relation to the incident. 
Despicable dog beater initially lied to the Thai police when questioned about his antics
The despicable man lied. He denied any knowledge of the attack on the dog. That is until he was shown the video brought by police on a smartphone. He then admitted the act and justified it on the basis that it was a revenge attack as the older dog had persistently been aggressive toward his dog. Captain Weerayut of Chalong Police Station took the statement from the UK man who admitted to the crime. 'He said that he hit that dog because it kept fighting with his dog. He said he loved his dog very much and that he wanted revenge. He did say it with a sad face,' the Thai policeman noted.
By arrangement, Mr Harding attended Chalong Police Station on Thursday morning and was arrested by Thai police on 4 charges, the least of which is the attack on the dog itself under Thailand's 2014 laws against animal cruelty.
Serious charges for nighttime trespass into a shop while carrying a weapon in anger
Afterwards, Captain Weerayut confirmed that the UK man was whisked off to Phuket Provincial Court at approximately 10 am. There, some serious criminal charges were filed against him. These include a charge for carrying arms under section 358 of Thailand's criminal code in addition to trespass while being armed under Section 365(2) and trespass at night 365(3). Thailand s criminal laws take an especially dim view of stealth-type crimes committed at night. The stealthy and violent nature of the UK's man's actions may prove to highly consequential for him. Finally, he was charged under a section of the 2014 Animal Cruelty Act which in recent years has generally led to more lenient sentences such as fines being imposed. The law, however, does provide for a prison term of up to 2 years and fines of up to ฿40,000.
Bail denied at the request of Phuket police in Chalong
Police at Phuket Provincial court expressly requested that bail to Mr Harding be denied. This has left the UK man facing the prospect of perhaps 1 month in jail before the charges against him will come before the court. Captain Weerayut of Chalong Police has confirmed that the UK man is now being held at cells within the court.
Immigration bureau in Phuket have been notified
The police officer has also notified the British Embassy as well as the Immigration Bureau in Phuket. This could have even more significant consequences for the expat as a conviction under Thai law or even charges such as the ones proffered against him including carrying a weapon and violent, night time trespass could result in a foreigner's visa being revoked and Mr Harding being placed in a blacklist for some time and thus denied further entry into the kingdom.
The British man has already admitted to all the charges. 'His wife begged me not to have her husband deported, but that is up to Phuket Immigration,' Captain Weerayut was reported as saying to the Phuket News newspaper in Phuket.
Revenge attack on elderly dog took place just after midnight in what was planned revenge
The revenge attack on the old 15-year-old dog began at 7 past midnight on Nai Harn beach when Mervyn Harding pulled up outside a massage shop where the canine was sleeping on a bench. Mr Harding took out a metal expandable rod from under the motorbike seat and went at the dog who scurried away to the safety of its owner's shop.
Dog had lacerations to his tongue and mouth
The CCTV footage caught the visibly angry UK man turning into the shop and proceeding in a determined and merciless manner to beat the dog with the metal rod at least four times. Another dog arrived at the scene to assist its elderly friend and spooked the frenzied attacker. He then ran off as the shop and dog's owner Yupaporn Keawduangdee awoke. Alerted by the rumpus, she arrived out to find her loyal dog crouching and bleeding from lacerations to his mouth and tongue.
Old dog who is loyal and loved had been with owner since the 2004 Tsunami in Phuket
Ms Yupaporn told the media this week that she had adopted the dog after the 2004 Tsunami and he had become a much loved and popular pet. She was shocked that such an attack on the dog and her shop could occur on what was on Tuesday Asarnha Bucha Day in Thailand, a Buddhist holy day when many Thai people visit temples to make merit. 'I just cannot believe that the man hit my dog on the Buddhist holy day. Instead of going to the temple, I have to go to the police station,' she told the media.
UK man's cruelty and use of a weapon on private property could well be his undoing
Her shock and anger were echoed later in the day by the Head of the Royal Thai Police in Chalong, Colonel Therdthoon who said: 'This behaviour is so cruel to a dog. This man looks so angry, but there is no need to use a knife to hit the dog. Poor dog.' 
Thai police arresting officer, Captain Weerayut of Chalong Police Station afterwards confirmed the weapon was, in fact, a 50 cm expandable steel rod. It's use and the fact that the UK man was trespassing at night in a state of anger on another person's private property may prove to be his undoing when his case comes before the Provincial Court for hearing or when immigration authorities consider the charges filed against him.
UK expat Merciless Mervyn launches midnight attack on dog

+ UK expat Merciless Mervyn or Mervyn Harding is now behind bars in Phuket after he was arrested on Thursday morning and charged with a number of serious criminal offences linked to his planned, stealth and vicious midnight attack on an elderly dog in Nai Harn beach, Phuket.https://www.thaiexaminer.com/thai-news-foreigners/2019/07/20/uk-man-charges-old-dog-attack-phuket-shop-chalong-thai-police-mervyn-harding/

Posted by ThaiExaminer.com on Saturday, July 20, 2019