Tourism minister has promised to discuss his plans with cabinet colleagues including the PM and says such a move would boost expenditure by up to 25% at the venues once seen as the heart of Thailand's booming tourist trade.
The Tourism Minister Phiphat Ratchakitprakarn is reported to be pushing for later opening hours for pubs and bars in tourist hotspots promising to bring the matter to cabinet. However, on Tuesday the Interior Minister suggested more study of the issue and that it was not simply a matter of economics to be looked at.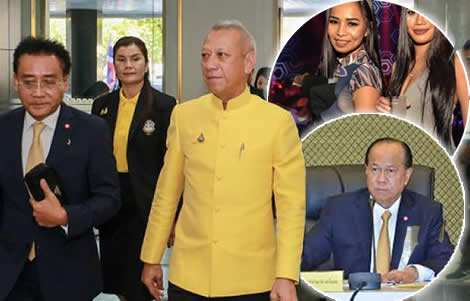 Thailand's Tourism Minister, Phiphat Ratchakitprakarn, is reported to be in favour of extending pub and entertainment venue opening hours in key tourist areas until 4 am. The Bhumjaithai Party minister says he wants to discuss his idea with the cabinet and the Prime Minister Prayuth Chan-ocha.
Move would boost spending by 25%
He suggests that such a move will help increase the level of tourism expenditure by 25% and will strengthen nightlife tourism in the key tourist hubs such as Bangkok, Pattaya and Phuket.
He underlined that his plans relate to the tourism industry and that the special extended opening hours would only apply to areas such a Silom in Bangkok, Patong in Phuket, Krabi and Ko Samui. 
Interior Minister Anupong gives a cool response to the proposal after media questioning
The proposal has drawn a cool response from Thailand's Minister of the Interior, General Anupong Paochinda on Tuesday. The Minister who also served throughout the previous administration which tightened the enforcement of laws to curb the excesses of what was once seen as an anything-goes nightlife scene. This has included regular police raids on venues and the conduct of drug testing with strict orders to close down establishments that regularly contravened the law.
Previous government moved to position Thai tourism away from its image as a nightlife haven
Indeed since 2014, the marketing strategy of Thailand's tourist chiefs and various ministers had been to play down the perception of Thailand as a nightlife paradise for party-goers and offer a more nuanced image playing on Thailand unique culture and natural beauty. Thailand, in particular in the last few years, has moved away from its association with the sex industry.
Sex tourism to Thailand has been curtailed
There is also, unfortunately, a link in the minds of potential tourists and visitors to the land of smiles between an active nightlife scene and sex tourism. In 2014, Thailand's first female tourism minister Kobkarn Wattanavrangkul declared that sex tourists were not welcome in Thailand.
Her views were endorsed by Thailand's Prime Minister Prayut Chan-ocha and since then, there has been a real and effective campaign to curtail the industry. A UN report at the same time estimated that up to one-third of all visitors to the kingdom were potentially sex tourists.
Impact on society, youth and culture
General Anupomg said today that any proposal to extend the opening hours for pubs and bars would need to be examined closely. Significantly, he highlighted that it was not just the economic impact that should be looked at but its potential impact on young people, society and Thai culture.
The Interior Minister has said that he had not made a submission to the cabinet on the matter and thought that, for now, he would wait to see what exactly was being proposed before issuing further statements.
Tourist operators say it has been a bad year for tourism so far despite marginally more visitors
Thailand has had a flat or poor tourist season according to most tourism operators in the trade particularly those in Phuket and Pattaya long associated with western tourism. However, figures on tourist numbers were highlighted this week by Witchayayut Boonchit of the National Economic and Social Development Council. The figures suggest that the number of arrivals to the kingdom for the first six months of 2019 was up by 1.48%.
Chinese down and out as yuan repeatedly devalued
Part of the reason for this apparent contradiction might be that the figures for Indian tourists rose by a staggering 24% in that period and the tourism season began relatively well in January with a sharp fall-off thereafter.
The deputy secretary-general of the NESDB did, however, highlight a dramatic fall off of 8% in Chinese visitors in the 2nd quarter of the year following a smaller fall off in the first quarter of 1.48%. This is thought to have been due to the deprecation of the yuan and will have already been further aggravated by a sharp devaluation of the Chinese currency some weeks ago.