Tragic find on Thursday follows a controversy which erupted this week over the death in early May of 37-year-old UK engineer David Cornock whose family in Scotland want to find out more from police in Koh Samui about how he died. 
Thai police are investigating the death of a Canadian in Chiang Mai city who was found dead on Thursday. Police are not yet sure whether the Canadian man killed himself or was murdered.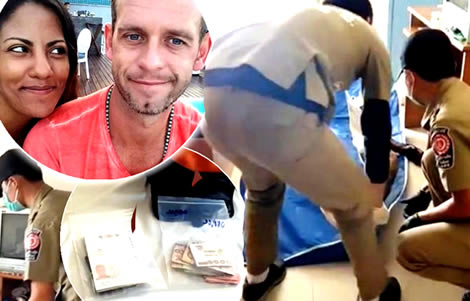 Thai media are reporting a sad story from Chiang Mai on Thursday where the body of a 60-year-old Canadian man named as Kevin Thomas was found in an apartment he had been renting in the northern city for the last few months. It was in the Suthep district which is believed to be quite popular with foreigners.
A housekeeper at the apartment building discovered the body of the Canadian lying in the bathroom area of the condominium unit. Mr Thomas appeared to have had his throat cut.
No signs of a struggle and ฿23,000 in cash found
Police were called to the scene and observed no signs of a break-in or struggle. They also recovered the Canadian's passport and nearly ฿23,000 in cash which is being held as evidence. 
The body has been sent to a local hospital for a post mortem to be performed and police will later conclude whether Mr Thomas died at his own hands in a suicide or was murdered.
Death of 37-year-old British engineer reported on May 2nd by his wife on Koh Samui
The police investigation into the Canadian's death comes as a controversy seems to be developing over the death of a 37-year-old British engineer, David Cornock on Koh Samui whose body was discovered by his wife at a bungalow the couple owned on the idyllic, paradise island on May 2nd.
UK Foreign Office make contact with Thai police and Interpol with questions about death certificate
His family in Scotland have raised the issue with the UK Foreign Office which has reached out to Interpol and the Royal Thai Police for an explanation. The family are concerned that the only official contact they have had with Thai police authorities in relation to David's death was an official death certificate which confirmed that the cause of death could not be determined because of a state of advanced decomposition of their son's body and vital organs.
Family in Scotland have appeared on the BBC
The family have appeared on BBC TV in the United Kingdom explaining their concerns and have hired a retired police detective there to try to get to the bottom of the matter. 'As a family, we have been left in the dark and David's death remains undetermined. We have no visibility of the circumstances surrounding David's passing and have many concerns with regards to this.'
Seeking further information from the police on Koh Samui on the circumstances of the death
The family is seeking a response from the Royal Thai Police on Koh Samui as to the circumstances in which their son's body was found and a full explanation as to why it was not possible to do an effective post mortem on the body. It is understood that they last heard from Mr Cormock's by mobile phone text message on April 27th last, five days before his wife found his body.