Teachers like other officials who work for the Thai state are effectively prohibited from availing of the country's sophisticated bankruptcy laws as it means automatic termination of their careers and income prospects.
A court in Bangkok on Thursday threw a lifeline to heavily indebted teachers in Thailand when it ruled that no more than 70% of their monthly salaries can be deducted for the purposes of debt repayments allowing a minimum level to live on. The case highlights the chronic level of household debt among state employees in Thailand even among those on relatively good salaries.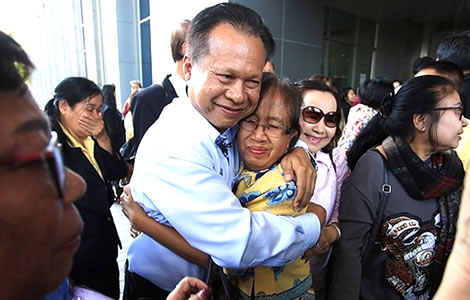 The important ruling for thousands of Thai teachers was handed down Thailand's Administrative Court.
It found that officials at the Thai Education Ministry had erred in their treatment of teachers with high levels of debt. Throughout Thailand but especially in the north of the country, many teachers are trapped with high levels of debt run up over a career of borrowing through welfare co-operatives and loan schemes. Some teachers receive less than 20% of their salary even as they reach the end of their teaching careers because of ongoing debt arrangements.
Teachers are respected in Thai society
Teachers are relatively well paid in Thailand and respected in society. This can lead to many feeling they have to live up to expectations and therefore indulge in borrowing to live beyond their means. 
One problem is that they may not avail of Thailand's bankruptcy laws as state employees automatically lose their positions and therefore their livelihood if they resort to bankruptcy protection.
Legal action by 2,000 teachers in 19 provinces
The ruling on Thursday will benefit at least 2,000 teachers in 19 provinces across Thailand and in reality, it may benefit more both in the present and the future. The proceedings were taken against the Education Minister, the permanent secretary at the ministry and range of other officials involved in offices overseeing the education system and arrangements for teaching professionals.
Upheld a proviso of a 2008 regulation that specified a teacher must retain 30% of his or her salary
The court upheld a 2008 regulation which governs repayments of debt in deductions from a teacher's salary. The provision held that not less than 30% of a teacher's income be made available to him or her for ongoing livelihood expenses.
Court observed that income certificates issued officially had helped teachers incur further debt
The court observed that income certificates had been available to teachers to secure financial loans and facilities which in many cases helped already indebted teachers exacerbate their financial situation by allowing them to borrow more money. Many teachers in Thailand are currently servicing a debt mountain built up over a lifetime in a culture where debt is often used to pay for current expenses.
Authorities given 180 days to rectify the mistake
In its ruling, the court gave officials at the education ministry and various personnel offices 180 days to begin to comply with the stipulation in the 2008 regulation specifying the maximum that can be deducted for a teacher's salary for loan repayments.
Cheers from up to 100 teachers in court
In Bangkok on Thursday, there were cheers from up to 100 teachers who were in court to hear the verdict being delivered. One of those teachers was Suwat Srisod who teaches at the Bann Jala School in Lampang. He said that teachers involved in the suit as plaintiffs now planned to restructure their loans in line with the judgment and that every baht and satang of the debt owed by them would be repaid.
Case illustrates Thailand's household debt problem
The case illustrates the reality of household debt in Thailand which particularly permeates into the middle class and has a strangling effect on day to day life for many. It is a significant contributing factor to the increasing prevalence of suicide in Thailand and mental health issues.
This week, the Bank of Thailand highlighted that 16% of all Thai households are now 90 days or more behind on key debt repayments as personal borrowing in the country continues to tick upwards with the most up to date figures showing it at ฿19.3 trillion.
Further reading:
Bank of Thailand governor warns about growing debt levels, calls for sufficiency economic thinking