On Thursday morning, after the criminal had fled Ko Samui, police from Bo Phut police station cornered the Thai man at a girlfriend's apartment. He attempted to electrocute them by connecting live electricity wires to the door handles. He also attempted to set off a fire in the building.
A crazed criminal who raped a British woman on the island of Ko Samui is back behind bars this week after crime rampage on the island of Ko Samui where a German national was attacked and injured with an axe.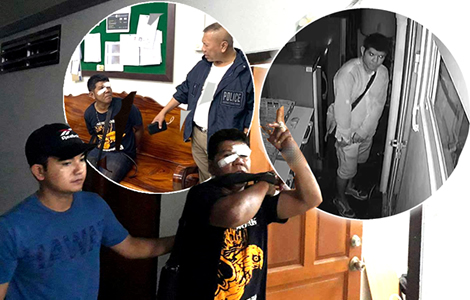 A dangerous ex-convict who raped a British woman on the island of Ko Samui in 2009 has been linked with a series of incidents involving burglary and violence this week. It follows a spate of incidents reported to police by foreign nationals all linked with the 38-year-old man.
German tourist filed a complaint about a hotel break-in on October 28th
A Geman tourist made a complaint to Ko Samui police on October 28th that in the early hours of the morning, two men broke into his hotel accommodation by breaking the glass on the window of the apartment. The two men made off with cash and valuables.
Three days earlier another German was attacked with an axe and hit on the head
A more serious incident was recorded on Monday night when another Geman national was attacked by two men, one with an axe, in his home after disturbing a burglary in progress. The German told police that he discovered two men in the act after hearing glass breaking in his home and confronted them.
In a struggle with the burglars, the Geman receive two blows from the axe on the head and the ear. Miraculously, the European man was not fatally injured and lived to tell the tale. The two robbers ran off with an empty wallet. The axeman is believed to have been Somchai Duaylai. 
Attacker Mr Somchai Duaylai, a convict just-released this year from prison
The convicted rapist was arrested in on the northern outskirts of Bangkok by police on Thursday morning after a difficult and violent standoff.
Mr Somchai has already confessed to the attack on the German man and admitted another burglary on a house owned by British national where he took ฿16,000 in cash.
Hong Kong national robbed in his hotel room
The Thai man has also been linked to another hotel room attack in which a Hong Kong national was staying and where valuables were stolen. This time he was caught on CCTV. That was on Tuesday the 29th of October. He has admitted that crime also.
Chronic drug addiction problem
It is understood that the crazed convict has a severe drug addiction problem related to methamphetamines and was only recently released from prison.
He was sentenced to 5 years imprisonment in 2009 for the rape of the British woman on the popular holiday island but when released earlier his year, he had served a nearly 10-year prison term.
He is reported to be a food vendor when not engaged in criminal pursuits.
Police cornered him in Nonthaburi province
On Thursday morning, he put up a fight as police cornered him in the apartment room of girlfriend in the Muang area of Nonthaburi. He had left Ko Samui earlier in the week and travelled by motorbike to the location just outside Bangkok.
Arrest warrants from Ko Samui provincial court
Police from Bophut station arrived to arrest him on a warrant issued by the Ko Samui provincial court related to the man's crime spree. The Thai man is facing charges of collusion in acts of burglary and causing physical and mental harm to a series of foreign victims.
Tried to electrocute police outside the apartment door
When police knocked at the door of the apartment, the suspect refused to answer or open the door to them. He then connected live wires in the room to the door handle to electrocute arresting police officers. Following this, he began to destroy furniture and items in the room in an attempt to cause a fire.
Needed money to buy drugs
Later, at the Bo Phut police station, he admitted to the crimes in Ko Samui and told police officers that he needed the money for personal use and to buy drugs.
He is being sent back to Ko Samui where legal proceedings are being prepared to consign him back to prison for the good of all concerned except perhaps prison authorities.
Further reading:
Highway robber arrested and charged on Ko Samui led double life as hotel employee on the island