46-year-old American has been intimidating a Thai woman at her place of business in Chiang Mai even after being arrested and charged by police after breaking a glass mirror in front of her shop.
A US national was arrested by police on November 5th and charged with criminal damage but not before he created an outrageous public scene in which he racially insulted the Thai people and onlookers in front of him claiming to be a killer and a rapist. He was released from police custody but is due to appear before a court Chiang Mai in December.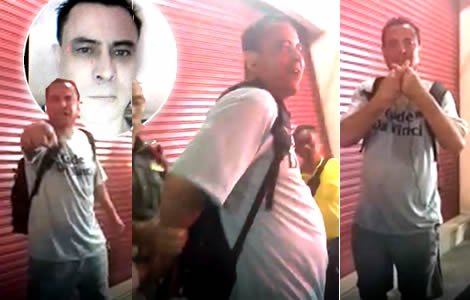 Another misbehaving westerner has turned up in Chiang Mai. This time, it is an American named as Daniel Franckowiak, a 46-year-old family man from Bismark, North Dakota.
An outrageous verbal outburst by the man has gone viral around the world with many online viewers marvelling at the restraint of the Thai people being abused in a smartphone video.
Harassing small restaurant owner and her customers
It is reported that the man has been harassing a small restaurant owner in Chiang Mai, Salita Akaruean, with verbal insults, taunts and threats of violence.
On The Novembers 5th last, the Thai woman posted a video of the man in action as he hurtled a stream of venomous abuse at her and other members of the public before he was eventually arrested by Thai police.
He was arrested after he damaged a glass mirror in front of the shop.
'I drink to destroy you' – an incoherent diatribe
'I'm a real mother fucker,' Mr Daniel shouted at the woman as he threatened to kill her and commit other atrocities. The man's insults and diatribe appeared to be disjointed and contrived.
At one point, he addressed the woman as a 'coward chick bitch' and consistently voiced racial put-downs to his audience accompanied by attempts to spit at them. 'I don't drink to be happy,' he said 'I drink to destroy you.'
Crowd remained calm suspecting the man as being mentally ill before police arrived to arrest him
The crowd of onlookers were composed and patient strongly suspecting that the man's mental health was at a low ebb or perhaps not fully comprehending what he was saying. 
The incident came to an end with red flashing lights as two police officers moved in and Mr Franckowiak submitted meekly to arrest.
'Turn around' one of the Thai police officers said forcefully and the American complied instantly as the officers placed handcuffs on him and led him away.
Arrest record in the United States
The American has a record of interaction with police in the United States. An arrest record for the Bismarck Police Department in the US state of North Dakota shows that he was arrested in the early hours of the 7th July 2017.
The American also appeared to be perspiring heavily during his rants causing some to speculate that he may have taken some sort of illicit narcotics.
It is understood that the incident occurred at the Chiang Mai restaurant at 8 pm.
Similar scenes and incidents in Chiang Mai
After the video was posted on November 5th, there was a flood of reports concerning the same man causing similar disturbances throughout the northern city. One instance involved him damaging property at a local Mc Donalds restaurant.
After release by police, returned to intimidate
Following the man's arrest by police, he was charged with criminal damage but released pending a court appearance said to be in early December. 
However, Ms Salita has reported that he has been back to her restaurant to again hurl insults at her and her customers including barbed comments about Thailand and the Thai police.
Disturbing social media comments and profile
Days after the American posted on Facebook under the name Daniel Park living in the San Sai area of Chiang Mai, that he is a 'runaway scientist' working for the American government.
Describing himself as an American government VIP, he talks about developing his inner 'evil genius' and in reply to one Facebook member, points out that he was arrested 3 times in 8 weeks. He also repeatedly referenced coded numbers and the Da Vinci code which was emblazoned on his shirt during his most recent disturbance.
Further reading:
Bizarre antics of hippie western foreigners in Chiang Mai draws attention online and on TV news
Crazy American in Thailand insults, harasses locals in Chiang Mai

+ An American nutcase in Thailand insults locals, harasses a local restaurant in Chiang Mai – arrested by police but released until court hearing – makes bizarre claims on social mediahttps://www.thaiexaminer.com/thai-news-foreigners/2019/11/11/american-man-daniel-franckowiak-parker-chiang-mai-arrested-police-thai-woman-restaurant-crazy/Carla Boonkong reports from Chiang Mai

Posted by ThaiExaminer.com on Monday, November 11, 2019