Activist plans to appeal the court order on Friday and to stage a public rally at Victory Monument at 5 pm in his campaign calling on voters to shun the Bhumjaithai Party. At his press conference on Thursday, Mr Chuwit said that it was his right as a citizen under the constitution to criticise and make known his opinions on political party policies. The time was particularly propitious in the run-up to a General Election. He said voters had a right to know just what they were voting for.
Chuwit Kamolvisit has vowed to continue his crusade against the legalisation of marijuana and his campaign calling for voters to shun and vote out the Bhumjaithai Party in the May 14th General Election although he told reporters on Thursday that he would abide by any final court order, in his own way. His comments, made at a colourful press conference, came after reports of an order from a civil court on Thursday for him to cease his activities directed at the coalition government party in the course of proceedings taken against him for defamation seeking damages by the registrar of the party, Mr Supachai Jaisamut.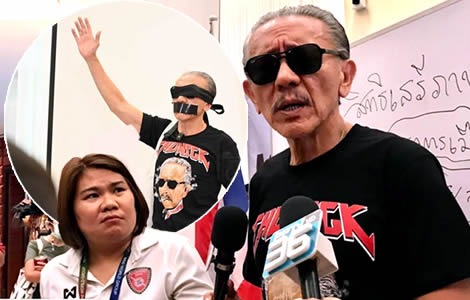 Whistleblower, activist and former massage parlour boss Chuwit Kamolvisit has vowed to continue his campaign against the legalisation of cannabis or marijuana in Thailand following a reported order from a civil court in Bangkok on Thursday injuncting him and requiring that he suspend his ongoing criticism of the Bhumjaithai Party and its key achievement in government, namely the legalisation of marijuana which has turned into the ubiquitous use and sale of the drug in Thailand after it ceased to be a listed narcotics subjecting any user to severe criminal sanctions by a ministerial order signed by Minister of Public Health Anutin Charnvirakul in early 2022 but which came into force on June 4th 2022.
The reported court order on Thursday came in a defamation case for damages being taken in Thailand's civil court by the registrar of the Bhumjaithai Party, Mr Supachai Jaisamut.
Bhumjaithai Party registrar accuses the Bangkok activist of damaging his party by calling on voters to boycott it over its controversial marijuana policy
Mr Supachai has accused the colourful Bangkok businessman and former politician of damaging the party with his campaign launched in early March calling on voters to boycott the Bhumjaithai Party in the General Election and to make the poll a referendum on the legalisation of marijuana.
Political observers report that there is strong grassroots opposition across the country and even in Bangkok against the move by the Bhumjaithai Party to legalise marijuana which was brought about without a law being passed in parliament or a public consultation process.
Legalisation came about without a law being passed by parliament as previously agreed by the cabinet but solely based on a ministerial order
The legalisation of the formerly banned narcotic followed a cabinet decision in January 2022 which approved the removal of cannabis from a schedule of prohibited narcotics while also supporting a bill or law to regulate its use according to Thailand's own public health policies and international treaty obligations.
However, this law at the committee stage in parliament, in a process driven by the Bhumjaithai Party, was transformed into a watered-down provision which failed to outright prohibit the recreational use of the drug by making it also a criminal offence and subject to direct police action.
Opposition and Democrat Party revolted against what they saw as ineffective legislation put forward to ban the recreational use of cannabis in 2022 
Both opposition MPs and government MPs from the Democrat Party rejected the law which the Bhumjaithai Party leader and Minister of Public Health Anutin Charnvirakul, at one point, frankly accepted did provide for the full legalisation of the recreational use of the drug through a straightforward parliamentary committee process at some later stage.
On Thursday, it was reported that Mr Supachai of the Bhumjaithai Party had sought and obtained an order from the civil court ordering Mr Chuwit to suspend his campaign against the Bhumjaithai Party, its legalisation of marijuana and other criticisms of the Bhumjaithai Party relating to alleged irregularities with a Bangkok transport system contract overseen by Minister of Transport Saksayam Chidchob of the Bhumjaithai Party who is currently suspended from his role by order of the Constitutional Court in a case related to another matter brought against him through parliament before it was dissolved in recent weeks.
On Thursday, Mr Chuwit told reporters that he was first of all seeking clarification of the exact order from the civil court made against him but had already commenced legal moves to appeal it.
Chuwit sought clarification of the reported gag order but was prepared to go to court on Friday to appeal it relying on his right to free speech
He said he would be in court on Friday at 9 am seeking to have the order rescinded based on his constitutional rights and liberty based on the principle of free speech.
He has also promised to hold a rally at Victory Monument in Bangkok on Friday at 5 pm to protest the activities of the Bhumjaithai Party to silence him and his critical opinion of the party through the legal process.
On Thursday afternoon, Mr Chuwit hosted one of his memorable press conferences at the Davis Hotel in the upmarket Sukhumvit area of Bangkok which he owns.
Wearing a black T-shirt, at one point, he put on a black blindfold and taped his mouth shut with black tape to signify the denial of his liberties and inherent rights which the reported court decision would, he claimed, represent, under the 2017 Constitution.
Mr Chuwit, a student of law, gave a full briefing to reporters on both the legal situation and the reported negative health consequences posed by the widespread use and consumption of marijuana.
He would comply with any final court order but, he added, in his own way. Now before an election, he claimed, was the time to comment on party policies
He said that while this may even lead him to pursue his rights to the Constitutional Court, he was also ready to comply with any court order but, he added, in his own way.
Chuwit explained that now, in the runup to a General Election, was a propitious time for any citizen to express his or her opinions on a social matter which has significant consequences for society.
He emphasised that he was not a candidate in the General Election but just a citizen participating in the democratic process and exercising his rights under the constitution.
He said he was now an older man and was not expecting to live too long so he wanted to be remembered as someone who would not be silenced and someone who fought.
He said it was important that the public know the policy basis of all political parties and what exactly they were voting for.
'I confirm that I am stable and clear. And what they're talking about is public policy. Political parties and their policies apply to the people. I am confident that I have rights and liberties. It's important to note here that I am quite old now. I am not expecting longevity, I just want someone to remember. At the last moment of my life, even though today I will be silenced, I will fight. I do not have a background like others. People need to know the standpoint of political parties first. It's like choosing a product, everything must be considered before buying. Politics must change this time,' exhorted Mr Chuwit.
Bhumjaithai Party is neither a person nor a juristic entity. Legally it cannot suffer damage or loss according to recent court decisions and case law
He emphasised that he was questioning the policies of the Bhumjaithai Party and pointed out that a political party was neither a juristic person nor an individual and therefore could not, in legal terms, suffer damage.
This was a rejection of the basis for court proceedings being taken against him and refers to recent judgements handed down by the Thai courts and case law which found that defamation and other legal proceedings for damages or orders were not appropriate against certain bodies in situations where they have no legal basis as an injured party.
The courts also, in proceedings against media outlets relating to protests and the pandemic situation in 2021 by the government, found that the 2017 constitution provided for a wide basis for freedom of speech and criticism.
Chuwit called on doctors and medical practitioners who oppose cannabis to come forward now and make their voice heard before the General Election
Mr Chuwit, on Thursday, called on the thousands of doctors and members of the medical community in Thailand to now come forward and make their voice heard on the subject of marijuana following strong and consistent criticism of the government's runaway legislation on the drug in recent times.
Among these is Dr Smith Srisont, the President of the Forensic Physician Association of Thailand (FPAT) who along with others has called for the complete reversal of the process and the recrminalisation of marijuana except for supervised medical use.
The current situation has also been criticised by law enforcement officials and top medical experts and officials within the Ministry of Public Health itself who have warned of the detrimental effects on the cognitive health of young people who may be tempted to begin using the drug regularly for recreational purposes.
On Thursday, Mr Chuwit noted that up to 14,000 cannabis outlets in Bangkok and throughout the country have received approval to open and sell what was once an illegal narcotic.
Over half the marijuana being sold in Bangkok outlets and throughout Thailand is now being sourced in the United States claimed Mr Chuwit on Thursday
He claimed that over half the cannabis and marijuana products being sold in Thailand, in a growing trend, are being imported from the United States and asked how this was possible?
His claims concerning the source of cannabis being sold in marijuana cafés have been questioned by newly established Thai industry sources although cannabis from the United States of a higher quality is being sold while pot grown in Thailand is also being sold under brand names linked with the United States.
He pointed to research from the Psychiatric Association of Thailand which has estimated that marijuana or cannabis use induces schizophrenia in regular users at a rate of two to three times the normal population.
Danger of schizophrenia highlighted
Mr Chuwit referred to cases where the drug has caused users, particularly those using prospects with high THC (tetrahydrocannabinol) values to become delirious with reports of frantic marijuana users committing crimes after losing control of themselves.
In recent weeks, Mr Chuwit has taken to referring repeatedly to the Bhumjaithai Party as the 'Mad Marijauna Party' in his pronouncements and campaign literature because of its signature policy while in office.
On Thursday, he outlined plans to campaign against the Bhumjaithai during the annual Songkran holiday by briefing voters and travellers at the Mo Chit bus terminal.
He said he would be asking them to carry his message against the party home to the provinces encouraging voters to actively shun it for its campaign to legalise marijuana.
Further reading:
General Election turns into a referendum on Pot as Chuwit calls on the public to kick out Bhumjaithai
Cannabis revolution targeted as MPs and public confront the Bhumjaithai Party's populist gambit on pot
Emergency Room admissions for cannabis up 566% as parties call for it to again be criminalised
Drugs to be an election issue as Anutin digs in insisting that attitudes must change on cannabis
Recreational cannabis use can be legalised under the current law being passed through parliament
Recreational use of pot to be recriminalised as Minister warns abuses are undermining his plan
Warnings as fears grow over recreational cannabis use as Thai man is left impotent by self-harm act
Marijuana revolution and overdoses raise concern with calls for action to outlaw recreational use
Legal pot does not appear to be working for Anutin's Bhumjaithai Party in latest opinion poll
Cannabis remains illegal as ministers push through a law controlling its use by the public after decriminilisation
Sex, drugs and alcohol as Chiang Rai party-goers arrested in the midst of the growing virus emergency
Evil drugs trade in Songkhla sees Thai woman burned alive by her family for 300 grams of ice missing in village
Thai man burns down his family home: Thailand's drugs problem is still a very real threat to society
UK man arrested on drugs charges by CSD police in Pattaya claims ex Thai wife set him up
UK drug dealers living it up in Thailand to be deported back to the UK after arrests in Pattaya
Italian living with Thai wife on Koh Phangan arrested for dealing after drugs found in the post