Afterwards, General Prayut said he was not angry because of Mr Chuwit's presence and attributed his frown to the hot weather. He told the press that he smiled every day but not for bad people.
The former massage parlour, whistleblower and now anti-marijuana campaigner Chuwit Kamolvisit spoiled the party for Prime Minister Prayut Chan ocha as he campaigned in the Chinatown area of Bangkok this week after he tried to get General Prayut to elucidate on his position on the issue of cannabis in this election considering the widespread pot revolution which has occurred in the country since June 2022. The campaigner arrived with a crowd outside a restaurant where Prayut was dining with top aides and addressed him with a megaphone from the street. The PM who earlier in the day had appeared smiling, interacting and even kicking a ball for the public, was later pictured in his car glowering although he later insisted that his expression had nothing to do with Mr Chuwit's activities.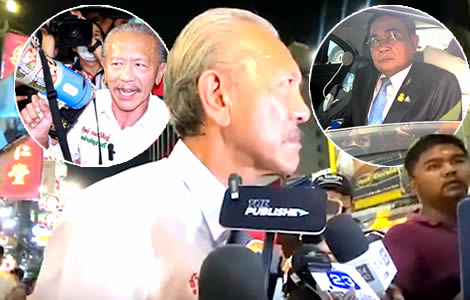 Thai Prime Minister Prayut Chan ocha appeared somewhat annoyed on Thursday evening after a well-choreographed day's campaigning in Bangkok ended in a standoff with anti-corruption activist Chuwit Kamolvisit who stood outside a restaurant in the Chinatown district of the capital and asked the government leader about his views on the widespread liberalisation of marijuana ushered in by his Deputy Prime Minister and Minister of Public Health Anutin Charnvirakul.
At 4.30 pm on Thursday, General Prayut, along with key members of his staff including his Secretary-general and United Thai Nation (Ruam Thai Sang Chart) Party leader Pirapan Salirathavibhaga, Minister at the Prime Minister's Office Thanakorn Wangboonkongchana and deputy party leader and key spokesman Anucha Burapachaisri, were seen engaging with the public on a sunny afternoon in Lumpini Park.
Relaxed and easygoing PM posed for press posse as he interacted with Bangkokonians in Lumpini Park earlier in the day before moving on to Chinatown
The PM appeared relaxed and comfortable in front of the press posse as he campaigned for the UTN party candidate in the local Bangkok constituency 2, Ms Sirinan Siriphanich, even kicking a football and showing how agile the 69-year-old is following concern earlier in the campaign over a swollen hand, an infected lymph node which saw Prayut hospitalised for several days.
Prayut even took a ride on a yellow paddle boat before travelling by electric car to Bangkok's famous Yaowarat Road or Chinatown where he visited a busy dessert shop.
It is understood that the Prime Minister is accompanied at all times by a strong security detail including police and military, some in uniform and some undercover.
Chuwit arrived in Chinatown with an enthusiastic crowd and a loudspeaker saying he wanted to welcome the Prime Minister to his 'home' and talk about pot
A reservation was made at the Blue Dragon Noodle Restaurant for the campaign committee while the PM and his inner party dined at the Yoo FishBall Restaurant on Yaowarat Road.
Mr Chuwit Kamolvisit was seen initially outside the Blue Dragon Noodle Restaurant with a large crowd who he addressed with a loudspeaker. 
The 61-year-old was full of exuberance and clearly enjoying himself as he spoke at length about his opposition to the government's marijuana policy.
Then, after finding out the prime minister was at the Yoo FishBall Restaurant, Mr Chuwit led his followers there and addressed the PM from outside the shops with his megaphone device.
'Yaowarat is my home. Can't I come to welcome you?' he exulted.
He asked if the prime minister would make known his views on the policy of the Bhumjaithai Party on what Chuwit calls 'free marijuana'.
He asked if General Prayut supported or opposed the policy.
Chuwit spoke of the danger that marijuana posed to Thai society and that General Prayut should make his position clear on the issue to inform voters
Chuwit said the prime minister should make clear his position so that society can be aware of where he stands.
He declared the issue was an important one as the population could go crazy from the liberal availability of marijuana which he opined was only good for extracting oil and for medical use in the treatment of disease.
Chuwit said he was asking very politely for the prime minister to simply come forward and explain his position.
He asked how the Minister of Public Health Mr Anutin Charnvirakul could single-handedly bring about such a change in reference to the fact that the current revolutionary situation on marijuana policy, in place since June 2022 by ministerial order without legislation in parliament, has now seen over 14,000 cannabis outlets opening up across Thailand leaving the coalition government except for the Democrat Party, which has fiercely opposed the development, facing a backlash from the public.
General Prayut has been noticeably silent on the issue despite having oversight of the Royal Thai Police.
PM swiftly exited the restaurant through a left-side entrance after a party aide informed him of Chuwit's request to meet him to talk about cannabis
On Thursday, a UTN party coordinator went into the restaurant to meet the prime minister's party which promptly left through a side exit of the restaurant to its left.
General Prayut appeared to be in no mood for a confrontation or even a very public meeting with Mr Chuwit.
A black Mercedes Benz was waiting for the Prime Minister on Song Sawat Road in front of the Buddhist temple Wat Samphanthawongsaram Worawihan where he was photographed inside the car with an unhappy-looking and frowning visage.
The PM denied to reporters that his apparent frown and anger were linked to the arrival of Mr Chuwit.
Smiled every day but not for bad people
General Prayut did however suggest that he had to leave the vicinity as a matter of security and said he was not able to meet Mr Chuwit as he was engaged in electioneering and that would be another job.
When asked again later about his expression on Thursday evening when he was photographed looking dispirited and unsmiling, he insisted to reporters that it was unrelated to Mr Chuwit's presence.
He suggested that the weather was particularly hot and that, in any event, he smiles every day except for bad people.
Further reading:
PM warns giveaway policies of some parties may be 'bad karma' for the country in the longer run
Dirty tricks feared by Pheu Thai, the Election Commission urged to probe Maha Sarakham vote-buying reports
Pheu Thai's ฿10k digital economic stimulus for all under fire as Election Commission opens probe into it
Srettha eyes top job and defends ฿10k spending wallet for over 16s just unveiled as a Pheu Thai policy
Polls show advantage still with the opposition and that Pheu Thai is on course for government reins
Bad week on the campaign trail for General Prayut as a lack of public enthusiasm makes itself known
Social welfare scheme sees millions signed up for monthly handouts and easy access to small loans
Ung Ing says Prawit is better liked than PM Prayut with reports of the return of key ex-ministers
Whip hand with Pheu Thai to secure power in this year's General Election despite Senate's waning power
Prayut to make his move for a third term but is the battle for power already lost to Pheu Thai?
PM upholds status quo as he seeks a path back to power with the help of the Bhumjaithai Party
3 out 4 believe that Pheu Thai will take power in 2023 with a third Shinawatra taking the reins
Court decision on electoral law is a big boost for Pheu Thai Party as Prayut remains tight-lipped
Possible Pheu Thai PM Paetongtarn Shinawatra promises a new society where everyone is secure