Weeks after the May 14th election a decisive result has been thrown into question with 'roadblocks' being erected in front of Mr Pita Limjaroenrat's road to the Prime Minister's office amid a sharp upsurge in dangerous and divisive political rhetoric coming from conservative factions which aim to spread fear including serious accusations that the election was interfered with by western powers with one official even indirectly comparing the Move Forward Party to Germany's National Socialist Party in 1933.
There is striking evidence that amid a growing political vacuum created by political uncertainty, conservative forces in Thailand are mounting a rearguard action against the result of the May 14th General Election with a spike in online misinformation stoking fear. This is happening simultaneously with efforts by an eight-party coalition trying to form a new government while facing a minefield created by the kingdom's election laws. The country's complicated and onerous legal provisions have seen it still awaiting confirmation of the election results with a growing threat being presented to the prospect of Mr Pita Limjaroenrat, the charismatic young leader of the Move Forward Party, taking on the mantle of Thailand's 30th Prime Minister in August.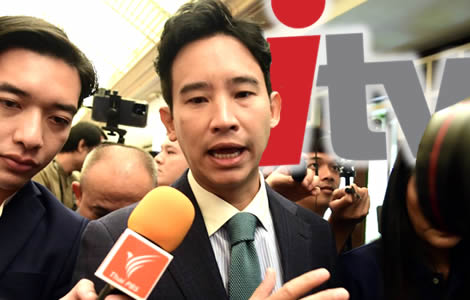 A top business leader on Thursday warned that the threat of a delay in forming a new government expected in August and the rising prospect of political instability poses a twin threat to the Thai economy which is struggling to overcome a slump in exports this year.
Mr Kriengkrai Thiennukul, the Chairman of the Federation of Thai Industries (FTI) and Joint Standing Committee on Commerce, Industry and Banking (JSCCIB) warned that any delay and descent into street protests would see Thailand's projected GDP growth this year fall back to between 1 and 2% while a prolonged period of uncertainty will undermine investment in the long term just as Thailand has already experienced over the last two decades of political divisions accompanied by two coup d'états in 2006 and 2014.
Industry leader cautions that growth in 2023 could be knocked in half if a new government is not formed peacefully in August amid rampant uncertainty
At the end of May, Kasikorn Research Centre, the research arm of Kasikorn Bank projected 3.7% growth for Thailand's economy based on a continued recovery in foreign tourism with approximately 28 million visitors expected this year and a revival of exports in the last quarter of 2023.
However, travel industry sources worldwide are warning that the threat of street protests and political instability given the international press interest in Thailand's May 14th General Election outcome and the victory of Mr Pita Limjaroenrat, could become a destabilising factor if administrative uncertainties being generated by what the Move Forward Party leadership has described this week as 'roadblocks' to the formation of a new government, are not eliminated.
A new government in August may conversely see a boost in Thai economic fortunes if it comes out of the current political flux that has developed
Mr Kriengkrai, on Thursday, affirmed that the formation of a new government with a programme for the next four years could, conversely, give Thailand an economic boost if it happens in August.
The industry leader declared that uncertainty and an extension of that deadline and any delay over six months would not only negatively impact GDP, it would also start to undermine inward investment into the kingdom.
'If the new government formation is delayed and leads to demonstrations, it would impact the confidence of investors and travellers. In this scenario, it could seriously damage the Thai economy, cutting the GDP growth rate to 1% to 2%,' he said.
Astute Thai political observer warns that establishment forces are out to thwart Pita Limjaroenrat's quest to reach the PM's Office
A former member of the Election Commission, a leading member of the Seri Ruam Thai Party and an astute political observer working with Rangsit University, Mr Somchai Srisutthiyakorn, on Tuesday, warned that elements of the establishment were out to thwart the election of Prime Minister-elect Pita Limjaroenrat to the position in two months time.
Mr Somchai warned the current coalition preparing to assume power not to underestimate what he termed the old machine that is working towards undoing the result of the May 14th General Election.
He also appeared to reproach the announcement made on Tuesday by Mr Pita that he had disposed of controversial shares in a TV firm called iTV which had its broadcasting contract cancelled by the Prime Minister's Office on the 16th March 2007 and which is now at the centre of efforts by pro-establishment or conservative elements to undermine Mr Pita's prospects of leading a new government.
Mr Somchai said that if the shares in question, violated Section 93(3) of the electoral law regarding Mr Pita's status as an MP going back to 2019 before he reportedly disposed of the shares in the last week, then this recent move is irrelevant and may, in fact, even undermine his position.
Move Forward Party leader appeared weaker this week and ambiguous for the first time about his shareholding in the iTV media firm now being revived 
On Tuesday, Mr Pita, who has long urged the public to disregard the matter and the threat to any new government, appeared more ambiguous, not ruling out whether his position as an MP in the next parliament was under threat while also suggesting that attempts were being made to classify the iTV company again as a television station by pointing out that he was now aware that attempts were being made to revive the business.
At the outset, Mr Pita claimed that he notified the Election Commission after the 2019 election that he held the shares for family members in trust as executor of his late father's estate and that there was no issue.
However, last week, Deputy Prime Minister Wissanu Krea-ngam the government's legal eagle, suggested that this was no defence by stating that such a situation can only be tested by relevant state agencies if they are subject to a formal complaint filed with the official body in respect of the holder of such shares.
Some establishment figures are openly still insisting, in direct contradiction of opinions from former members of the Election Commission, that Mr Pita's lack of standing as an MP and possible ban from politics dated back to 2019, if upheld by the Constitutional Court, may ultimately decide this matter.
Conservative figures including senators are insisting that Mr Pita's shares could upturn the entire General Election result despite his latest moves
This would also undermine the certification of all Move Forward Party MPs in the 2023 General Election.
On Tuesday, Mr Pita appeared to insist that the fact that the shares were now transferred to family members or relatives left him off the hook regarding the issue and free to focus on the formation of the new government.
'I am highly confident there is nothing to disqualify me from the election of being a candidate for prime minister,' he told reporters on Tuesday afternoon following a meeting with coalition partners at the Pheu Thai Party headquarters in Bangkok.
It is noteworthy that he did not insist his position as an MP was secure and when asked about this, he would only say that was not clear about the issues being raised.
He also suggested that a line of questioning at a recent meeting of iTV shareholders in Bangkok on April 26th last indicated that an effort was being made to suggest the firm was being revived as a mass media organisation saying that questions along those lines had been asked from the floor.
Disturbingly for Move Forward Party supporters are claims that in 2018 and 2019 filings, the company iTV had been described as a holding firm whereas later returns referred to it as a TV organisation.
Pita himself appeared nervous about the nature of his formerly defunct media shareholding and appeared to raise the prospects of a political conspiracy
Regarding the questions asked at the shareholders meeting, Mr Pita asked: 'Was the question politically motivated? Was it an attempt to revive iTV as a mass media organisation?'
He also appeared to suggest that a campaign had been launched to undermine his position through his association with the shares.
'Now there are attempts to revive iTV as a mass media organisation, to attack me,' he claimed.
The 42,000 shares are thought to be valuable as the defunct TV firm is currently engaged in legal proceedings against the Thai government with a claim value estimated at ฿2 billion.
Mr Pita warned those who appeared to be targeting his elevation as Thailand's 30th prime minister that he would continue his efforts and insisted that no force could stand against the people's will as expressed in the last General Election where the Move Forward Party obtained the votes of 14 million Thai voters.
Tried to put the share issue behind him this week
'From now on I will proceed with preparing the transition to the successful formation of the Move Forward government with Pita as the prime minister,' he said. 'No one and no power can block the consensus that fellow people expressed in the May 14th election through as many as 14 million votes.'
The current proposed eight-party coalition received the votes of 75% of Thai voters in the party list national poll and 62% of the seats in the House of Representatives although it has been suggested this week that the Election Commission was examining up to 20 seats which may be adjusted.
On Wednesday, in a strongly worded statement, the Election Commission warned the public about premature and what it described as false speculation on this.
It rejected as untrue and unfounded reports that ten newly elected MPs would be given 'red cards' for failing to vote in previous elections or local polls or not providing an appropriate written explanation as required by law.
Voting in Thailand is mandatory by law and failure to vote could possibly be a valid ground for disqualification.
Disturbing misinformation spread by conservative and even senior officials in the last week painted a darkly distorted picture of the election result
The development also comes with a growing wave of alternative propaganda networks or news sites on social media which are openly questioning the election result and suggesting that the vote was interfered with by the US government and Western powers.
A senior figure linked to the Ministry of Foreign Affairs and said to be a former senior executive in the National Intelligence, this week, was quoted in a national newspaper suggesting that Thailand faced a similar situation to what Germany faced in 1933 when Adolf Hitler and the National Socialist Party (NSDAP) took power in that country in 1933 through the ballot box and thereafter moved swiftly to extinguish democracy.
On Wednesday, also, it was reported that the Move Forward Party was being questioned by the Election Commission about a comic strip illustration in a fan magazine which showed the party's main characters with imagery including triangular iconography along with a hammer and sickle.
Conservative critics said it suggested a lack of loyalty or respect for the nation and the Constitution. 
Many Thai people without a Western education have a severe lack of understanding of World history or events in other countries outside the kingdom
For international observers of Thailand, it must be borne in mind that this is a country where in the last decade, pop stars, singers and the general public have been found to be using Nazi party iconography without a full understanding of the meaning of the symbolism involved because of flaws in Thailand's education system and a lack of awareness and deeper understanding of world-historical events.
On Sunday, however, a government official suggested that Thai audiences were being subjected to what he called hate speech critical of traditional Thai values while upholding Western thinking or ideals while elevating the prospect of the country being embroiled in a war between external powers.
He also said, pointedly, that democracy was not simply about which way the people voted and in his context he highlighted the rise of Adolf Hitler in the two German General Elections of 1932 which put him in power in January 1933, a position he exploited first to declare martial law and ultimately to pass the infamous enabling act in 1933 after being re-elected on March 5th that year with 43.91% of the vote.
This allowed him to rule absolutely by decree and eventually abolish all other political parties in July 1933 before leading the country, as a one-party state, to World War Two in September 1939.
Thailand under a dictator from 1942 to 1944 was aligned with the Axis power including Japan, Germany and Italy against the United States and Britain
It should be noted that at the outset of World War Two, Thailand, much to the chagrin of the United States and Britain, declared itself neutral until it was invaded on the 8th of December 1941 by the Empire of Japan.
On the 25th of January 1942, the kingdom declared war on both the United States and Britain under the leadership or de facto dictatorship of Field Marshal Plaek Phibunsongkhram.
This firmly aligned Thailand with the Axis powers including Japan, Germany and Italy in World War Two and Thai forces invaded several other countries including Burma, Malaysia, Cambodia and China although the former two of these were British colonies at the time
However, after General Phibun was overthrown and the kingdom liberated from Japanese forces in 1944, and following the US bombing of Japan with nuclear devices, in 1945, Thailand announced that the declaration of war in 1942 was unconstitutional and void.
Other reports, this week, from conservative sources, insist that Thailand's foreign policy stance may be altered by the proposed new Move Forward Party government and the country could then find itself hosting US military bases.
Move Forward Party strongly rejects reports of a shift in foreign policy towards the West or acquiescence to US demands in its struggle against China
These reports have been rejected outright by the Move Forward Party big wig and MP, Mr Rangsiman Rome, who last week made it clear that his party would be among the first to oppose any such move and was committed to upholding Thailand's sovereignty.
At the same time, it should be remembered that Thailand is a long-standing military ally of the United States in the Asia Pacific, a point underlined by US Secretary of Defence Lloyd Austin in a visit to Bangkok last June.
This comes amid growing hostility and the prospect of war between the United States and China.
On Tuesday, Senator Seree Suwanpanon, the Chairman of the Committee on Political Development and People's Participation, in an interview with reporters, called for Mr Pita's share case to be referred as soon as possible to the Constitutional Court to clarify matters to avoid growing political discord.
Election Commission this week indicated that complaints relating to the Move Forward Party and Mr Pita's shares were still at a very preliminary stage
On Wednesday, the Election Commission indicated the contrary, saying that it had just begun considering a range of complaints against the party and others and it would take some time, perhaps months, even for a full investigation to be ordered.
'If waiting until the process of the Senate to vote for the Prime Minister, the Senate disapproved in any way, there will be people who agree and disagree. There will be unrest. To prevent problems and not cause chaos in the country, we ask the Election Commission to expedite the collection of evidence. Send it to the Constitutional Court to proceed before the date of the election of the prime minister,' Senator Seree told reporters.
Last week, the senator told the media that he thought it was quite conceivable that Mr Pita may be disqualified as an MP going back to the existence of the ITV shareholding and then the candidacy of all Move Forward Party MPs certified by him for the May 14th General Election may be undermined and this could lead to special elections to fill those seats.
Move Forward MP Rangsiman Rome described the issue of Mr Pita's shares as 'political bullying' and underlined the need to uphold the people's will
Deputy Prime Minister Wissanu Krea-ngam also engaged in similar speculation the week before while warning at the same time that it was premature.
In response, the Move Forward Party's Rangsiman Rome described the emerging debacle over Mr Pita's iTV shares as political bullying from the other side of the political divide.
'Everything is well-prepared, and nothing to worry about,' Mr Rangsiman declared. 'This is bullying in politics as the opposite side released this news during the election.'
'I'd like to ask Mr Wissanu whether it is his goal to distract and manipulate senators to feel hesitant about supporting the Move Forward Party. If it is, it means he doesn't respect the decision of the people who exercised their right to vote.'
Pita sounded uncertain this week about his status as an MP over the media shareholding issue even as he tried, for now at least, to put it behind him
Mr Pita continued on Tuesday to be less definite about the situation than he had been up to the week previously.
He accepted that the situation was now uncertain concerning the legal battle he faces and at the same time, said that certainty was required to form the next government.
'Many people came out and said there was an attempt to keep me out of politics. I heard this. Of course, I was worried. Because the past and future are not the same. As I said, the past is the past. But the future is uncertain. So there must be some certainty so that the government can be established,' he said.
He pointed out that the shares in the media firm which were being held by him as the executor of his father's estate had now been transferred to someone else.
'The transfer to prevent that in the future there will be a revival of ITV, whether for business reasons or is it because of political reasons to block me? Therefore, we must hedge against this risk in order to form a government,' Mr Pita outlined.
On Wednesday, he spoke of being ready to face the checkpoints that must be passed by his candidacy as the next prime minister and towards the formation of Thailand's next government which he identified as the Senate, Election Commission and the Constitutional Court.
Further reading:
Pita shares cast a pall over historic May 14th Election, fears that the results may be nullified by a court
Compromise mooted between Pheu Thai and Move Forward on House Speaker job before key meeting
Kooky Palang Pracharat reports rejected on Tuesday by Prawit as Pheu Thai stands by Pita for PM
Move Forward's 'Government of Hope' coalition delivers a programme promising a new charter
Jatuporn warns Pheu Thai may be turned as he predicts a political impasse. Should wait for 2024
Election vote for Move Forward may have been a cry for help from voters mired in short-term debt
Pita, Move Forward and eight other parties meet in Bangkok and come out smiling, ready to govern
Pita plots a new coalition government with Pheu Thai but open conflict has already raised its head in the Senate
Move Forward Party's good election result leaves uncertainty as to who will form the government
Move Forward leader denies claims he held shares in media company barring him as a Bangkok MP
Move Forward Party surging in the polls as the General Election campaign enters its final week
PM warns giveaway policies of some parties may be 'bad karma' for the country in the longer run
Leader of PM's UTN tells rally a government led by his party will 'get tough' with nation haters