Thailand is destined to lose 15.6% of its active workforce in the next 17 years up to 2040 while the ratio of workers to retired seniors in the same period will halve from 3.6 to 1.8. The pandemic has led to more workers taking retirement at 55 years of age due to fears of economic insecurity although the statutory retirement age is 60 years of age.
The new Thai government is preparing to raise the retirement age in response to the country's declining workforce which is gradually becoming the dominant factor in the economy's inability to grow at the same speed as other Southeast Asian economies. The country's social security system needs to be reformed to cope with increased demand to pay for pensions as more workers are opting for early retirement rather than continuing to work in the employment market. Many may eventually drift back into the country's informal economy which accounts for 50% of GDP.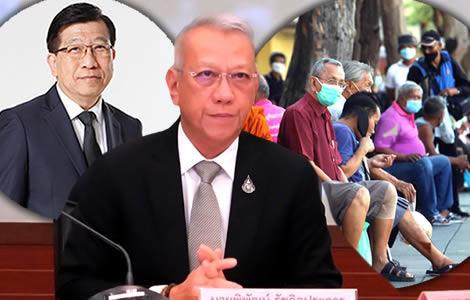 Thailand's Ministry of Labour is looking at increasing the statutory retirement age in the Kingdom, which is currently 60 years of age.
The current age is quite a low figure by standards in Europe where retirement ages are rising. 
For instance, the current retirement age in the United Kingdom stands at 66 years of age for both men and women. This is set to rise to 68 for adults born after April 6, 1978.
Rising retirement age mandates in the United Kingdom and European Union as life expectancy has been rising steadily but it has also risen in Thailand 
This is an example of what has been seen in European countries including France where there has been significant resistance to efforts to raise the retirement age from the current level of 62 years, culminating in recent months, with strikes and protests in Paris against the legal moves of French President Emmanuel Macron to hike the retirement age to 64 for those born after 1968.
France, like other countries, has exceptions for certain manual labour workers at the current retirement age of 58.
European states are raising retirement ages towards 70 years of age with life expectancy still rising in the European Union where it is now 80.1 years with a respectable 79.27 years for Thailand and only 77.28 for people living in the United States.
The Thai retirement age of 55 therefore seems quite young and there are reports of more people availing of retirement with it becoming more likely that the age will be raised.
Currently, 12 to 13 million people are paying into the Thai social security system which only applies to workers within the formal economy, itself only accounting for half the country's GDP. 
Federation of Thai Industries (FTI) confirms it is working with the Ministry of Labour on raising the retirement age for social security regime workers 
The move to raise the retirement age was confirmed last week by the Federation of Thai Industries with Vice-Chairman Mr Suchart Chantaranakaracha, revealing that the matter had been discussed with officials after the new minister, Mr Phiphat Ratchakitprakarn, took up his position earlier in the month. 
'We discussed with the Labour Ministry a plan that will suit Thai society,' said the Vice Chairman. 'The Federation of Thai Industries can help because it has employment information on workers of all ages and various industries.'
The powerful employers body has promised to provide information from its employer databases to the government so that it can get a more accurate picture before it decides to raise the retirement age and on what terms this will go ahead. 
Thailand's economy is facing an acute labour shortage, particularly in the aftermath of the pandemic crisis which saw many informal workers of an elderly age simply retire from the workforce and not return. 
More workers in Thailand are retiring at 55
There are also reports of increased numbers of lower-paid employees taking early retirement at 55 in anticipation that the retirement age will soon be raised. 
Workers are also motivated by raised fears of economic insecurity since the disastrous pandemic shutdown.
Many of these workers are expected to drift into informal employment positions although it is against the law and they run the risk of losing their pension benefits.
The underlying problem that has been negatively impacting the Thai economy is the country's ageing population with older Thai workers for the last two decades or so, now routinely agreeing to stay on in roles even in government services such as the transport network with the labour of workers over 60 years of age becoming essential to the smooth running of the economy. 
Thailand's ageing crisis has been noticeable since 2015 and is turning off many international investors who are moving instead to countries such as Vietnam and the Philippines where there are younger and better-educated populations.
Birth rate in Thailand continues to decline and is the single biggest force impacting the economy, a perplexing issue for all world economies right now
Thailand currently has a birth rate of 1.46 which is the projected rate for this year, compared to 2.78 for the Philippines, which has the most positive profile in Southeast Asia.
The replacement rate for the population is 2.1 children per woman. 
Thailand's birth rate is declining continuously, although efforts by the government over the last 10 years may have slowed the dip in births, but not to any significant extent. 
The Thai government, since 2019, has been trying to encourage young couples to have more children and has provided more security, social welfare benefits and support to young families and mothers. 
However, the pandemic crisis of 2020 and 2021 is thought to have put paid to such efforts.
Even Vietnam, which Thailand is competing with for foreign direct investment, now has a falling birth rate of 1.96 while Indonesia has a birth rate of 2.19.
Cambodia, a far smaller economy than Thailand's, has a comparatively healthier birth rate of 2.38.
Thailand's birth rate of 1.46 is even lower than the average of the European Union, which is 1.53, and the United States, driven by a stronger immigrant population, at 1.64.
Declining birth rates and ageing represent a growing economic challenge across the world which are causing a range of problems not seen before as the world suffers the fallout from decades of population control programmes which have led to disastrous and unforeseen challenges notably in Japan and now also in China.
Thailand faces a sharp drop in its working-age population in the next 17 years which is predicted to fall by 15.6% while unemployed seniors are rising
Figures released in 2021 showed that 69% of Thailand's population was of working age. This is projected to shrink by 34% by 2040.
The ageing population not only means a shortage of labour but also weaker domestic consumption demand in the economy. 
Older people, who are working less, are also spending less because of diminished spending power.
In absolute terms, Thailand's working-age population will decrease from approximately 43.26 million as of now to 36.5 million by 2040, a fall of 15.6%.
The situation is even more stark than this suggests with the number of workers to senior people projected to half, from 3.6 in 2020 to 1.8 in 2040.
The current situation is obviously not sustainable with the Social Security Office advising the Ministry of Labour that there are now fewer payments incoming into the Social Fund while more people are retiring and availing of ongoing benefits. 
Economic growth is now not predicted to rise substantially this year due to an export slump not compensated for by a growth in foreign tourism
The Federation of Thai Industries agrees with the government that there is a need to raise the retirement age, not only to balance the demands on the social security fund and the country's retirement scheme but also to maintain the workforce and protect the valuable resources of experience and manpower represented by older people in the workplace. 
'Raising the retirement age is the ministry's suggestion but it needs to be seriously considered as Thailand faces lower birth rates and a labour shortage,' said Mr Suchart last week as he revealed the Federation was working closely with the Ministry of Labour on plans to raise the retirement age.
Thailand, under the new government led by Mr Srettha, is currently striving to revive its economy with only 2.6% growth last year and a nosedive in exports from August 2022 which appeared to be in reverse according to the latest figures announced this week by the Ministry of Commerce on Wednesday.
This showed exports up 2.6% in August 2023 from the year before.
Poorest economic performer in Southeast Asia except for Myanmar which is in the throes of revolution
However, with exports moving up, the same month has shown declining tourist arrivals and a continued slip in manufacturing.
Most economic analysts now predict only 2.7% growth in 2023 with rising concern about the kingdom's chronic household debt problem and signs, confirmed by the Bank of Thailand on Friday, that inflationary pressures are reemerging with rising world oil prices.
The Thai economy is the second poorest performer in Southeast Asia in recent years except for war-torn Myanmar which is in the midst of a full-scale revolution by the populace against the hated military junta regime led by General Min Aung Hlaing.
Further reading:
Change in insurance rules for retirement visas after some over 70s were forced out of Thailand
Economic plan to put the smile back in Thailand's appeal to western foreigners to live and work
Government preparing a plan to lure millions more expats to come and live in Thailand spurring the economy
Deputy Public Health Minister leaves expats confused with 'over 50s' visa insurance press comments
Thai Ministry of Health brings in tiered pricing for medical services to foreigners and tourists
50-year-old Dutchman suffering from cancer files complaint against Hua Hin hospital over fees
Battlefield friends help UK man and wife escape medical bill of £12k in Thailand. Now safely home
New health coverage proposals for foreigners in Thailand a concern for those with medical conditions
UK man stranded in Thailand facing a £100,000 medical bill may be rescued by crowd funding success
Thai government's new compulsory insurance may only apply to retirement visas for foreigners
World Bank downgrades growth prospects as Thai economic recovery in 2021 looks still uncertain
Plan to allow high tech and skilled foreigners to live and work in Thailand for up to four years
Thailand must bite the bullet and reopen to foreign tourists from October 1st to save industry
Minister urged not to be afraid to borrow in 2021 as fears grow for a quick foreign tourism revival
Economy to rebound as the year progresses driven by exports and a return of mass foreign tourism
Door closing on quick foreign tourism return as economic recovery is delayed to the end of 2022
Refloat of foreign tourism in the 2nd half of 2021 with vaccines pushed by minister and industry for the sector
Fact – only 6,556 visitors arrived in Thailand last month compared to 3.95 million in December 2019
Desperate foreign tourism business concerns are clinging to straws as they try to survive the crisis
Finance Minister says economy must pivot away from tourism with a switch to S-Curve industries
Steady as she goes economy driven by exports and public investment with a 3.3% growth rate forecast for 2021
Thailand's tourism boss targets thousands instead of millions as public health is prioritised above all
Thailand unlikely to reopen doors to mass-market tourism before the end of 2021 until after a full vaccination
Industry boss urges Thailand to join alternative Pacific trade pact and plan for a long recovery from virus debacle
Visa amnesty finally ending but the new regime is pragmatic and may allow for further renewals
Visa amnesty to be retrospectively extended to October 31st says top Immigration Bureau officer