New regulation may be a step forward for foreigners visiting and living in Thailand as medical services will now be costed and reported to the Ministry of Public Health. Wrong to expect subsidised care at the expense of the Thai taxpayer.
A new regulation promulgated on Thailand's government gazette establishes a fee structure and maximum ceiling costs for health services delivered through Thai public hospitals and medical centres. It establishes effectively a three-tiered pricing structure which means that foreign tourists and retirees in Thailand will pay more for medical services but significantly, oversees such costs.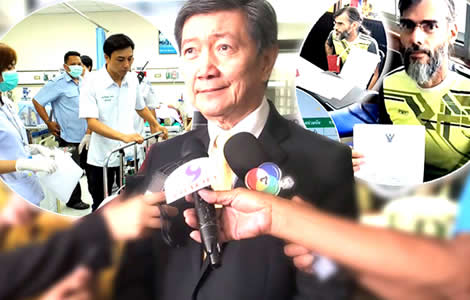 There was some mixed news for 50-year-old Dutchman and cancer patient Erwin Robert Buse this week. Buse has been demanding an inquiry into what he claims may be overcharging at his local hospital in Hua Hin after being charged more for basic medical procedures than Thai nationals. The story was extensively covered by the media in July. The European man even brought his case to the local office of Thailand's National Anti-Corruption Commission for investigation. However, under a new provision signed by the former Minister for Public Health that has just come into force in Thailand, such a practice is now entirely legal. The provision may still have a silver lining in that at least now, all charges will be overseen and regulated by the Thai ministry.
New legal provisions signed by the previous Public Health Minister at the end of June
The regulations were promulgated in the Thai official government gazette last week on Monday, the 30th of August. It decrees into law a scheme or mechanism signed by the previous Minister for Public Health which aims to clarify charges for medical services in Thailand's public sector hospitals and facilities such as the one in Hua Hin used by Mr Buse.
Now to be a three-tiered approach to medical charges in Thai public health facilities
The new dispensation will allow Thai hospitals under the Ministry of Public Health to charge a prescribed maximum charge for medical services based on a tiered system approach but which they will set themselves and then submit to the ministry. Under the new regulations, the fees for Thai nationals and those from neighbouring countries such as Myanmar, Laos, Cambodia and Vietnam will pay relatively the same for medical procedures.
A second tiered price structure will be applied to foreigners in Thailand who are working and paying taxes with the appropriate visas.
The third tier of charges and the highest will be reserved for foreign retirees and tourists. The fees for health services for this group will be higher.
Introduces reporting and regulation by hospitals on charges across the public health system 
The new system does, however, force the hospitals or clinics or public health service unit to report to the permanent secretary at the Department of Public Health on the appropriate ceiling charges for a range of specified procedures while also reporting on any additional procedures or services which the hospital carries out. This, therefore, establishes some sort of oversight on the fees that can be charged by hospitals working within the public health system.
It comes at a time when a special unit within the Thai Ministry of Commerce has launched a programme to control and standardise charges for drugs and medical services for all hospitals in Thailand under Thailand's consumer protection laws.
Reports that an HIV test will now cost ฿320 for foreign tourists while being ฿160 for a Thai national
According to reports, the proposed charges for basic medical procedures will see tourists and retirees in Thailand pay approximately double for a medical procedure at any of the Thai public hospital service units. The news websites ThaiVisa and Coconuts were today quoting a charge of ฿320 for an HIV test whereas the basic rate for a Thai national will be ฿160.
Fees to come into force on September 30th
The new fee regulation has already become law which means that Thai public health hospitals and medical centres will need to submit their pricing across the board to the ministry. The new tiered pricing structure will be effective on September 30th next.
Law no different for western countries and the medical charges are far more economical
The new law is, in fact, no different to medical health charges in western countries or the world over where non-nationals are expected to pay more particularly those not paying taxes into the system. The Thai public hospital network is funded by the Thai taxpayer in what is still a relatively poor country compared to countries with fully developed economies. 
The prices charged for medical services are subsidised in Thailand because many poorer Thai people cannot afford to pay more. Yet many of them still have to pay at hospitals for certain drugs or to see a doctor. It would be misguided thinking to expect the Thai public health service and taxpayers to subsidise health costs for relatively more well off foreigners living in Thailand or visiting the kingdom.
New regulations provide more clarity and certainty and will help control medical costs to foreigners
As the new law currently stands, it does offer clarity and certainty to foreigners while still offering them health care at prices that are a fraction of those in western countries. The new situation will also help to control health insurance premiums costs on offer to foreigners in Thailand in particular retirees who now require such coverage to extend their visas on an annual basis.
Consumer protection laws applicable to foreigners
In the meantime, the campaign by the Ministry of Commerce continues. It has still to be clarified by experts if foreigners in Thailand are also protected under Thailand's consumer protection laws. Many feel they are. This may well be a step forward and not backwards from the position that has existed up to now for both foreigners living in Thailand and quite significantly, tourists who will in the future be able to check and clarify the cost of medical procedures in hospitals.
Further reading:
50-year-old Dutchman suffering from cancer files complaint against Hua Hin hospital over fees
Battlefield friends help UK man and wife escape medical bill of £12k in Thailand. Now safely home
New health coverage proposals for foreigners in Thailand a concern for those with medical conditions
UK man stranded in Thailand facing a £100,000 medical bill may be rescued by crowd funding success
Thai government's new compulsory insurance may only apply to retirement visas for foreigners