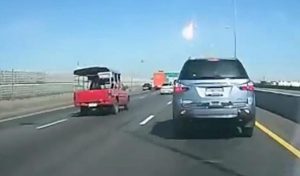 People in Thailand were stunned this week to see what appeared to be a ball of fire in the sky over Northern Bangkok.
The sight was captured by many dashcam cameras as commuters headed to work and travelled around the city. An astronomer station at Chachoengsao Observatory in Thailand told one news outlet that the sight was probably a meteor burning up on reentry into the atmosphere. 'It's all burned away,' Worawit Tanwutthibundit told the press: 'the photo of the white smoke that has been shared a lot is in fact the trail of smoke of a meteor. The people need not be concerned, this is a normal phenomenon.' The astronomer who witnessed the meteor himself while driving on a motorway in northern Bangkok estimated that it fell at a speed of 60 kilometers per second.
Meteors stirs panic among villagers in northern Thailand
 It was reported that the fireball was the source of some panic Nakhon Ratchasima province in northern Thailand where local authorities feared it may have been the result of a plane crash and dispatched more than rescue personnel and firefighters to search for wreckage.
In one subdistrict Non Tha, a local administrator, Somchai Charoen reported the sighting to the police after being contacted by villagers in the region who saw the phenomenon. The panic subsided hours later when it was established that what had been seen was a meteor. The second region army based near Nakhon ratchasima told reporters and the press that that they had confirmed that there was no report of a plane or helicopter crash in the region.