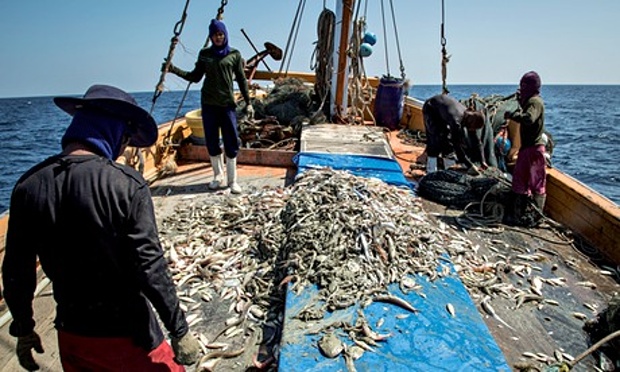 The Thai government has vowed to wipe out human rights abuses within its seafood and fisheries industry and a robust campaign is already showing results. 'It's a national agenda, and the Thai prime minister has stressed that he has zero tolerance on this issue,'  Thai Foreign Ministry spokesman Sek Wannamethee told reporters at a briefing in Bangkok.
Thai government awaiting crucial EU decision on fisheries export market.
The Thai government is awaiting a crucial decision from the EU which could spell the fate of $1 billion exports to the EU market. Following a visit at the end of January by EU officials to see the progress of the Thai government's efforts to combat human trafficking and human rights abuses within the industry, it is unclear which way it will go but the consensus is that the EU will use its leverage to urge greater efforts and may issue a new deadline.
Media spotlight threatened to derail Thailand's plan
In April 2015 the EU issued Thailand with a 'Red Card' warning on abuses in the fisheries industry. Despite extensive effort by the Thai government to make progress on the issue, a series of media reports at the end of  2015 threw Thailand back into the media spotlight in both Europe and the US. Reports by the Associated Press, the UK Guardian newspaper and the BBC painted Thailand in a very negative light to western audiences.
Since then there have been calls from politicians and activist in both the EU and the US for trade with Thailand on fisheries and seafood products to be blocked.
Thai junta came to power to clean up abuses in Thailand
For its part the Thai government has made its case strongly that the military junta came to power in Thailand to correct such abuses as human trafficking and corruption and has pointed to  some impressive achievements in that period. Up to 8,000 Thai fishery vessels have been out of action and 70,000 workers with the the seafood and fisheries industry have been registered although there is some way to go.
Difficult for troubled 'civilian' administration to take such initiatives
The Thai government under Prime Minister Prayuth Chan Ocha has highlighted the decisive measures it has taken and has pointed out that such an approach would have been difficult for a 'civilian' administration to undertake given the conflicts in Thai society that brought the regime to power in the first place. 'During civilian administrations… sometimes we couldn't enforce efficiently,' said Vice Admiral Jumpol Lumpiganonn at a press briefing last week. The Thai government is highlighting its ability to deal with this threat to Thailand's economy effectively since the European Union issued the warning to Thailand in 2015. The point resonates with claims by the junta that Thailand's affairs needed to be cleaned up and that's what it has been doing since it came to power in the 2014 coup.
Key issue is what attitude the EU takes to Thailand's efforts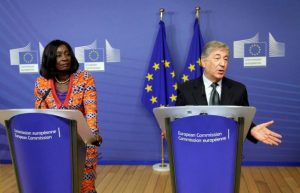 'I think the Thai government had made some fair points but there is a lot of pressure in political and media circles within the European Union and the United States that want to make an issue out of this,' says James Morris a commentator in Bangkok. 'The key point is whether they see their leverage as a way to push for greater progress or whether they act precipitously, I think it would  be rather unfair to Thailand.' Thai officials are certainly hoping that after all the efforts the Thai government has made that Thailand can avoid sanctions.
It is not clear when a decision will be made by EU authorities. 'We are confident that thanks to the laws and regulations passed last year we have the tools to ensure that no underage or forced labour will occur in our processing factories as well as fishing vessels,'  said Arrug Phrommanee, Director General of the Ministry of Labour in Thailand at a recent briefing for journalists. The extensive and decisive government actions have meant hundreds of extra staff being recruited for 28 Thai fisheries ports and extensive cooperation between the Thai Fisheries Department and the Thai Department of labour. 'DoF has to inspect the vessel registration before departure; also, the fishing gear, crew members and their nationalities,' senior Thai official Chamnarn Pongsri at the Department of Fisheries told the press recently. ' Before DoF did not have this responsibility as we did not have a law covering this. We share this responsibility with the Ministry of Labour and other agencies, so it's a big change.'
Key measure is a new Thai fisheries law with 176 sections
One of the measures that Thailand has pointed to is new Fisheries Law with 176 sections. The new laws comprises of five distinct initiatives: a licensing system, a traceability system, a vessel monitoring, vessel inspection and law enforcement. Up to the middle of January this year, Thai officials have recorded inspections on 474 vessels over 60 tons in Thai waters and 73 outside this area. Nearly 94% of the Thai fishing fleet which now includes approx 2,200 vessels have now been fitted with monitoring systems. Significantly 90 of the Thai fishing vessels were found to be in breach of the Thai legislation and will face prosecution.
Combat negative Thai media stereotype in western media
The key challenge of the Thai government is to combat the negative stereotype of Thailand that has emerged in the aftermath of the coup and which has been promoted by negative news reports on human trafficking, lack of press freedom and human rights violations. The Thai government has been attempting to this by pointing out the internal challenges that Thailand faces at this time and its efforts to clean up corruption and such abuses in the first place. Indeed the Thai government has argued in its defence that many such abuses have come to light as a result of it own efforts to clean up this industry and other abuses in Thailand.
Vice chair of EU human rights committee offers insight into thinking on Thailand
An interview with an EU politician recently highlights the thinking of the EU on the situation. Barbara Lochbihler is Vice Chair of the European Parliament's Subcommittee on Human Rights. When asked about a statement that Thailand's Deputy prime Minister where he claimed that the EU was satisfied with progress on the fisheries issue, she said this: 'Undoubtedly, important measures regarding structural reforms have been proposed and initiated. But, the fact that human rights violations, violence, slavery, human trafficking and illegal fishing are still prevalent means that there is still much to do. There needs to be clear political will to implement reforms quickly.'
Targeted boycott on Thai products could end up having negative consequences
On being asked if sanctions or a boycott on Thai seafood exports to the EU were warranted at this stage, she said: 'Certainly, a targeted boycott would help build economic and political pressure on companies and governments to affect change. However, in my view, this would only be useful if it was part of a far-reaching campaign. On has to take into account that such a targeted boycott could end up having negative consequences for the local people.'
This would suggest that the thanking in the EU is that it is better to keep the pressure on Thailand to implement the reforms announced and initiated rather than pulling the plug on the trade. However the Vice Chair of the sub committee also said this:  'It must not be business as usual for EU-Thailand relations, so long as the military government takes no decisive steps to implement a democratic process.'
Campaign to save EU fisheries market for Thailand extends to the USA
The decisive and all out campaign that the Thai government has been waging to prevent sanctions on Thailand's fisheries and seafood exports to the EU is also seen to be linked to calls from US based politician and activists for a similar ban there. the United States is Thailand's largest seafood market followed by Japan and then the European Union.
Prior to Christmas 2015, Thai government slammed AFP news reports on abuses in Thailand
The Thai government has been on record to robustly defend its position in relation to human trafficking and to reject as misleading and unfair many of the details contained in an explosive AP News report in 2015. The report by the Associated Press in 2015 highlighted alleged abuses and conditions in Thailand's lucrative and strategically important shrimp industry. Thailand is one of the world's largest shrimp producers and the industry is very important to Thailand's economy. The military junta which has been in power in Thailand since the May 2014 coup  raised some valid points in countering the widespread reporting and republication of the AP News report which came at a time when Thailand's faced scrutiny from American authorities and also from the EU.
Key mission of Thai military government is to root out abuse and corruption
A spokesman for the junta Major General Sansern Kaewkamnerd pointed out that one of the key missions of the government that came to power in Thailand is to root out corruption and also to combat human trafficking. He also pointed out that the cost of production is one of the factors that makes Thailand's shrimp industry so successful highlighting also the quality of the product that Thailand delivers to international markets. Speaking to the Bangkok Post, Thailand's leading English speaking newspaper, Major General Sansern Kaewkamnerd highlighted that one basis for the AP News report had been sources which included Thai government officials who are working actively to combat abuse.
AFP news reports on Thailand used photos out of context says Thai official
Another senior official working with the Thai navy pointed out to reporters at a press conference at Government House that while photographs and reporting forming the basis of the news report on November 9th 2015 showed Thai officials carrying out their duties, the  report itself wrongly suggested that the Thai authorities accepted slavery in Thai factories or illegal abuses which contravene Thai law. Vice Admiral Jumpol Lumikanont, deputy secretary-general of the Royal Thai navy particularly highlighted a photograph showing workers in a cell and explained to the media that this photograph had been taken while Thai officials were interviewing migrant workers in order to establish if some were working illegally. Indeed the basis for the AP News report was an operation being conducted by Thai authorities in which 125 factories were targeted in order to investigate labour abuse.
Thai government asks for 'fair treatment' by foreign media
' I ask for fair treatment for officials who are working both on land and at sea, our work is integrated …please do not exaggerate part of a report and photographs in the wrong way,' the Vice Admiral told the assembled media. A Thai police officer also told the assembled   reporters that any victims of human trafficking that were involved in the November 9th activities of the Thai authorities were rescued and the factory closed. The police officer went on to point out that anyone found abusing the law was arrested and would face legal prosecution.
EU commission warns Thailand to 'promptly' deal with human rights abuses
Meanwhile the EU commission has warned the Thai government that it should 'promptly' deal with human rights abuses and modern day slavery if it wanted to avoid a ban by the EU on the import of seafood product from Thailand. It is estimated that the value of seafood exports from Thailand to Europe is as much as $5.5 billion and a ban by the EU would be a serious blow to Thailand's economy and the junta's efforts to improve economic conditions. The EU Fisheries commissioner Karmenu Vella also raised the question of illegal fishing in Thailand which is a key concern of the European Union but she also suggested that Europe cannot ignore allegations of slavery.
EU still assessing Thailand says Commissioner
The European Union issued a warning to Thailand in April 2005 in relation to Thailand's exports of fish to Europe which are estimated to be worth nearly $1 billion. 'We are still  assessing whether Thailand has made sufficient progress in delivering on the actions,' the EU Commissioner told a press conference in Brussels where he was hosting the Ghanaian Minister of Fisheries Sherry Ayittey
EU Commissioner tells AFP that EU cannot ignore slavery and bonded labour
'Regarding human rights slavery on board and so apart from the fisheries issues the commission also believes that Thailand should address promptly the human rights issues,' he told a questioner from the Associated Press. There have been international media reports throughout 2015 relating to allegations that some Thai fishing vessels are using migrants being held in slave like conditions. While the European Union is very concerned about the sustainability of Thai fisheries activity and concerned about overfishing it is making it known that it cannot ignore allegations of slavery and migrants being held in bonded labour.
Ghana suffered an EU fisheries ban that Thailand seeks to avoid
The European Union is due to make a ruling on Thailand's imports in 2016. Speaking at the news conference given by the EU Commissioner the Ghanaian Fisheries Minister recalled that Ghana suffered a similar ban but suggested that it was something that hit was something that had a positive impact on her country's fishing sector. 'It was a wake  up call, it was necessary. It helped us to reshape our own governance of the fisheries sector.'
US congressman calls for an investigation into Thai seafood imports
Meanwhile in the United States a US congressman from Missouri Congressman Cleaver has written to the Labour Department as well as the Food and Drug Administration demanding an investigation into Thai imports into the United States. Congressman Cleaver is a Democrat who is concerned about the violation of Labour rights in Thailand. 'I am deeply  The congressman described shrimp peeling activities in Thailand as 'one of the most abhorrent slavery scheme of the 21st century.' A grocery organisation in the United States in a report was also highly critical of the Thai shrimp industry and accused Mr John Sackton in a report for the Progressive Grocer said that audits and inspections of shrimp peeling facilities were not sufficient  in the face of corruption.
Thai authorities claim AFP reports 'extremely irresponsible'
Meanwhile Major General Sansern who is a spokesman for the Thai Prime Minister's office vehemently denied such claims and described the reporting by the Associated Press as 'extremely irresponsible'. Major General Sansern warned that such reports could cause misunderstandings. The spokesman pointed out that the reports gave the wrong impression that Thailand uses slave labour on an extensive basis and could damage the image of Thai products on the international stage. The rejection by the Thai authorities of the Associated Press report was quite passionate and the spokespeople talking to reporters felt that Thailand had been very unfairly treated by the news wire and media throughout the world who carried the reports. 'This is a one sided extremely irresponsible report. It has tarnished Thailand's image even as the government is s seriously cracking down on illegal and slave workers especially in the seafood industry, we are determined to do so until this problem is solved.' Major General Sansern explained. The spokesman also highlighted that Thailand has never sanctioned any form of slave labour and has worked assiduously to route out such practices. Major General Sansern highlighted the ongoing campaign by the junta to restrict and crackdown on illegal workers in Thailand in the last six months.
Thai crackdown on illegal workers is extensive and ongoing into 2016
Thai Police immigration officials have arrested thousands of illegal workers in Thailand and in 2016 are introducing a new black list system in order to discourage repeat offenders. The Major General pointed out that the  barrage of media reports over the last year has portrayed Thailand falsely and in a negative light. This was particularly unfair as policy makers in Thailand have been moving to root out corruption and to reform the country's immigration system.
Thai company, one of the world's biggest exporter introduces reforms for fair treatment of workers
Meanwhile one of the world's largest exporters of seafood products the Thai Union Group came forward with plans to make sure that the company does not use subcontractors or partners who are not treating workers fairly. At the press conference reporters in the aftermath of the Associated Press report Major General Sansern emphasised that Thailand's Prime Minister Prayuth Chan Ocha had personally ordered strict action to be taken against all those who are found to be in breach of Thai law and regulations. He said that the government was determined to eliminate the problem.
Thai military and police authorities work to stamp out abuses
This appeared to be followed up by action as it emerged that the Thai military had deployed soldiers to back up the government's campaign to fight human trafficking in the Thai fishing industry. Another junta spokesman working with the Department of Special Investigations revealed that Thai forces had raided as shrimp plant at  Samut Sakhon province which came to the government's attention when a migrant from Myanmar reported abuses. The Myanmar migrant had managed to escape the facility and highlighted the working conditions to the authorities. The Prime Minister additionally appointed a Deputy National Police Chief to lead a crackdown on alleged slave labour in the Thai fishing industry.
Emotional news report on abuse of seafood workers spread around the world
The Associated Press story which flared up international attention on Thailand's fishing and seafood industry concerned a shrimp peeling plant at Samut Sakhon province. The headline of the report highlighted that supermarkets all over the world were selling shrimp peeled by slaves in Thailand. The emotive report gave vivid accounts of workers being woken up in the early hours of the morning and beaten as  well as working long hours. The report detailed how workers at the facility were  held against their will and assigned numbers instead of personal names. The report seemed to suggest that the factory in question had legal ownership of the workers in the factory which included families.
AFP news report highlighted under age children working in plants
The report suggested that there were up to 100 Burmese migrants working there including children of a very young age. In one vivid description it described a little girl standing on a stool in order to reach up to the table to carry out her shrimp peeling duties. Shockingly the report suggested that many of the workers had been there months or even years receiving little or no pay. The report made explosive allegations that when such facilities were raided, the workers were prosecuted while owners faced no sanctions. It is also made allegations of corruption. The investigation by the Associated Press followed similar investigations into slavery on board Thai fisheries vessels which the news agency claims has resulted in as many as 2,000 fishermen being freed from slavery.
Report claimed Burmese woman held as slave labour for eight years
In one instance the report claimed that a woman had been held at the factory for  eight years. The AP investigations suggested that journalists had followed and filmed activities at the plant and tracked vehicles as part of their investigative process. They also reported revealed that their reports was based on interviews on over two dozen workers from two shrimp peeling factories.
Thai authorities now in a race against time to save seafood and fisheries industry
The Thai government and police authorities are in a race against time to insure or to save the Thai fishing and seafood industry which has been threatened and become the subject of worldwide media attention because of the explosive Associated Press report. The Thai Prime Minister has appointed  Deputy Police Chief to lead intensive efforts to crack down on human rights and human trafficking abuses with the Thai fisheries industry. This comes in addition to an intensive campaign launched by the junta in 2015 to root illegal workers in factories and businesses all over Thailand. In October 2015 alone over 9,000 people were arrested who had been found to be living in Thailand. As a result of the Associated Press reports which has received extensive coverage, the Thai authorities have also conducted extensive press conferences highlighting that the very basis for the Associated Press report and others like it. It also has been be noted that the authorities are being open with facts and information both about its crackdown on illegal activities and the new regime for Thai fisheries.